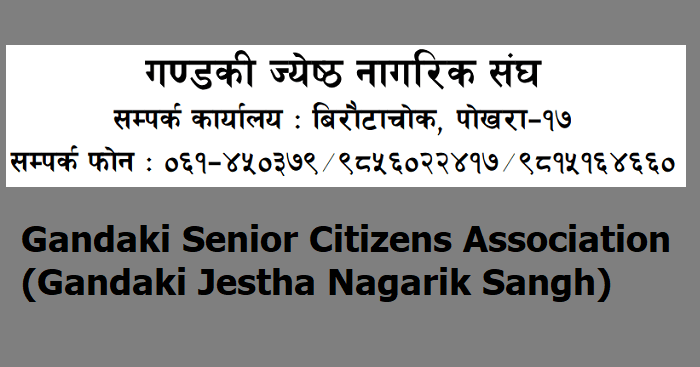 Gandaki Senior Citizens Association (Gandaki Jestha Nagarik Sangh), Birautachok, Pokhara, Gandaki Pradesh, Nepal Important notice regarding senior citizen caregiver training.
Senior citizen caregiver training is being conducted with the grant assistance of the Province Government, Ministry of Education, Culture, Science and Technology and Social Development, Social Development Office, Kaski. This information has been published for the organizations, volunteers and employees who want to participate in the training to participate in the training.
It is advised to apply for the senior citizen caregiver training to be conducted in limited seats within seven days from the date of publication and to submit along with the application a photocopy of your citizenship, photocopy of educational qualification, recommendation letter of current working organization, commitment letter to work in this field.
It is requested that this association has the right not to recognize the applications which have expired and have not reached the formalities and not to investigate and approve many applications.
Gandaki Senior Citizens Association (Gandaki Jestha Nagarik Sangh)
Liaison Office: Birautachok, Pokhara-17
Contact Phone: 061-450379 / 9856022417/9815164660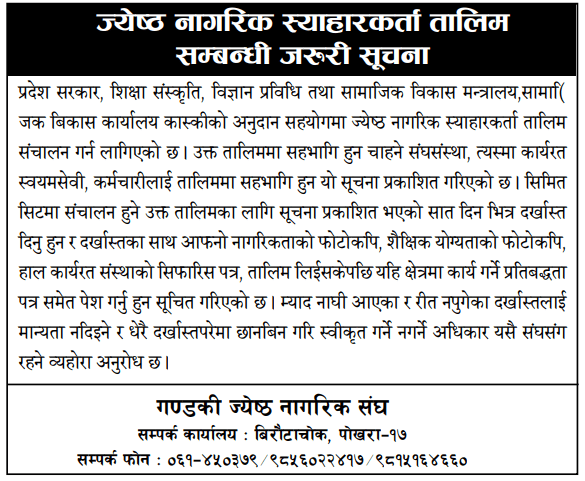 Free Training
Training