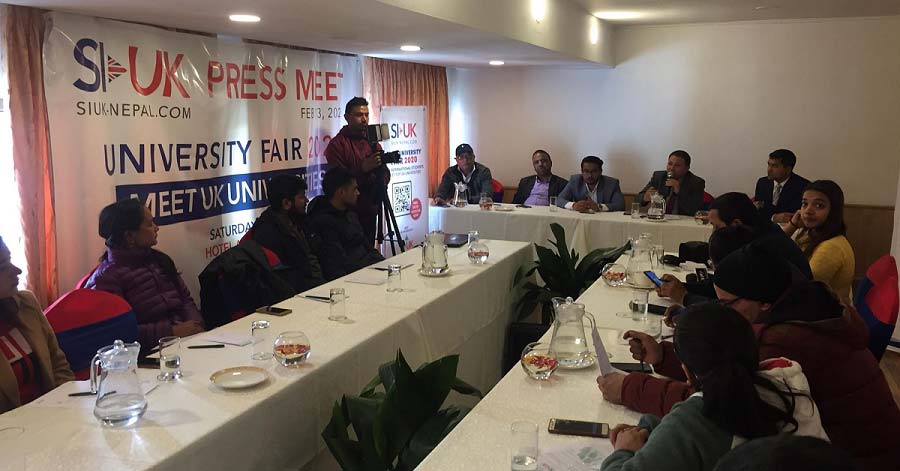 SI UK Nepal International Education fair 2020:
SI UK Nepal is organizing an international level education fair for the first time in Kathmandu on February 22.
SI UK, an internationally renowned educational consulting firm that spans branch networks in 23 countries around the world, is advising more than 40,000 students annually to study at the top-ranking universities in the UK and Ireland. Similarly from 2018 SI UK Nepal has been providing educational consulting services in Nepal.
SI UK, which is spread across different countries, is delivering services through 50 offices worldwide. SI UK is collaborating with over 120 universities in the UK.
The educational fair is being organized at the Hotel Annapurna in Kathmandu on February 22, with the aim of ensuring the right of students to get information and to directly advise the students on the educational system, scholarships, international level employment opportunities and lifestyle in the UK.
More than 20 UK Universities will have direct participation in the fair. The fair will also feature the participation of high-level experts in Nepal's educational sector. An online form is provided for participation in the fair.
According to SI UK data, which gives 50,000 students an opportunity to study in the UK every year, and 32,000 students were enrolled in UK universities in 2018. SI UK annually aims to create a special package for the poor and disadvantaged and resilient students living in Nepal every year to help them study abroad. It also arranges a scholarship for such students at a university in the UK.
With the increase in the number of students going to a good university in a developed country from Nepal, the attractiveness of the students who go to study the UK has increased sharply as the time to open PSW (Post Study Work) and the possibility of providing employment opportunities for many outside the UK Europe.
SI UK has been encouraging not only to provide opportunities for students to study but also to look for potential opportunities in various regions of the country by giving advice on how to use the knowledge, skills and techniques learned abroad.