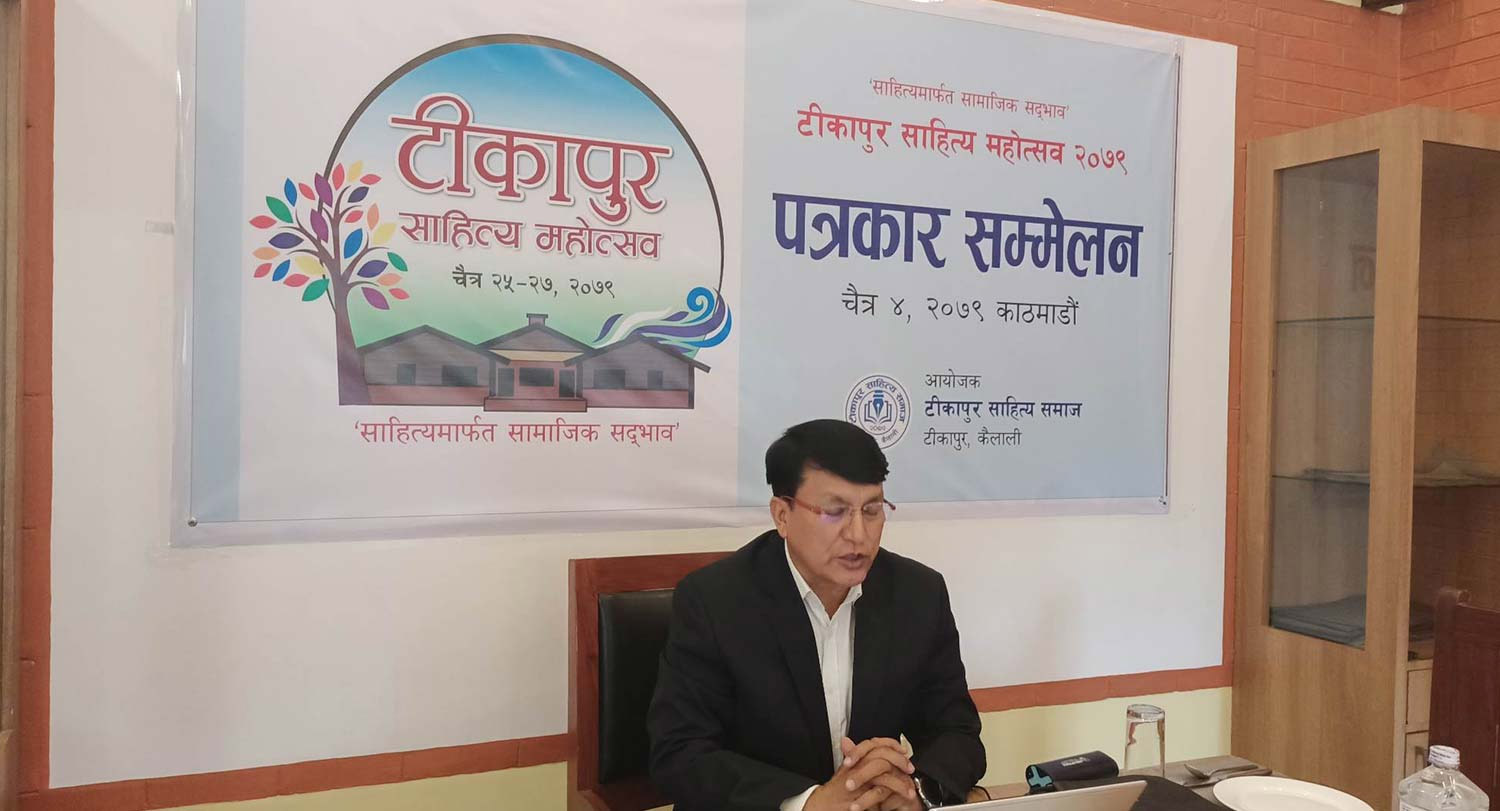 Tikapur Literature Festival 2079: A Celebration of Literature, Culture, and Social Harmony
The Tikapur Literature Festival is a three-day celebration of literature, art, culture, and social development that will take place in Tikapur, Kailali, from 25 to 27 Chaitra 2079 (8 - 10 April 2023). With 21 sessions and 75 speakers from various sectors, the festival aims to promote the rich history, heritage, and tourism of Sudurpashchim province.
Diverse Topics and Speakers
The festival will feature sessions on a wide range of topics, including literature, art, culture, politics, education, tourism, development, philosophy, history, journalism, and social sectors. On the first day of the festival, author Sikelal will give a scholarly lecture on the topic of social harmony through literature. Other sessions will explore the relationship between politics and social harmony, the development of Tikapur and Sudurpashchim province, and the importance of preserving archaeological heritage and nature.
Restoring the Identity of Tikapur
Tikapur is a planned city that has suffered from a dark incident in 2072. The organizers of the festival aim to restore the identity of Tikapur by promoting social harmony through literature. The festival will include poetry, ghazal, and music evenings, providing a platform for artists and musicians to showcase their talents and connect with a diverse audience.
Honoring Literary Achievements
The Tikapur Sahitya Samaj will present honors and awards at the festival. The Khadga Smriti National Pride Award, named in memory of Khadga Bahadur Singh, the inventor of Tikapur, will be awarded annually to recognize outstanding contributions to literature. The Tikapur Sahitya Samaj Shrestha Kriti Award will be given to the best work from all over the country every year, while the Tikapur Sahitya Samaj Pratibha Award will recognize the talent of Sudurpashchim. Additionally, students studying in schools and colleges of Tikapur will be given the Tikapur Sahitya Samaj Jehendar Vidyarthi Award.
Inviting Guests from All Over the Country
The organizers have invited 150 guests from all over the country to attend the festival, making it a diverse and inclusive event that celebrates the rich cultural heritage of Nepal. The festival provides a unique opportunity for writers, artists, and thinkers to connect with one another and share their perspectives on important social and cultural issues.
Overall, the Tikapur Literature Festival is a unique platform that brings together people from different walks of life to celebrate the richness of Nepali literature, culture, and social development. With its diverse topics and speakers, the festival promises to be an enriching and enlightening experience for all those who attend.
Published on 22 March 2023
Conference
Sudurpashchim Pradesh
Kailali
Exhibition