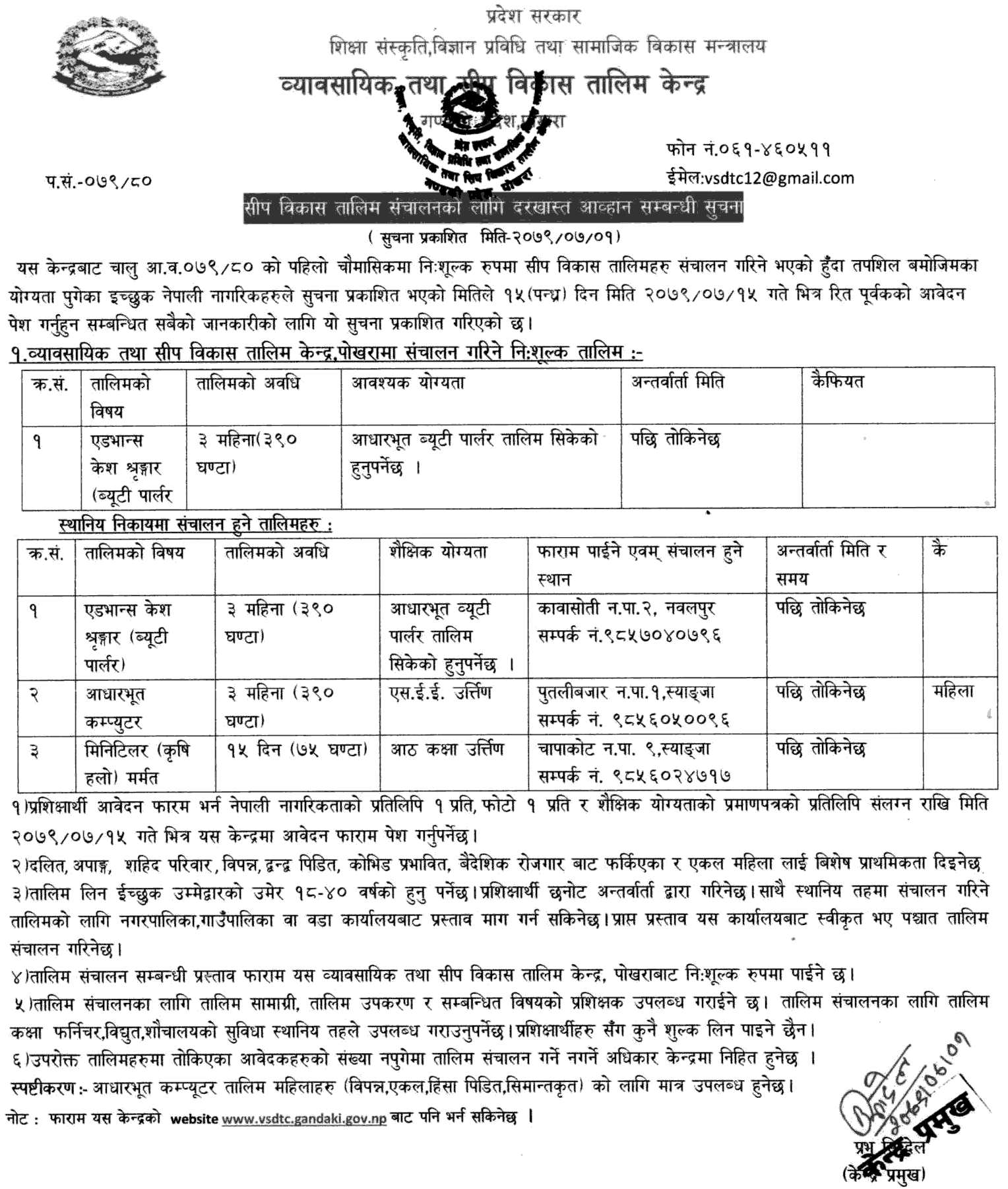 Province Government, Ministry of Education, Culture, Science, Technology and Social Development, Vocational and Skill Development Training Center (VSDTC), Gandaki Province, Pokhara, Nepal Notification regarding submission of applications for conducting skill development training
Whereas skill development training will be conducted free of cost in the first quarter of the current financial year 2079/80 from the Vocational and Skill Development Training Center (VSDTC), Gandaki Province, Pokhara; This information has been published for the information of all interested Nepali citizens who have met the qualifications as per the details to submit their applications within 15 days (within 2079-07-15) from the date of publication of the information.
Training Programs:
Advanced Beauty Parlour Training for 3 Months (390 Hours)
Basic Computer Training for 3 Months (390 Hours)
Mini tiller (Krishi Halo) Repairing for 15 Days (75 Hours)
Note:
1) To fill out the trainee application form, 1 copy of Nepali citizenship, 1 copy of the photo, and a copy of the educational qualification certificate must be attached and submitted to this center within the date of 2079-07-15.
2) Special priority will be given to Dalits, the disabled, families of martyrs, the destitute, victims of conflict, affected by Covid, returnees from foreign employment, and single women.
3) The age of the candidate willing to take the training should be 18-40 years. The selection of trainees will be done through interviews. In addition, a proposal can be requested from the municipality, village municipality, or ward office for the training to be conducted at the local level. Training will be conducted after the received proposal is approved by this office.
4) The proposal form for conducting the training is available free of charge from the Vocational and Skill Development Training Centre, Pokhara.
5) Training material, training equipment, and trainers of related subjects will be provided for conducting the training. For conducting the training, the training class furniture, electricity, and toilet facilities should be provided at the local level. No fee can be taken from trainees.
6) If the number of applicants specified in the above training is not reached, the center will have the right not to conduct the training.
Explanation:- Basic computer training will be available only for women (underprivileged, single, victims of violence, marginalized).
Note: The form can also be filled out from the website of this center www.vsdtc.gov.np.
Vocational and Skill Development Training Center (VSDTC), Gandaki Province, Pokhara, Nepal
Phone No. 061-460511
Email: [email protected]
Website: www.vsdtc.gov.np
Gandaki Pradesh
Pokhara
Training