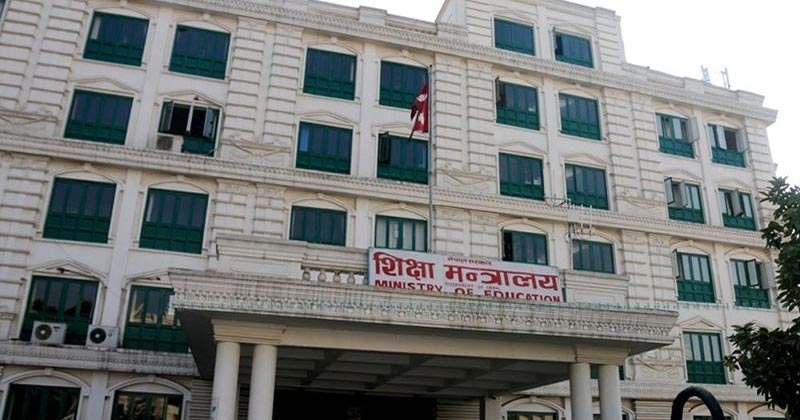 Ministry of Education Unveils Distinguished Awardees for National Education Day 2080
Kathmandu, Nepal, September 19, 2023 - The Ministry of Education, Science and Technology of Nepal has officially announced the recipients of prestigious awards for the upcoming National Education Day 2080. Celebrating educational brilliance, community service, and technical ingenuity, the awards include national shields, flags, and cash prizes that range from NPR 1 lakh to 3 lakhs. The recognition aims to both honor and stimulate educational advancement across Nepal.
Significance of the Awards: Celebrating Educational Excellence
The awards, carefully curated by the Ministry, are designed to acknowledge exceptional performance in various facets of education. These include achievements in the Secondary Education Examination (SEE) for the year 2079, quality of teaching, and contributions to community welfare.
Public Schools Achieve National Acclaim
The Ministry has set a high bar for public or community schools across Nepal by recognizing the following schools based on their outstanding SEE performance:
Kamala Secondary School, Maini, Dudhauli-11, Sindhuli: This school leads the pack with a national shield, a flag, and a cash prize of NPR 3,00,000. It has become a role model for community schools across Nepal.

Kamala Secondary School, Dhungrebas, Kamalamai-4, Sindhuli: Another commendable public school, awarded the national shield, flag, and a cash prize of NPR 2,00,000, for exemplifying academic excellence.

Narayan Secondary School, Rumal Village, Kumakh-2, Salyan: Celebrated for achieving educational milestones, this school is honored with a national shield, flag, and a cash prize of NPR 1,00,000.
Private Schools: A Benchmark of Quality Education
Private schools, known for their rigorous academic programs, were not left behind:
Prasadi Academy Secondary School, Lalitpur: This institution has been honored with the national shield, flag, and a generous cash prize of NPR 3,00,000 for maintaining an unparalleled standard of education.

St. Xavier's College, Maitighar, Kathmandu: Known for its academic rigor and diverse learning environment, the school has received the national shield, flag, and NPR 2,00,000.

Budhanilkanth School, Narayansthan, Budhanilkanth-5, Kathmandu: With a strong tradition of educational excellence, it has been honored with the national shield, flag, and a cash prize of NPR 1,00,000.
Focus on Technical Education: Building Skills for Tomorrow
Recognizing the pivotal role of technical education, the Ministry, in collaboration with the Council for Technical Education and Vocational Training (CTEVT), has awarded the following:
Korea Nepal Polytechnic Institute, Tamnagar, Ruppandehi: An institute committed to quality technical education, awarded NPR 1,00,000.

Manmohan Memorial Polytechnic, Budhiganga, Morang: Another beacon of technical proficiency, also honored with NPR 1,00,000.

Life Line Hospital Pvt. Ltd., Damak, Jhapa: Awarded for pioneering excellence in healthcare education at the technical level.
University Campuses: Centers of Higher Learning
Based on evaluations from the University Grants Commission, several campuses received accolades:
Pulchok Campus, Lalitpur: Distinguished for its research and educational excellence, receiving NPR 2,50,000.
Lumbini Banijya Campus, Butwal, Rupandehi: Commended for its community-focused programs and awarded NPR 2,50,000.
Kathmandu Model College, Baghbazar, Kathmandu: Honored for its diverse academic offerings and contribution to higher education, with a prize of NPR 2,50,000.
Championing Social Welfare Through Education
The Ministry has also put a spotlight on organizations working to provide education to society's most vulnerable:
SOS Balgram, Madhyapur Thimi-2, Bhaktapur: Awarded NPR 3,00,000 for its efforts in educating children who are underprivileged, orphaned, or affected by HIV/AIDS.
Kopila Valley Seva Samaj, Birendranagar-4, Surkhet: Similarly recognized with NPR 3,00,000 for its commendable work in the same field.
This year's National Education Day not only commemorates the exceptional educational establishments but also encourages other schools and organizations to aim for excellence. The awards are seen as a significant push toward elevating the standards of Nepal's educational landscape.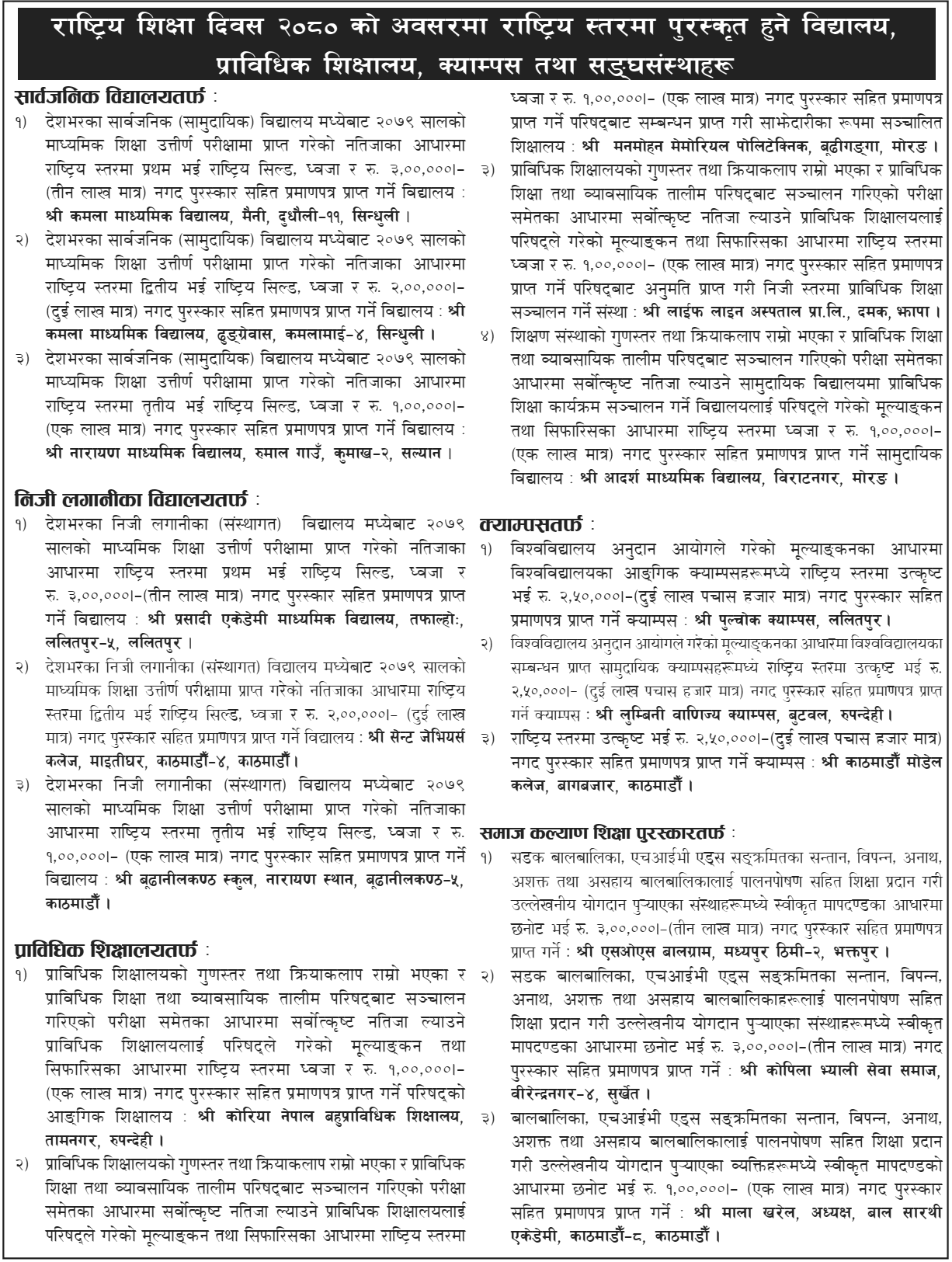 College News
School News