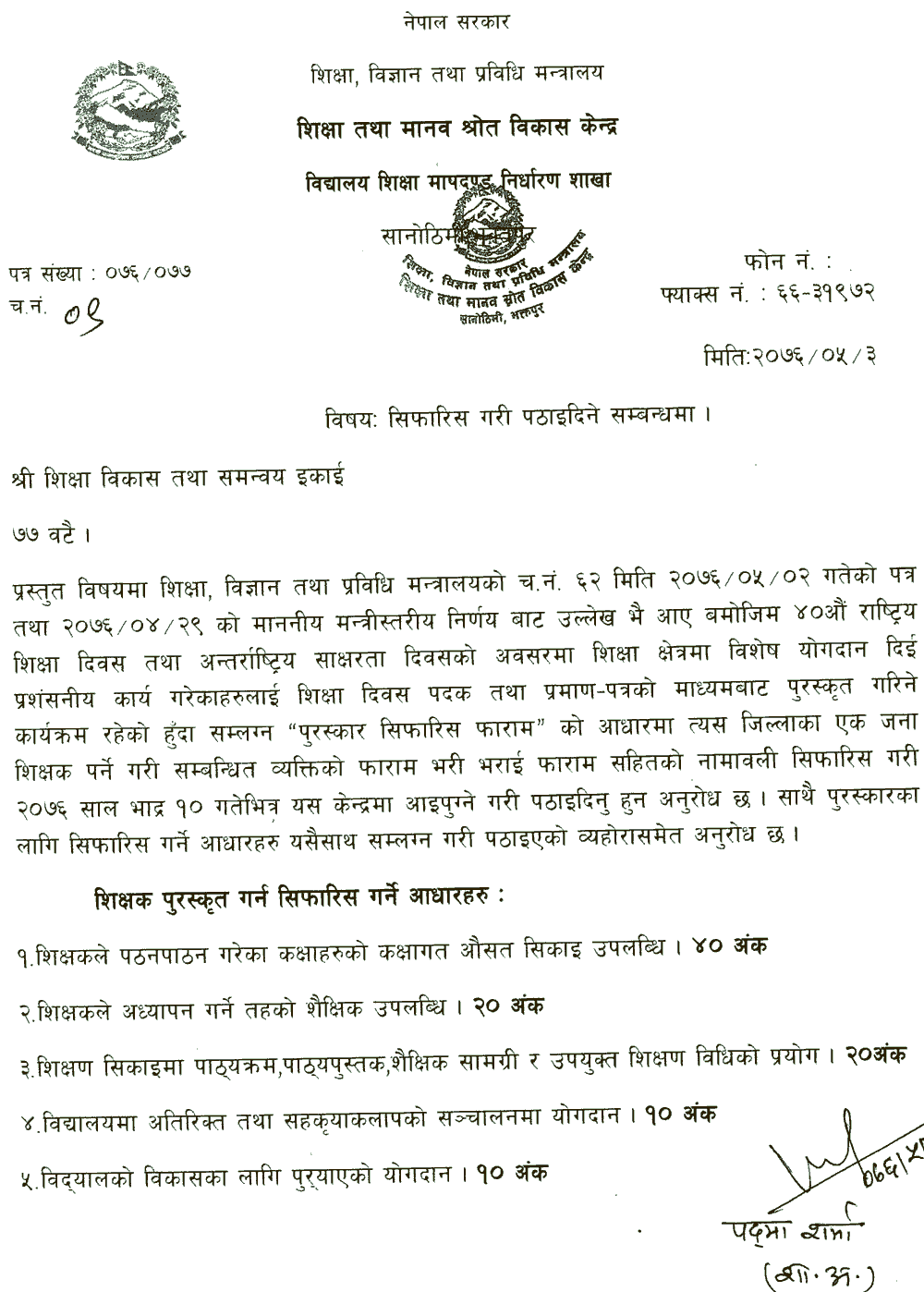 Government of Nepal, Ministry of Education, Science and Technology, Education and Human Resource Development Center
Subject: Regarding sending and recommending the name of Teacher
All Education Development and Coordination Unit.
Presented by the Department of Education, Science and Technology Through the Education Day Medal and Certificate, those who have made special contributions to the education sector have made special contributions to the occasion of the 40th National Education Day and International Literacy Day, as mentioned in the letter dated 2076 Bhadra 2 and the Honorable Ministerial Decision dated 2076 Shrawan 29. Since there is a program to be sponsored by the attached award form, A. It is requested to fill in the form and fill the form with the concerned person and send it to the center within 2076 Bhadra 10. Also, requests for attachment are sent along with the basis for recommending the award.
Recommendations for Teacher Rewards:
Average learning achievement of the classes taught by the teacher. 40 point

A teacher's level of academic achievement. 20 point

Use of curriculum, textbook, educational material and appropriate teaching method in teaching-learning. 20 point

Contribute to the operation of extra and cooperative activities in the school. 10 point

The contribution made to the development of the school. 10 point
Additional bases of selection for individuals to recommend for the Education Prize:
At least 10 years of teaching experience (in the case of a community school teacher must be permanent.

Teaching more than 24 periods a week.

Have done any new research / empirical research.

Completed 3 years of age.

Trained according to the rules.

If there were departmental proceedings, it would have been 5 years.

Performance Evaluation With at least 90 points.

The average student achievement in the upper class itself is more than 80 percent

In the name of the school, there is no waste (in the case of Principle, the students distribute textbooks, etc. regularly.)

Exporting Social Testing / Legal Audit (in the case of Principle)

The School Management Committee is formed on time (in the case of Principle).