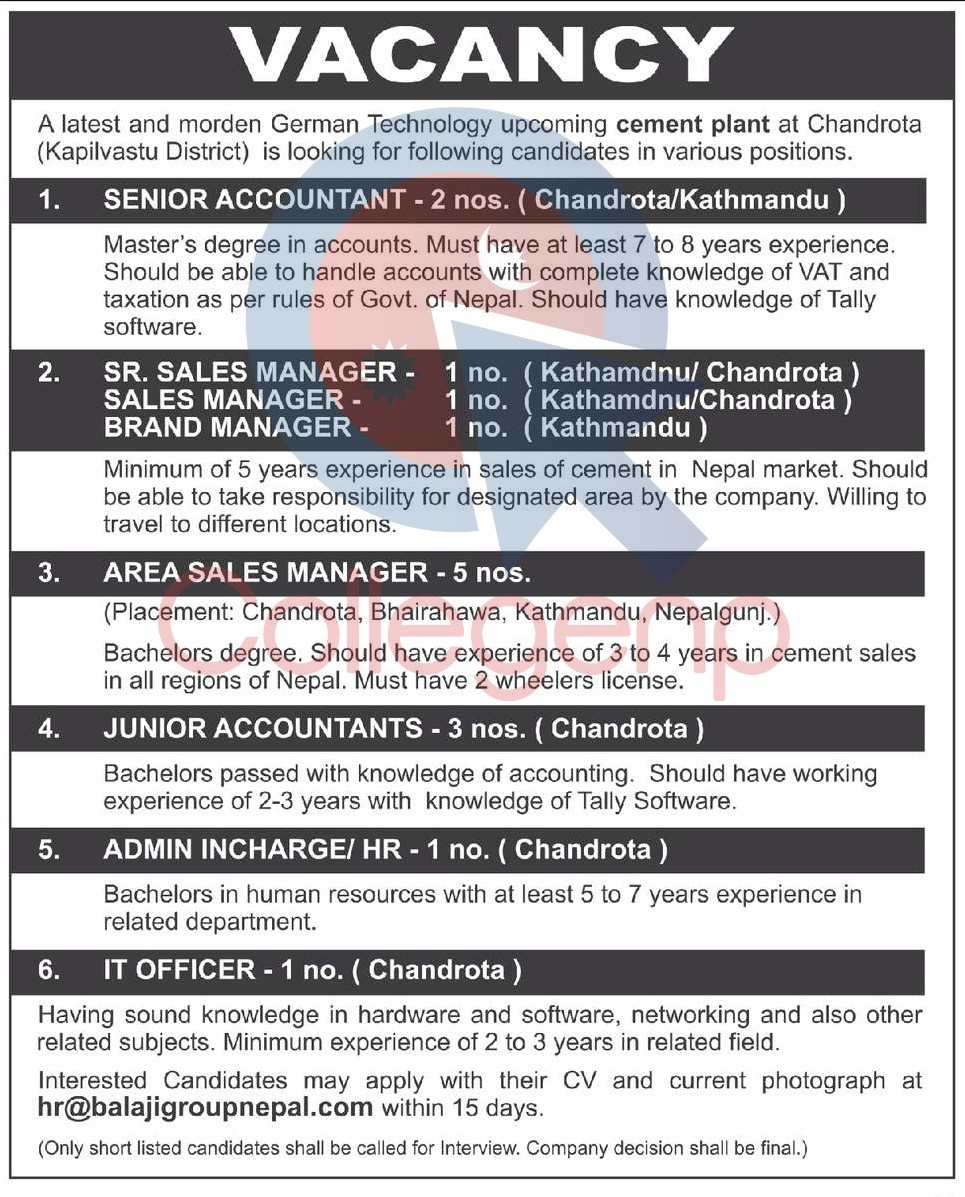 A latest and modern German Technology upcoming cement plant at Chandrota (Kapilvastu District) is looking for following candidates in various positions.
1. SENIOR ACCOUNTANT - 2 nos. ( Chandrota/Kathmandu )
Master's degree in accounts. Must have at least 7 to 8 years experience. Should be able to handle accounts with complete knowledge of VAT and taxation as per rules of Govt. of Nepal. Should have knowledge of Tally software.
2. SR. SALES MANAGER - 1 no. ( Kathmandu/ Chandrota )
SALES MANAGER -1 no. ( Kathmandu/Chandrota )
BRAND MANAGER - 1 no. ( Kathmandu )
Minimum of 5 years experience in sales of cement in the Nepal market. Should be able to take responsibility for a designated area by the company. Willing to travel to different locations.
3. AREA SALES MANAGER - 5 nos.
(Placement: Chandrota, Bhairahawa. Kathmandu, Nepalgunj.)
Bachelors degree. Should have experience of 3 to 4 years in cement sales in all regions of Nepal. Must have 2 wheelers license.
4. JUNIOR ACCOUNTANTS - 3 nos. ( Chandrota )
Bachelors passed with knowledge of accounting. Should have working experience of 2-3 years with knowledge of Tally Software.
5. ADMIN INCHARGE/ HR - 1 no. ( Chandrota )
Bachelors in human resources with at least 5 to 7 years experience in the related department.
6. IT OFFICER - 1 no. ( Chandrota )
Having sound knowledge in hardware and software, networking and also other related subjects. Minimum experience of 2 to 3 years in related field.
Interested Candidates may apply with their CV and current photograph at [email protected] within 15 days.
(Only shortlisted candidates shall be called for Interview. Company decision shall be final.)