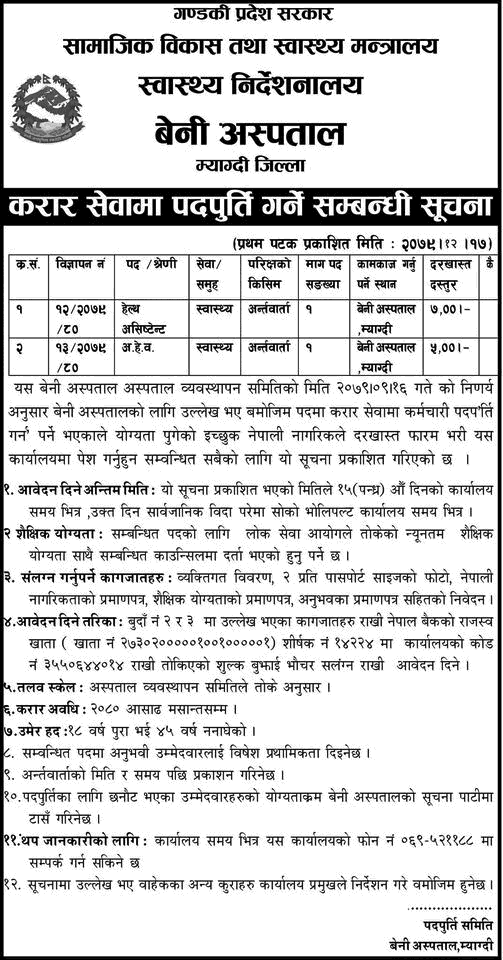 Beni Hospital Announces Vacancy for Health Assistant (HA) and AHW
The Ministry of Social Development and Health, Directorate of Health, Beni Hospital, Myagdi has published a notification for appointment to contract service. The notice is aimed at eligible Nepali citizens who wish to apply for the positions of Health Assistant (HA) -1 and AHW - 1 at Beni Hospital.
Important Details of the Notification:
Last date for submission of application: Within the office hours of the 15th (fifteen) day from the date of publication of this notification, within the office hours of the next day if that day is a public holiday.
Educational Qualification: Applicants should possess the minimum educational qualification prescribed by the Public Service Commission for the respective post and should also be registered with the concerned council.
Documents to be attached: Personal details, 2 copies of passport size photographs, Nepali Application with certificate of citizenship, certificate of educational qualification, certificate of experience.
How to apply: Attache the documents mentioned in the notification and deposit the fee in Nepal Bank (account no. 27302000001001000001) office code in title no. 14224 No. 3550644014 and apply by attaching the voucher.
Salary Scale: The Hospital Management Committee will prescribe the salary scale.
Contract period: The contract period is until the end of Ashad 2080.
Age limit: Completed 18 years and less than 45 years.
Special preference: Candidates with experience in the relevant post will be given special preference.
Date of interview: The date and time of the interview will be published later.
Merit List: The Beni Hospital Merit List of Selected Candidates for Posting will be displayed on the notice board.
Contact details: For more information, interested applicants can contact the office at phone number 069-521188 during office hours.
It is important to note that if the head of the office directs other things except those mentioned in the notice, it will be in accordance. The recruitment Committee at Beni Hospital, Myagdi will oversee the entire recruitment process.
Eligible Nepali citizens who are interested in applying for the aforementioned positions at Beni Hospital must ensure that they meet the criteria and submit their application within the given deadline.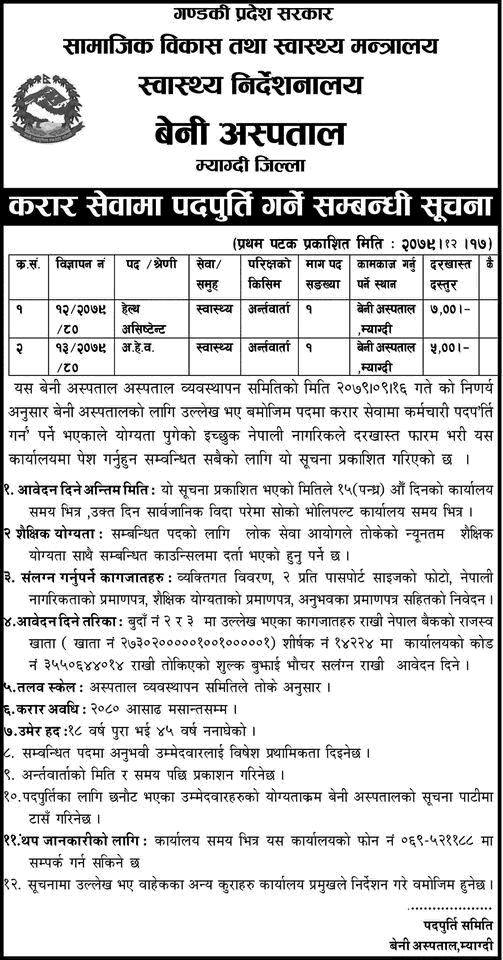 Myagdi
Hospital Job Vacancy
Job Vacancy
Health Job
Government Job