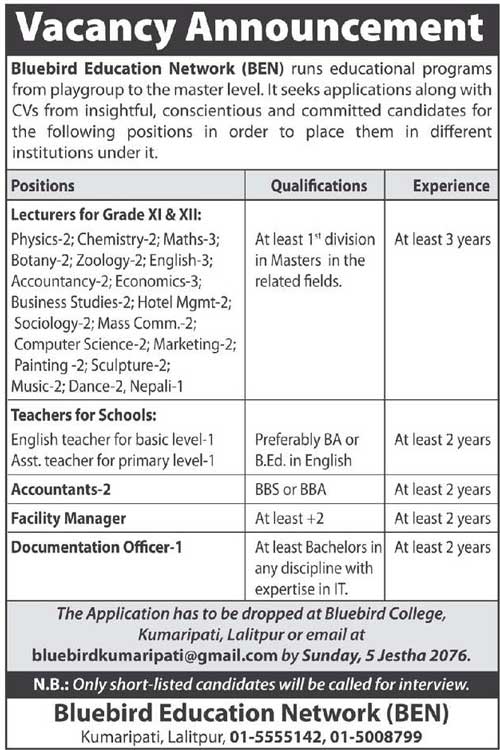 Bluebird Education Network (BEN) runs educational programs from playgroup to the master level. It seeks applications along with CVs from insightful, conscientious and committed candidates for the following positions in order to place them in different institutions under it.
Positions

Qualifications and Experience

Lecturers for Grade XI & XII:

Physics-2; Chemistry-2; Maths-3; Botany-2; Zoology-2; English-3; Accountancy-2; Economics-3; Business Studies-2; Hotel Mgmt-2; Sociology-2; Mass Comm.-2; Computer Science-2; Marketing-2; Painting -2; Sculpture-2; Music-2; Dance-2, Nepali-1

At least 1" division in Masters in the related fields.
At least 3 years

Teachers for Schools:

English teacher for basic level-1
Asst. teacher for primary level-1

Preferably BA or B.Ed. in English
At least 2 years

Accountants-2

BBS or BBA
At least 2 years

Facility Manager

At least +2
At least 2 years

Documentation Officer-1

At least Bachelors in any discipline with expertise in IT.
At least 2 years
The Application has to be dropped at Bluebird College, Kumaripati, Lalitpur or email at [email protected] by Sunday, 5 Jestha 2076.
N.B.: Only short-listed candidates will be called for interview.
Bluebird Education Network (BEN)
Kumaripati, Lalitpur, 01-5555142, 01-5008799