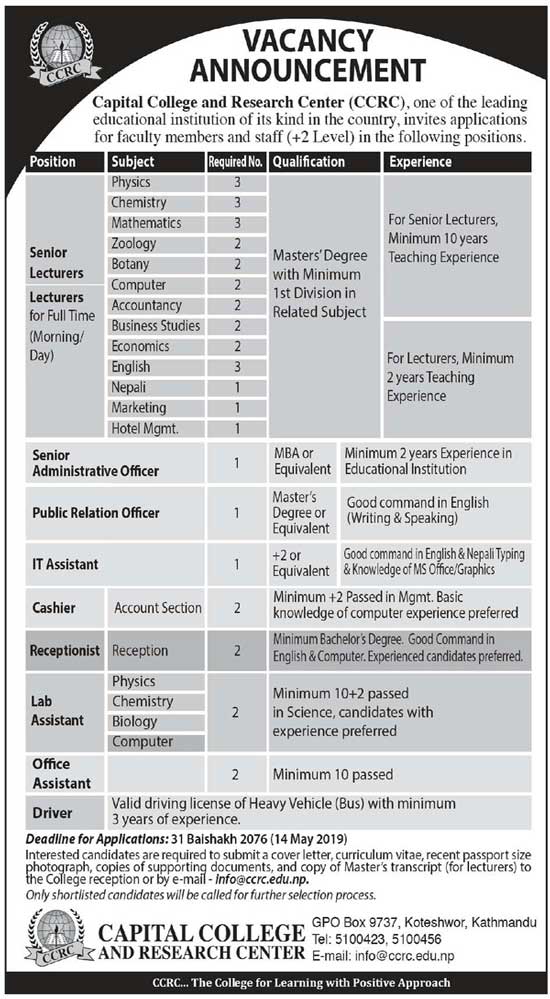 Capital College and Research Center (CCRC), one of the leading educational institution of its kind in the country, invites applications for faculty members and staff (+2 Level) in the following positions.
Senior Lecturer
Physics -3
Chemistry - 3
Mathematics -3
Zoology -2
Botany -2
Junior Lecturer
Computer -2
Accountancy -2
Business Studies -2
Economics -1
English -3
Nepali -1
Marketing -1
Hotel Mgmt. -1
Senior Administrative Officer -1
Public Relation Officer -1
IT Assistant - 1
Cashier -2
Receptionist -2
Lab Assistant -2
Physics
Chemistry
Biology
Computer
Office Assistant-2
Driver
Deadline for Applications: 31 Baishakh 2076 (14 May 2019)
Interested candidates are required to submit a cover letter, curriculum vitae, recent passport size photograph, copies of supporting documents, and copy of Master's transcript (for lecturers) to the College reception or by e-mail - [email protected]
Only shortlisted candidates will be called for the further selection process.
GPO Box 9737, Koteshwor, Kathmandu
CAPITAL COLLEGE AND RESEARCH CENTER
Tel: 5100423. 5100456
E-mail: [email protected]