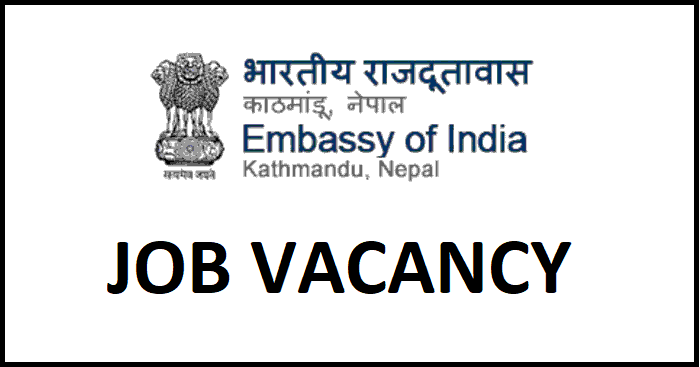 Embassy of India, Kathmandu (Nepal) Vacancy Annoucement for Medical Officer at ECHS Pokhara
Ex-servicemen Contributory Health Scheme (ECHS) is a medical scheme launched by the Government of India to provide free medical treatment to ex-servicemen pensioners and their dependents of the Indian Armed Forces. The Embassy of India in Kathmandu has announced a vacancy for the following post at ECHS Polyclinic, Pokhara:
Position: Medical Officer
Required No.: 1
Employment Type: Contractual basis without any pensionary benefits
Job Description:
As a Medical Officer, you will be responsible for providing medical care and treatment to the beneficiaries of the ECHS scheme at the Polyclinic. You will also be responsible for maintaining medical records, preparing and submitting reports to the higher authorities, and performing any other duties assigned by the authorities.
Qualification and Experience:
The applicant must have a recognized medical qualification and be registered with the Medical Council of Nepal. The applicant must also have a minimum of three years of experience in a hospital or clinic.
Deadline for Submission:
The last date for submission of the application for the above-mentioned vacancy is 09 April 2023.
How to Apply:
Interested candidates may apply by sending their application along with a copy of Nagrikata Praman Patra (NPP) and copies of relevant certificates to the following address:
Pokhara Office-in-Charge ECHS Polyclinic Embassy of India Pension Paying Office Pokhara (Nepal)
Telephone Numbers: 061-430232, 061-431477
Note: Only shortlisted candidates will be contacted for the further selection process. The Embassy of India reserves the right to reject any or all applications without assigning any reason whatsoever. For further details and terms & conditions, please visit the Embassy of India's website at www.indembkathmandu.gov.in.
Hospital Job Vacancy
Pokhara
Job Vacancy
Health Job