Gorkha Municipality Vacancy for Secondary and Lower Secondary Level Teachers: Gorkha Municipality, Teacher Selection Committee, Gorkha Municipality-8 Hugridanda, Gorkha Notice regarding invitation to apply for the post in Teacher's Contract
As per the provision in sub-section 8 of section 34 of the Education Act 2074 of Gorkha Municipality, the post of teacher (teaching-learning assistance grant) in community schools has to be filled; This notice has been published for the information of all concerned to submit the application duly subject to the following conditions and perimeter.
2) Eligibility of the candidate:
- In case of previous higher secondary level: Temporary or permanent teaching permission of higher secondary level should have been obtained by passing the post graduate level or similar in the related subject.
- In case of lower secondary level: Must have passed class 12 or equivalent in the related subject and obtained permanent teaching license of lower secondary or secondary level.
3) Types of examinations: (general and thematic) and oral
4) Examination Center: Gorkha Municipal Executive Office, Gorkha.
5) Examination Fee: Rs. 1000 for Savik Higher Secondary Level and Rs. 800 for Lower Secondary Level.
6) Place of application: Education, Youth and Sports Branch, Gorkha Municipality.
7) Date of first advertisement: 2078-07-12
8) Last date to apply: 2078-07-26 within office hours
9) Contact Date: 2078-07-26 after 3.00 pm
10) Date, time and place of written examination: The date of contact date will be specified.
11) Interview: The date, time and place will be specified along with the publication of the results of the written examination.
12) Documents to be submitted along with the application form
- Certified copy of Nepali citizenship.
- A copy of the educational qualification certificate of the concerned level.
- Copy of teaching license of the concerned level or higher level.
13), more information about advertising:
- Must be not disqualified to be a candidate as per Rule 10 of 2057, including amendment of Teachers Service Commission Rules.
- Candidates who have studied in a foreign institution must submit a copy of the certificate of equivalent qualification obtained from the concerned body.
- The curriculum last revised by the Teacher Service Commission can be found on the Teacher Service Commission's website www.tsc.gov.np.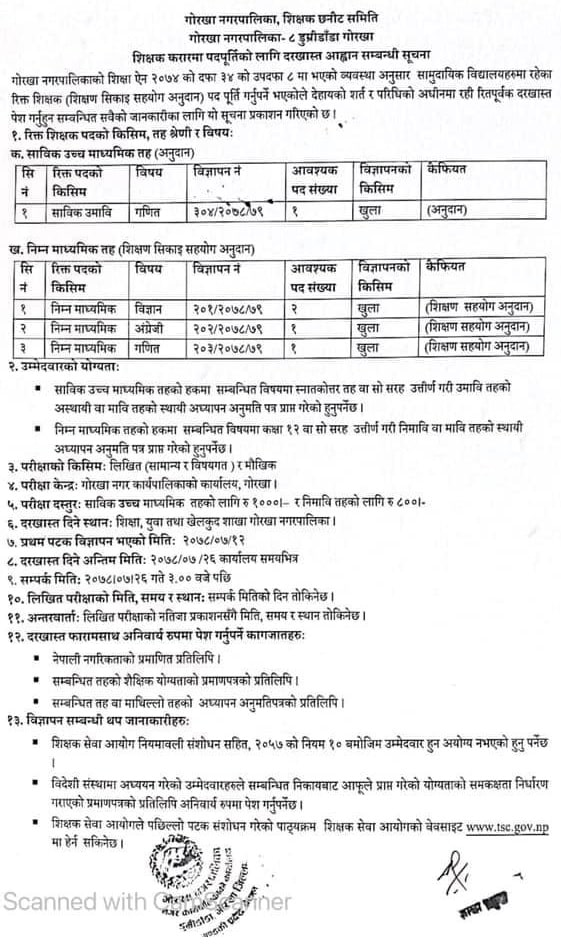 Gandaki Pradesh
Teaching Jobs
School Job
Government Job