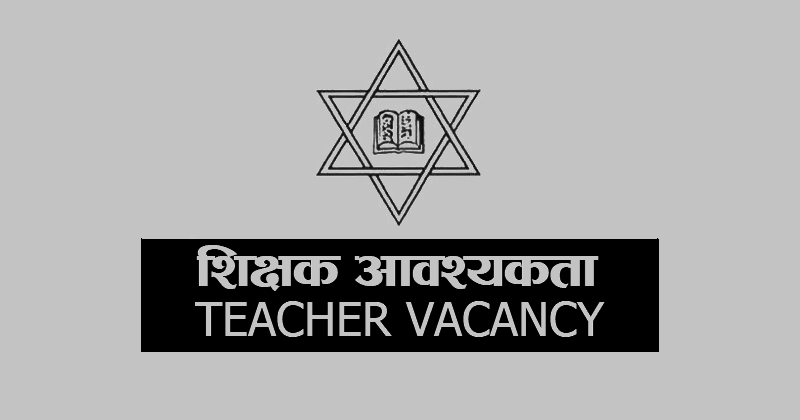 Vacancy Announcement for Secondary Level Relief Teacher at Janajagriti Secondary School, Pokhara
Janajagriti Secondary School located in Pokhara, Kaski has announced a vacancy for the post of secondary level third-grade relief teacher through open competition. The school management committee and Pokhara Metropolitan Municipality Educational Administration Division have jointly made the decision to hire a suitable candidate for the post.
Job Details:
Advertisement No. 01/2080
Level: Secondary
Category: Third Level
Subject: English
Number of vacancy: 1
Type: Secondary Level Relief (Darbandi)
Eligibility Criteria:
Minimum educational qualification: Bachelor's degree from a recognized university with English as the main subject or equivalent and obtained secondary level teaching license from Teachers Service Commission. • Age: Completion of 18 years and not exceeding 40 years. • Nepali citizenship is mandatory.
Application Process:
Interested Nepali citizens who meet the eligibility criteria can apply for the post within 15 days from the date of publication of the notification. The application should be submitted to Sri Janajagriti Secondary School Pokhara-18, Kaski along with a handwritten application, academic copies of qualification certificates, a copy of a permanent teaching permit, and a copy of Nepali citizenship.
The application fee for the post is Rs. 2,000/- (literally two thousand rupees only).
Selection Process:
The selection process for the post of Secondary Level Relief Teacher at Janajagriti Secondary School will be done through a written exam and an interview. The exam venue will be Educational Administration Division, Po.M.N.Pa Kaski.
Salary and Benefits:
The selected candidate will receive a salary and other benefits as per the prevailing rules of the Government of Nepal.
Important Dates:
The last date of submission of the application is Baisakh 11th till 4:00 PM. The application will be open from 12th Baisakh 2080 to 4:00 PM on 19th Baisakh 2080. The examination date will be fixed on the contact date, which is 19th Baisakh 2080.
Candidates who are in the contract list must submit a copy of the paper showing the merit order in the contract list of the relevant level and subject of Gandaki province.
Contact Details:
For any further information, candidates can contact the school's Chairman at 9846027639 or the Headmaster at 9846045403.
If you meet the eligibility criteria and have a passion for teaching, then you must not miss this opportunity. Apply for the post of Secondary Level Relief Teacher at Janajagriti Secondary School, Pokhara, Kaski, and start your career in the education sector.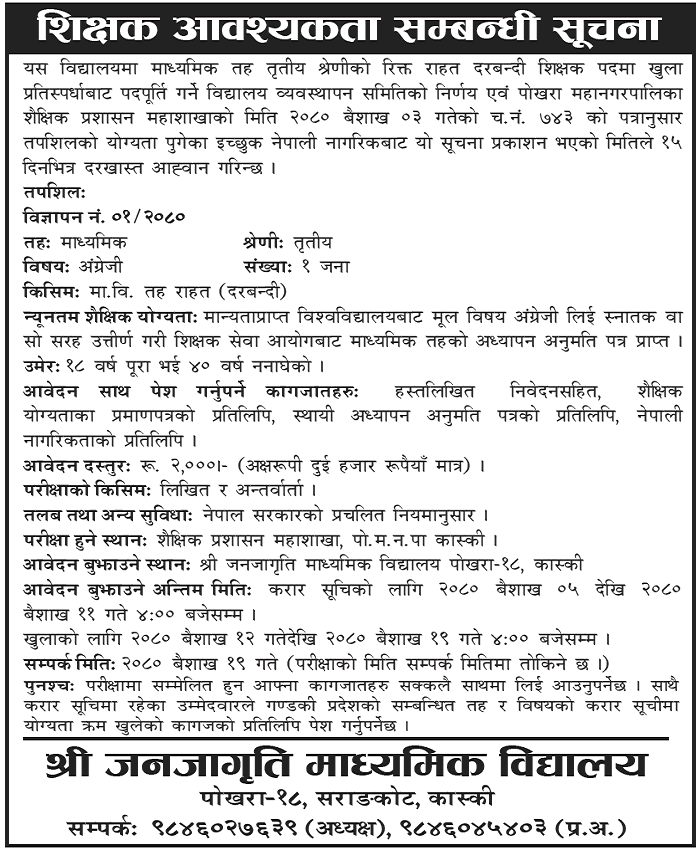 Pokhara
Teaching Jobs
Job Vacancy
School Job