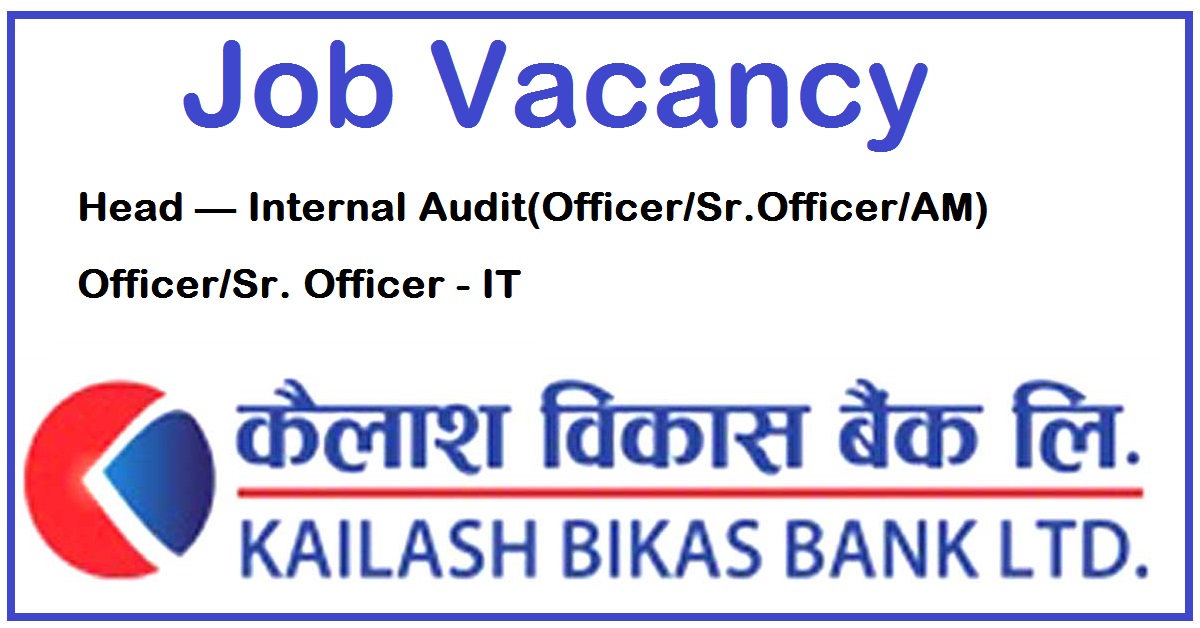 Kailash Bikas Bank Limited, a leading National Level Development Bank which has been rendering excellent services to its clients since 25 years is seeking application from dedicated and competent candidates to enhance business in line with the progressive strategy of the Bank to sustain business practices and to deliver consistent growth. Deserving and Self Motivated candidates may apply for the position mentioned below:
Head — Internal Audit(Officer/Sr.Officer/AM)
Chartered Accountant with at least two years of work experience in Internal Audit Department of bank/financial institution.
OR
Chartered Accountant with at least three years of work experience in reputed Audit Firm after completion of CA.
Member of ICAN/ICAI
Proficient in written/spoken English and Nepali.
Excellent interpersonal skill, high professional standards, integrity.
Officer/Sr. Officer - IT
Bachelors Degree in Engineering, Computer Applications, Information Technology from universities recognized by the Government of Nepal
Candidates having at least 5 years' experience in the IT Department of bank/financial institution.
Desirable Competencies/qualifications for the positions:
Knowledge of software programming and database system.
Knowledge of Pumori Software (IV)
Sound knowledge of Oracle SQL/PL SQL/ Linux System/ Active Directory System/ VM ware system
Good computer networking and security skills along with CCNA knowledge will be
Preference shall be given to candidates having exposure in Banking IT products.
Proficient in written/spoken English and Nepali.
Good interpersonal skills, communication skills and ability to maintain effective working relations with people.
Note:
Candidates applying for the above positions should not exceed 35 years of age as on September 16, 2018. Only shortlisted candidates will be called for the further selection process. The Bank reserves the right to reject any/all applications without assigning any reason whatsoever.
To Apply
Individuals wishing to apply for the position listed above should fill up the online form and attach a transcript of relevant degree as per position (scanned copy) and CV/Resume with full details and PP size photo. The deadline for applications is 17:00hrs, September 16, 2018.
Our Website to apply www.kailashbank.com/career.php
Personal or telephonic enquiries will not be entertained. Candidates lobbying for the position will be automatically disqualified.
KAILASH BIKAS BANK LTD. Head Office : New Plaza, Putalisadak, Kathmandu