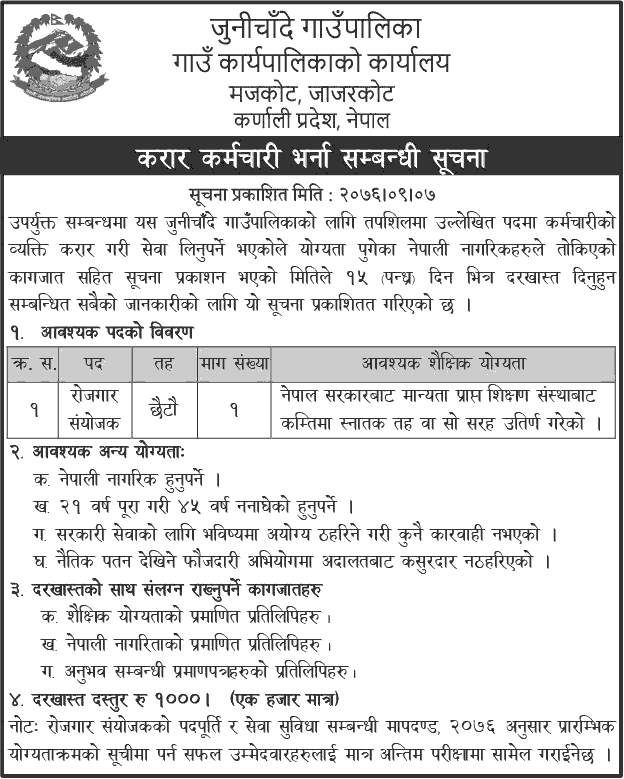 Junichande Rural Municipality Vacancy for Employment Coordinator:
Junichande Rural Municipality, Office of the Municipal Executive, Majkot, Jajarkot, Karnali Province, Nepal
In this connection, for this Junichande villager, this person has to publish the information as per the information mentioned in the post mentioned in the details mentioned by the Nepali nationals who have qualified.
Description of the vacancy:
Post: Employment Coordinator
Level: 6th Level
Required number: 1 (One)
Other Qualifications Required: Minimum Bachelor Degree completed from a recognized university.
A. Must be a Nepali citizen.
B. Must have completed 21 years and not exceed 45 years.
C. No action is taken to be disqualified for future government service.
D. Criminal indictment for moral turpitude has not been found guilty by the court.
Documents to be attached to the application
A. Certified copies of educational qualifications.
B. Certified copies of Nepali citizenship.
C. Copies of Experience Certificates.
Application Fee Rs. 1000 (Only One Thousand)
Note: Only the successful candidates will be included in the final examination as per the criteria for the recruitment and service provision of the Employment Coordinator, 2076.
Notice Date published: 2076/09/07