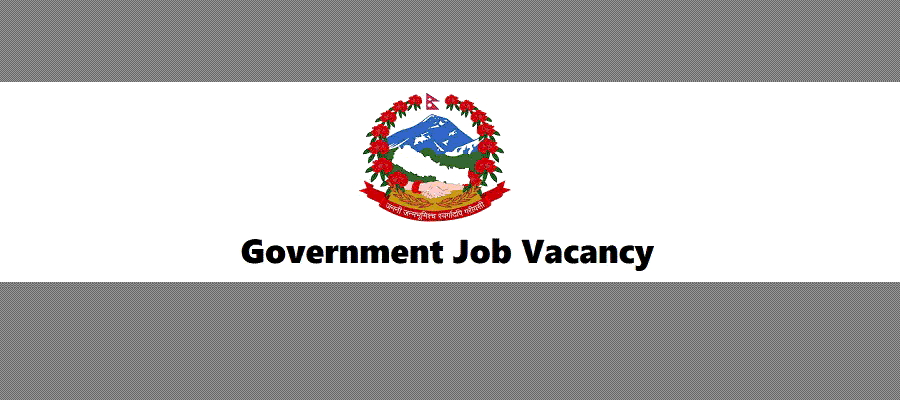 Katahariya Municipality Executive Office Kataharia, Rautahat, Madhesh Pradesh, Nepal notice regarding filling of posts in the contract
The Ministry of Labor, Employment and Social Security, the Prime Minister's Employment Program, and the Transformation Initiative for Youth Employment Project run by the Government of Nepal. Interested Nepali citizens who have reached the following qualifications are requested to submit an application to this office within 15 days from the date of publication of this notice along with the required details and receipt of payment of revenue.
Vacancy Details:
| | | |
| --- | --- | --- |
| Position | Level | Req. No. |
| Rojgar Samyojak (Employment Coordinator) | 6th Level | 1 (One) |
| Rojgar Sahayak (Employment Assistant) | 5th Level | 1 (One) |
| Technical Assistant (Prabidhik Sahayak) | 5th Level | 1 (One) |
1) Minimum qualifications and experience required:
A) For employment coordinator (Rojgar Samyojak):
5 (five) years work experience in project management subject after graduation in management or a related subject.

Candidates who are familiar with the policies, procedures, and procedures of the Government of Nepal and the World Bank and have experience or training in procurement, administration, and project management in projects run with the financial support of World Bank and other development partners will be given special consideration.

Age: At least 21 years old and not exceeding 45 years.

The employment coordinator should have the following skills:

Ability to work as a team member to achieve the objectives and outcomes of the event,

Able to use technical skills and learn new skills,

Excellent ability to communicate and present in written and oral form,

Be able to express thoughts and findings clearly,

Excellent organizational and management ability.
B) For Technical Assistant (Rojgar Sahayak):
Proficiency Certificate Level or Overseer or Diploma in Civil Engineering,

Age: At least 18 years old and not exceeding 45 years.

Experience and Skills: The following experience and skills will be required in Technical Assistant.

Have at least 3 months of basic computer skills,

Able to prepare and analyze project cost estimates, supervision, and final cost details for construction and maintenance of infrastructure, at least 6 months experience with teamwork experience, interpersonal skills to achieve project goals and results.
C) For employment assistant:
Must have proficiency certificate level or similar educational qualification for employment assistant post,

Age: At least 18 years old and not exceeding 45 years.

The following minimum skills will be required in employment assistant:

Can use a computer including Microsoft Office,

Can prepare various periodic reports,

Knowledge of accounting and financial management,

Able to work in a team to achieve project goals and outcomes,

Able to use technology and learn new skills,

Acceptance to those with experience in conducting social mobilization and related activities.
2) Place of application: Municipal Office, Katahariya, Rautahat
3) Last date to apply: 2078-11-27
4) Contact Date: 2078-11-295.
5) Application fee:
For Rojgar Samyojak: Rs. 1000

For Technical Assistant Rs. 500

For Rojgar Sahayak: Rs. 500
6) Service Facility: As specified by the Government of Nepal.
7) Type of Selection: Publication of Preliminary Qualification List, Written Examination, Interview.
8) Documents to be submitted along with the application form
Copy of Nepali citizenship certificate

Copies of educational qualifications and training certificates of the respective level

Relevant level experience open document

Candidates should have attested the documents along with two passport size photo application forms.
(Note: In the case of the application form as per the format prescribed by the Public Service Commission.)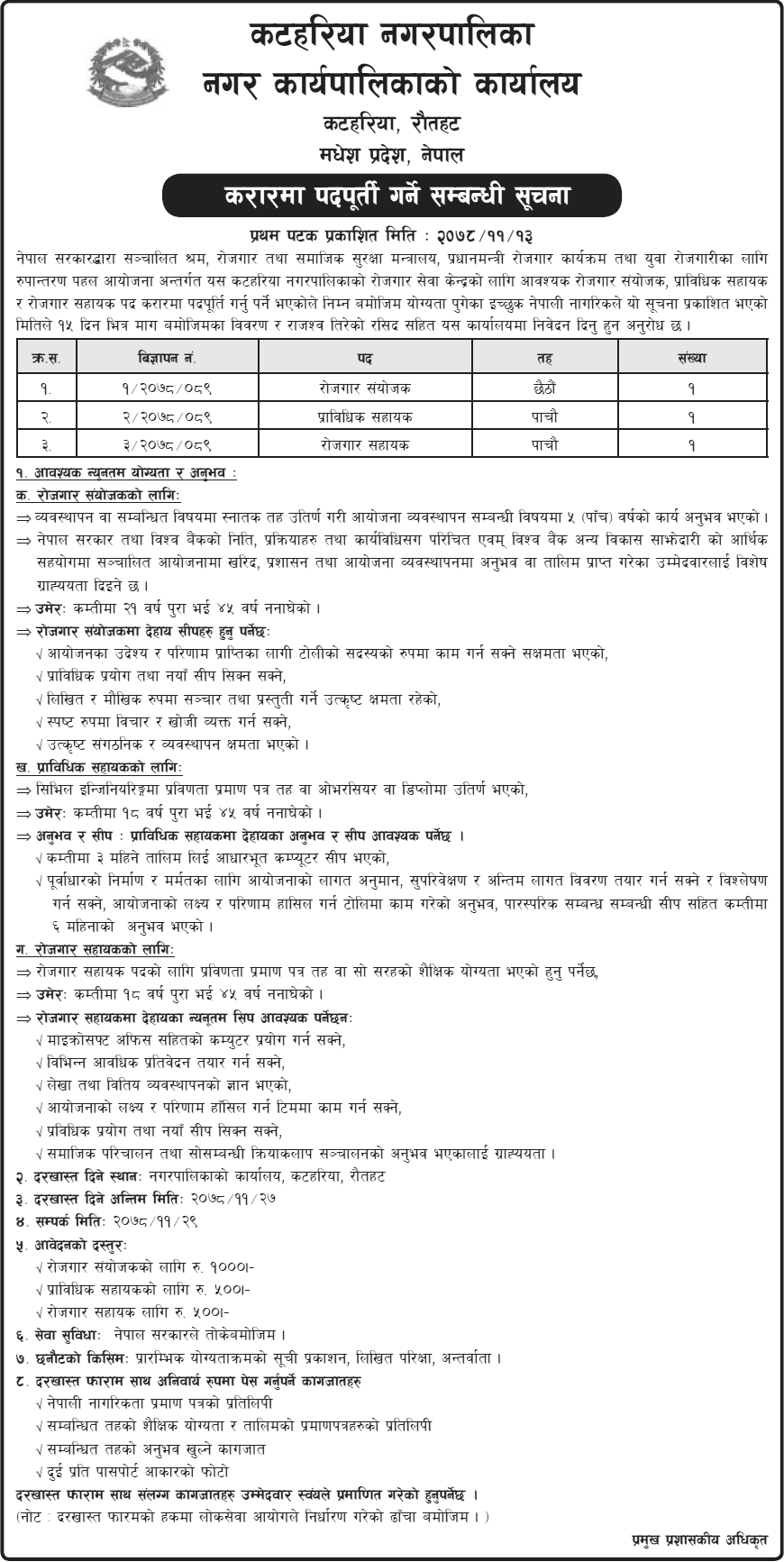 Rautahat
Madhesh Pradesh
Job Vacancy
Government Job