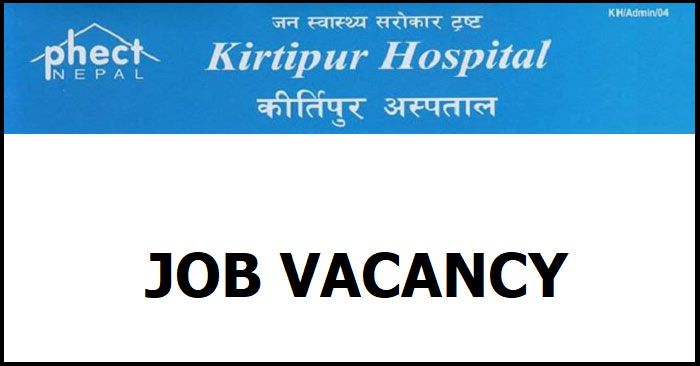 Kirtipur Hospital has been operating since 12 April 2006 as a 15-bed outreach hospital of phect-NEPAL/KMH with a special focus on maternity services. Recently it has been upgraded to a 100-bed hospital with additional specialized services. The hospital provides 24-hour emergency services and a full-fledged outpatient department (OPD). The hospital is in the process of expansion to 300 beds with general and teaching hospital services. Kirtipur Hospital invites job applications for the position of Staff Nurse as per the following details.
1. Position: Staff Nurse
Department: Department of Nursing, Kirtipur Hospital
No. of Position: Few
Qualification: PCL in Nursing or equivalent (Must be registered at NNC)
Please send your updated CV along with the copies of the Academic Transcript and NNC registration in our email: [email protected] by Asar 28, 2079 (July 12. 2022).
Only shortlisted candidates will be contacted for further process.

Human Resources Development
Phect-NEPAL/ Kirtipur Hospital
P 0. Box No.: 6064. Tel.: 4331390. Devdhoka - 2. Kirtipur Municipality, Nepal
Kirtipur
Job Vacancy
Kathmandu
Health Job