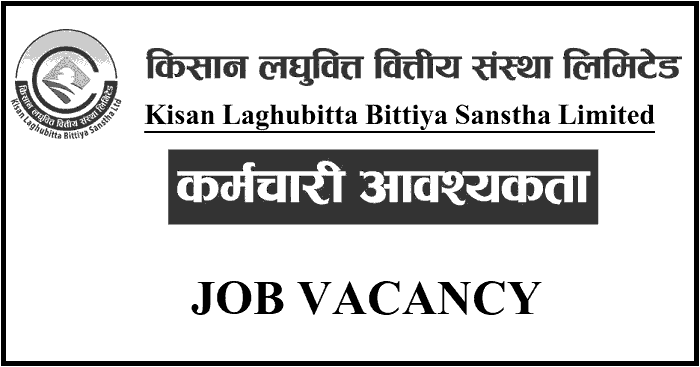 Kisan Laghubitta Bittiya Sanstha Limited, Corporate Office, Budhanilkanth, Kathmandu Notification regarding the appointment of Deputy Chief Executive Officer (DCEO)
Since the vacant post of Deputy Chief Executive Officer (Required Post No. 1) in Kisan Laghubitta Bittiya Sanstha Limited will be filled through open competition. Interested eligible Nepali citizens who have obtained the following minimum educational qualification and experience should apply to the Corporate Office of the organization, Budhanilkanth-8, Kathmandu, or Central Office Dhangadhi-2, Kailali within 15 days from the date of publication of this notice or send the application to the email address [email protected] This notice is published for the information of all concerned.
1) Minimum Educational Qualification and Experience:
(a) Obtained master's degree in economics, monetary, banking, finance, economics, commerce, accounting, statistics, mathematics, public administration, or law from a recognized educational institution.
(b) Having at least 7 years of working experience at the managerial level of microfinance financial institutions.
(c) Not disqualified by prevailing laws, rules and regulations.
(d) Age limit should be 30 years and not exceeding 45 years by the last date of application.
2) Documents and particulars to be submitted with the application
a) Detailed personal details (Bio-Data) including educational qualification, experience, and contact address (email, telephone, mobile number).
(b) Certified copies of Nepali citizenship certificate and all educational qualification certificates and experience.
(c) Copy of about 30 minutes presentation (2126501191101) to be presented by the candidate on the topic "Present situation, challenges and solutions of microfinance in Nepal".
(c) Equivalent recognition certificate of Tribhuvan University in case of educational qualifications obtained from foreign educational institutions.
3) Other information
a) If there are more than three candidates based on the evaluation of the candidate's educational qualifications and submitted documents, at least three of them will be shortlisted and selected for presentation and interview.
b) The organization will have all rights to accept, reject and cancel the application.
c) For more information regarding this, contact the organization's telephone no. Can be contacted at 01-4372274.
Vacancy Notice Published Date: 2079-08-11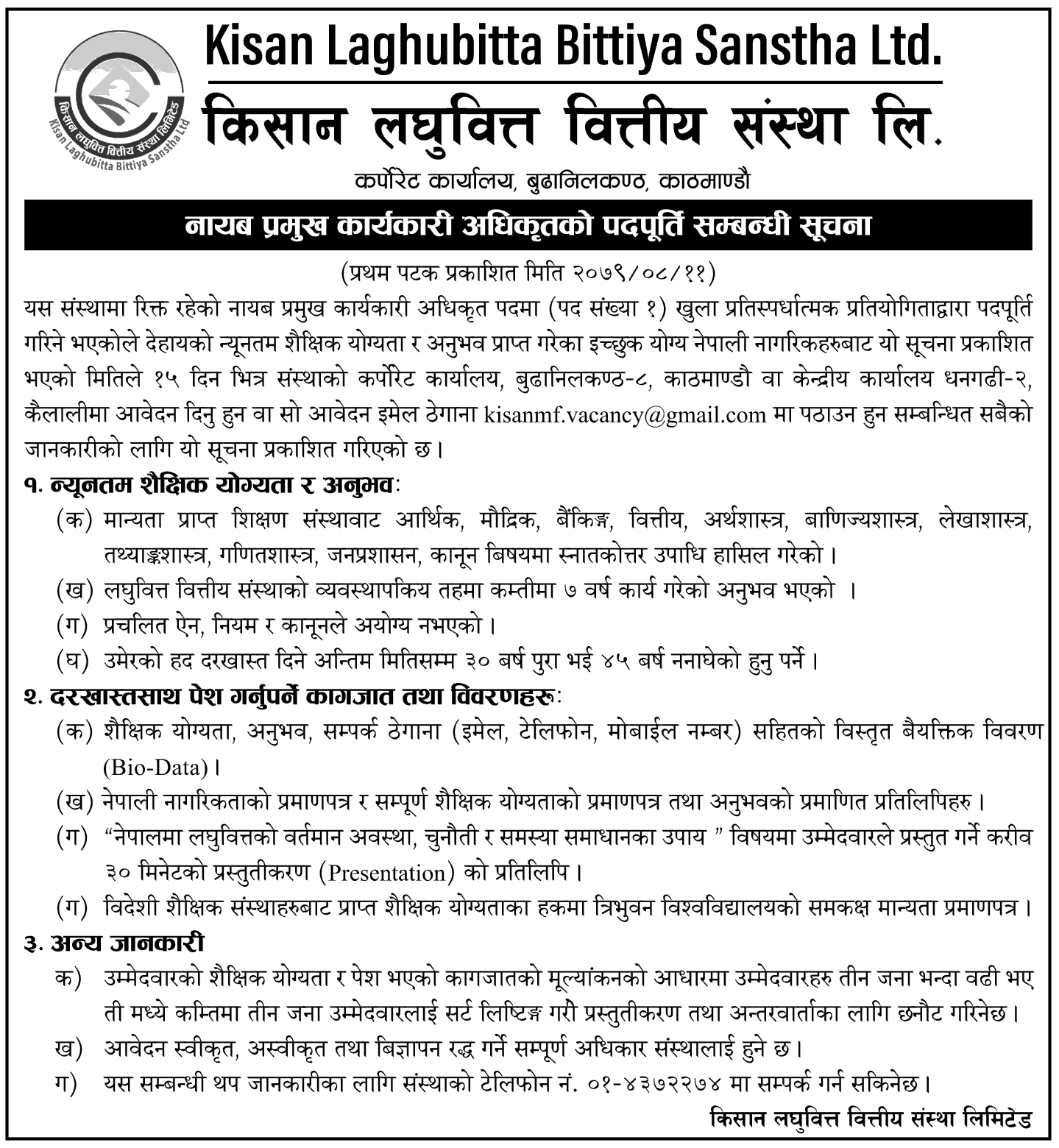 Laghubitta
Banking Career
Job Vacancy
Banking Job