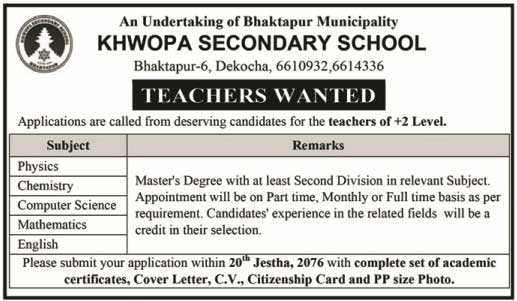 An Undertaking of Bhaktapur Municipality, KHWOPA SECONDARY SCHOOL
Applications are called from deserving candidates for the teachers of +2 Level.
Subject

Remarks

Physics

Master's Degree with at least Second Division in relevant Subject. The appointment will be on Part-time, Monthly or Full-time basis as per requirement. Candidates' experience in the related fields will be a credit in their selection.

Chemistry

Computer Science

Mathematics

English
Please submit your application within 20th Jestha, 2076 with a complete set of academic certificates, Cover Letter, C.V., Citizenship Card and PP size Photo.
Bhaktapur-6, Dekocha, 6610932,6614336