Mahashila Rural Municipality, Office of Rural Municipal Executive, Balakot, Parbat, Gandaki Pradesh, Nepal Vacancy for Civil Engineer on contract service.
As per the decision dated 2078-07-14 for Mahashila Rural Municipality, the following number of qualified and qualified technical staff should be kept in the contract; This notice has been published for all the eligible Nepali citizens to apply within 15 (fifteen) days from the date of publication of this notice along with the receipt of payment of revenue.
Civil Engineer - Six Level - 1 (One)
Required Educational Qualifications: Passed BE or equivalent in Civil Engineering from a recognized educational institution
Eligibility:
Must be a Nepali citizen.
In case of experience, priority will be given to those who have worked experience in the related field.
Must have completed 21 years of age and not exceeded 40 years.
Registered with Nepal Engineering Council (Certificate).
Not disqualified by other prevailing laws.
6) Service facilities: As per the rules of Rural Municipality or as mentioned in the contract agreement.
7) Syllabus: Created by the Public Service Commission for the competitive examination for the post of Civil Engineer Group on the technical side of the locality.
8) Type of Examination: Written and other information will be published for the date of interview and examination.
Attached in the application: Personal details of the candidate, certified copy of educational qualification, certified copy of Nepali citizenship certificate, certified copy of experience and certified copy registered in various councils or councils or other as per prevailing Nepali law should be attached 3 passport size photos. All the submitted copies should be signed and certified by the candidate himself. Candidates applying online will have to deposit the fee in the Inland Revenue Account C111 Mahashila Rural Municipality 3300100301010002 located in Rastriya Banijya Bank Lukhudeurali Parbat of this Rural Municipality and submit the email of Rural Municipality [email protected] with voucher attached. No tax will be levied on applications received after the deadline.
Application format and other information: will be available on the website of this office: www.mahashilagapa.gov.np. In addition, all the rights related to the vacancy will remain with this office.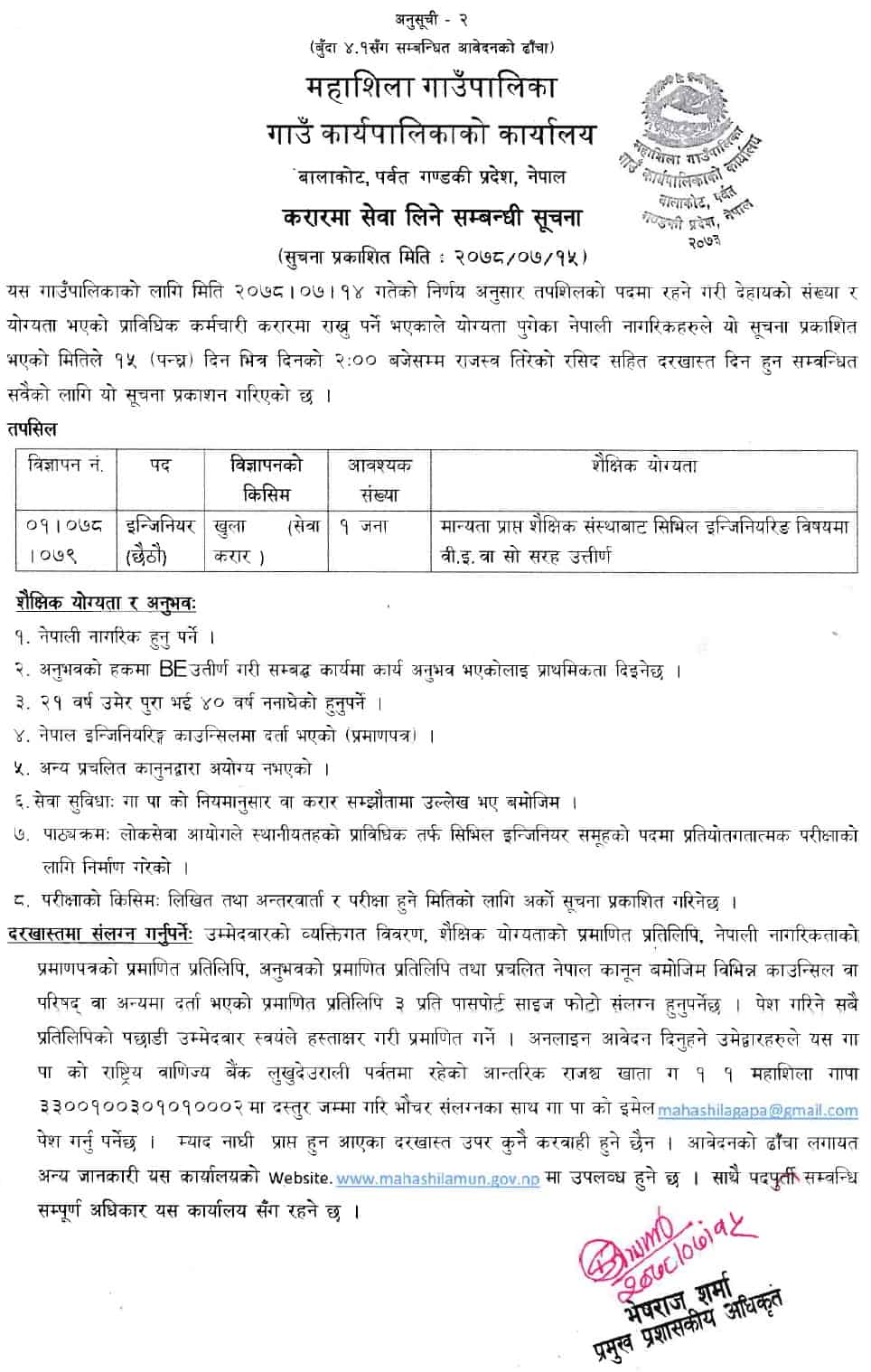 Jobs for Freshers
Technical Jobs
Gandaki Pradesh
Job Vacancy
Engineering Job
Government Job