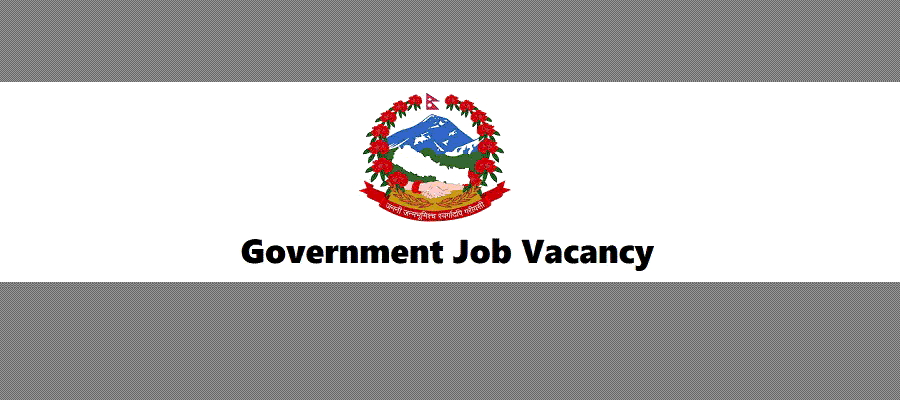 Matihani Municipality, Municipal Executive Office, Dhirapur, Mahottari, Madhesh Pradesh, Nepal Notification regarding filling of the post in ANM service contract
Since ANM 4th level should be appointed in the service contract by the end of the Fiscal Year 2079/080 Ashad month to operate the 24-hour maternity service for the office of Matihani Municipal Corporation under the following conditions; This 15-day notification has been published for inviting applications to eligible Nepali citizens from date 2079-06-02.
1. ANM (4th Level) - 1 Person
1) Number of Posts:- 1 (One)
2) Educational Qualification:- Passed ANM course from a recognized educational institution and registered with Nursing Council.
3) Type of Examination:- Short List, Written and Oral. (The exam program will be published later.)
4) Application deadline:- 2079-06-16 within office hours.
5) Application fee:- Rs. 500 (Five hundred only)
6) Details of work conditions (TOR):- It will be as specified.
7) Required documents:- Certificates of educational qualification, letter of interest, character certificate, certificate of equivalency in case of foreign educational qualification, copy of experience certificates and copy of Nepali citizenship, cash receipt registered and submitted to the service-related council must be submitted.
8) Points will be awarded to the shortlist registration educational qualification, experience, local level, district, and Province.
9) Age:- Must have completed 18 years and not exceeding 40 years.
10) How to apply:- Submit the documents mentioned in item no. 7 and the receipt specified in item no. 5 to the Internal Revenue Account No. C-1-1/6801524608693075 in Machhapuchche Bank Limited Matihani Branch and attach the receipt in person to the application. You have to apply.
11) Remuneration and service facilities:- It will be as specified.
12) According to the mentioned notification, the right to accept or reject the application shall be vested in the selection and recommendation committee.
13) SBA trained, local, experienced ANMs will be preferred.
14) For more information, you can contact 9844035909 or the Matihani Municipality office during office hours.
First published date: 2079-06-02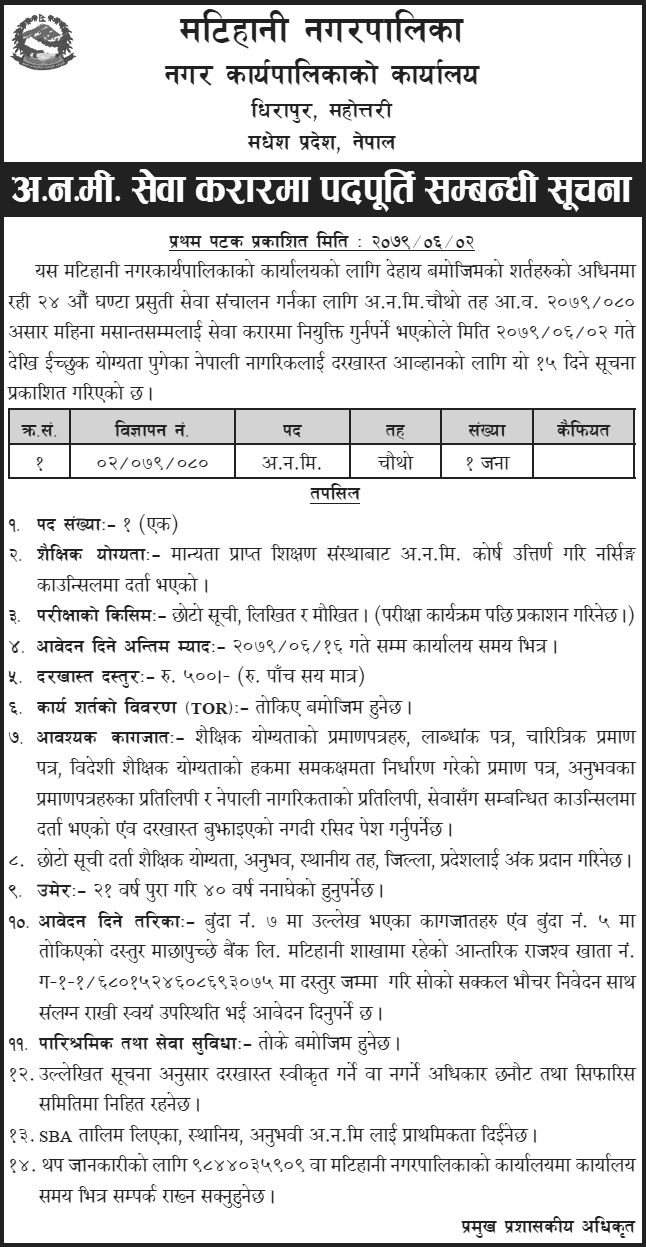 Hospital Job Vacancy
Mahottari
Job Vacancy
Health Job
Government Job