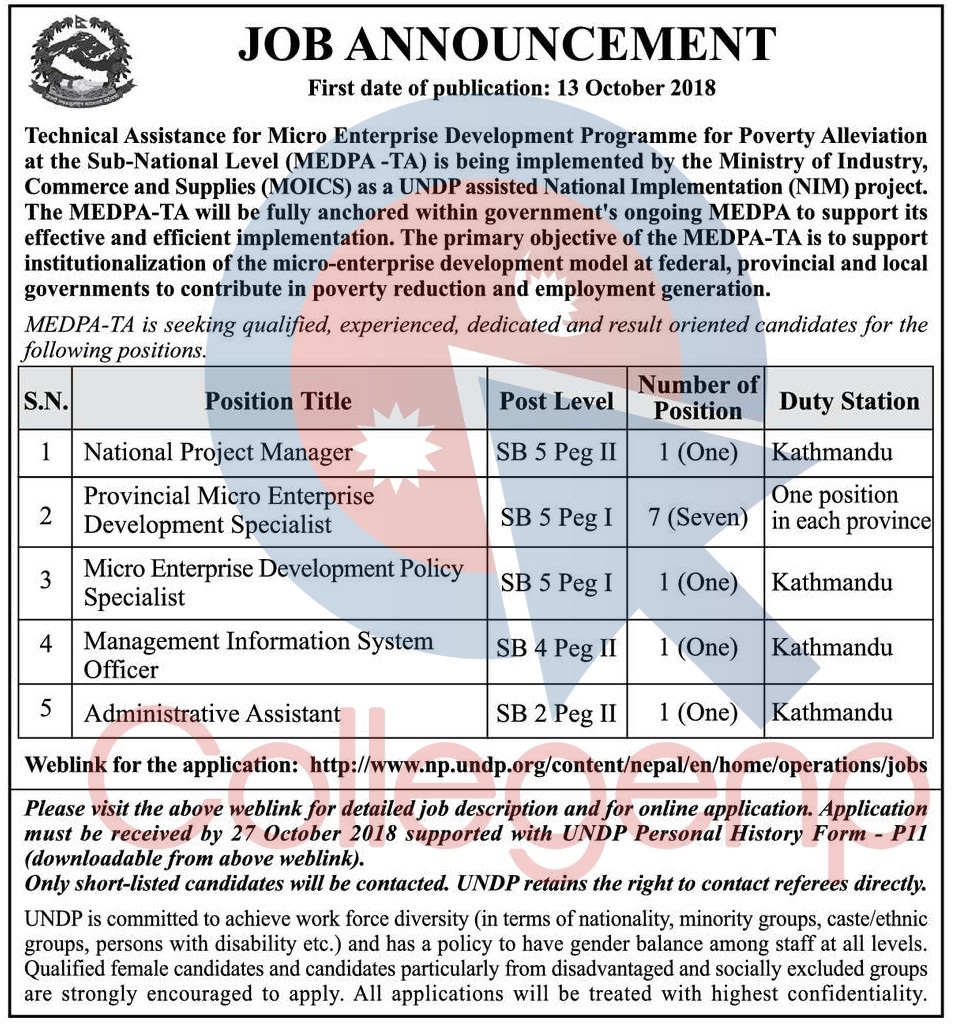 Technical Assistance for Micro Enterprise Development Programme for Poverty Alleviation at the Sub-National Level (MEDPA-TA) is being implemented by the Ministry of Industry, Commerce and Supplies (MOICS) as a UNDP assisted National Implementation (NIM) project.
The MEDPA-TA will be fully anchored within government's ongoing MEDPA to support its effective and efficient implementation. The primary objective of the MEDPA-TA is to support the institutionalization of the micro-enterprise development model at federal, provincial and local governments to contribute to poverty reduction and employment generation.
MEDPA-TA is seeking qualified, experienced, dedicated and results in oriented candidates for the following positions.
S.N.

Position Title

Post Level

Number of positions

Duty Station

1

National Project Manager

SB 5 Peg II

1 (One)

Kathmandu

2

Provincial Micro Enterprise

Development Specialist

SB 5 Peg

I

7

One position

in each province

3

Micro Enterprise Development Policy

Specialist

SB 5 Peg

I

1 (One)

Kathmandu

4

Management Information System

Officer

SB 4 Peg II

1 (One)

Kathmandu

5

Administrative Assistant

SB 2 Peg II

1 (One)

Kathmandu
Weblink for the application: http://www.np.undp.org/content/nepal/en/home/operations/jobs
Please visit the above web link for detailed job description and for online application. The application must be received by 27 October 2018 supported with UNDP Personal History Form - P11 (downloadable from above web link).
Only short-listed candidates will be contacted. UNDP retains the right to contact referees directly.
UNDP is committed to achieving work force diversity (in terms of nationality, minority groups, caste/ethnic groups, persons with disability etc.) and has a policy to have gender balance among staff at all levels.
Qualified female candidates and candidates particularly from disadvantaged and socially excluded groups are strongly encouraged to apply. All applications will be treated with the highest confidentiality.
First date of publication: 13 October 2018