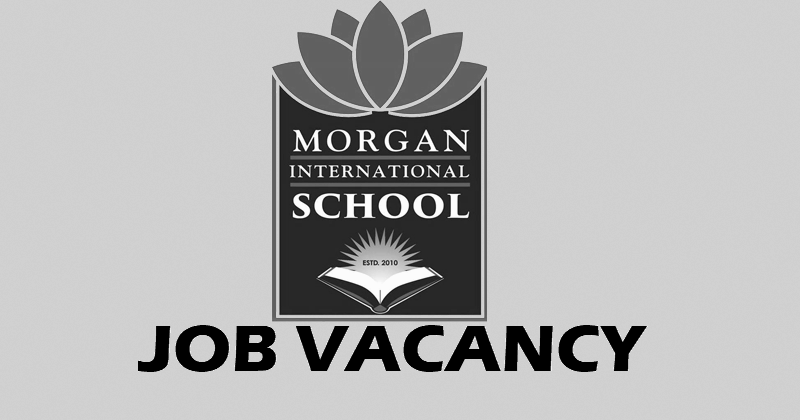 VACANCY ANNOUNCEMENT MORGAN INTERNATIONAL SCHOOL
Morgan International School is a reputed English medium school located in Nepal. The school is seeking highly dedicated, qualified, and energetic faculty members for the following positions:
Pre-Primary
Montessori Coordinator - 1
Montessori Teachers - 2
Dance/Art/Vocal/Music - 1/1
Counsellor/Admin Officer - 1/1
Primary Teachers
Grade Teachers/Assistant Teachers (Montessori Trained) - 1/1
Computer Science/Science - 1/1
Secondary Teachers
Vice-Principal - 1
Senior Coordinator - 1
Junior Coordinator - 1
Computer Science - 1
Science/Nepali/Mathematics - 1/1/1
IT Officer/Exam Officer - 1/1
Office Secretary/Driver - 1/1
Qualifications:
Candidates applying for these positions must possess the following qualifications:
Minimum academic qualification: Graduation/Bachelor's degree in the relevant subject (preferably Master's degree for secondary level)
At least three years of teaching experience
Montessori Training for grade teachers
Requirements:
Apart from possessing the necessary qualifications and experience, candidates should also have:
Good command of written and spoken English
A fondness for teaching
Familiarity with multimedia operation
A pleasant personality with a child-loving nature.
Remuneration:
Morgan International School offers a competitive salary package to its faculty members. The salary for the post of Montessori Co-ordinator, Pre-Primary Coordinator, Primary Teachers will be INR 30,000 (Rs. 48,000) along with residential facility. The minimum salary for other selected candidates will be above INR 30,000 (Rs.48,000) with residential facility.
How to Apply:
Interested candidates may apply by sending their CV and credentials via email to [email protected]. Shortlisted candidates will be informed through email/calls. Interviews will be held after two weeks of the application deadline in Darjeeling or Kathmandu.
Priority given to candidates from Darjeeling and its vicinity:
Candidates from Darjeeling and its vicinity (Sikkim, Silguri, Assam, Kalimpong, Gangtok, Kurseong, Mirik, and Madras) will be given top priority during the selection process. Nepalese citizens are also highly encouraged to submit their CV along with a photograph and their testimonials within two weeks from the date of publication.
Contact Information:
For more information, please contact Morgan International School at the following:
Phone: 01-4379342, 01-4984204, 01-4954088
Email: [email protected]
Website: www.morganschool.edu.np
Morgan International School is an equal opportunity employer. We encourage candidates from all backgrounds to apply.
Application deadline: Two weeks from the date of publication.
Vacancy Published Date: Chaitra 11, 2079 (25th March 2023)
Teaching Jobs
Job Vacancy
Kathmandu
School Job