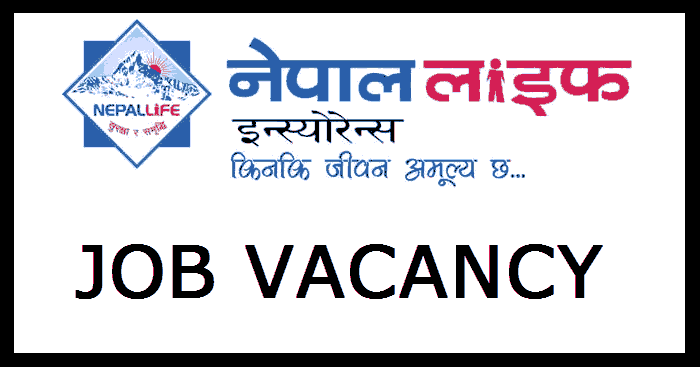 Nepal Life Insurance Company Limited, a leading life insurance Company in Nepal which has been rendering excellent services to its clients since 22 years is seeking applications from dynamic, young, dedicated and competent candidates for various positions. The Company is on a look out to hire candidates who are proactive, self-motivated, and result-oriented and can positively contribute to fulfill its progressive strategy of consistent growth.
Interested Nepalese Citizens meeting the criteria mentioned below for different positions are encouraged to apply:
1. SENIOR OFFICER/ASSISTANT MANAGER (1)- IT
Minimum Bachelor's degree in IT or equivalent from a recognized university.
Minimum 5 years of experience in developing software in .NET technology using C#, ASP.NET Core, MVC, Webapi
Experience in SQL Server, writing optimized Queries, Stored Procedures, Functions, Triggers, etc.
Proficiency with JavaScript, HTML5, CSS3, jQuery
Good communication, analytical and problem-solving skills.
Age not exceeding 40 years.
2. SENIOR ASSISTANT/ JUNIOR OFFICER (2)- IT
Minimum Bachelor's degree in IT or equivalent from a recognized university.
Minimum 1 year of experience in developing software in .NET technology using C#, NET Core, MVC, Webapi
Good in SQL Server, writing optimized Queries, Stored Procedures, Functions, Triggers, etc.
Proficiency with JavaScript, HTML5, CSS3, jOuery.
Good communication, analytical and problem-solving skills.
Age not exceeding 35 years.
3. COMPLIANCE / RISK UNIT (FEW)- UPTO OFFICER LEVEL
Minimum Bachelor's degree in management or equivalent from a recognized university.
Atleast 2 years of experience in a related field in banking/insurance or other relevant sectors.
For the Compliance Unit, knowledge of GoML shall be an advantage.
Excellent analytical, presentation, and communication skills.
Age not exceeding 35 years.
Note: Position shall be negotiable for qualified and eligible candidates commensurable with their experience and expertise. Age shall be counted as of 17:00hrs June 24, 2022.
Only shortlisted candidates will be called for further process. The Company reserves the right to reject any/all applications without assigning any reason whatsoever. Any incomplete application shall not be accepted.
TO APPLY
Individuals wishing to apply for the position should fill up the online form and attach related documents (scanned copy) or physically drop the documents in the HR Department, Nepal Life Insurance Company Ltd, Corporate Office- Classic Complex, Kamaladi (Ktm).
The deadline for applications is 17:00 hrs June 24, 2022.
To apply (career-job function) visit us at: http://nepallife.com.np/career
Personal or telephonic enquiries will not be entertained. Candidates lobbying for the position will be automatically disqualified
Insurance Job Vacancy
Job Vacancy