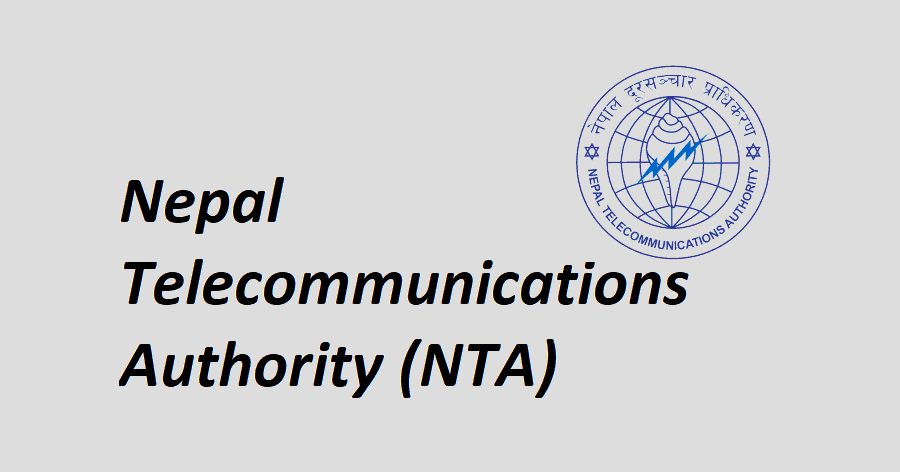 Government of Nepal, Ministry of Communication and Information Technology Notice Inviting Applications for Market Management Member of Nepal Telecommunication Authority (NTA)
The Ministry of Communication and Information Technology, Government of Nepal, has released a notice inviting applications for the position of Market Management Member at the Nepal Telecommunication Authority. Interested Nepali citizens who meet the following qualifications are encouraged to apply:
Qualifications:
Age: Applicants must be between 30 and 65 years old as of the last date of application submission.
Education: A minimum of graduation level in management, economics, or public administration from a recognized educational institution is required.
Experience: Candidates should possess at least seven years of relevant experience in the field. For government employees or individuals working in public institutions, authorities, boards, committees, commissions, foundations, or public limited companies, the experience should be in gazetted first-class, tenth level, or higher positions.
Eligibility: Applicants must not be ineligible for appointment as per the prevailing law.
Required Documents: Interested candidates who meet the above qualifications need to submit the following documents to the Ministry of Communication and Information Technology:
Application for appointment consideration
Copy of Nepalese citizenship certificate
Detailed personal information and qualifications (Biodata)
Copy of educational qualification certificate (or equivalent for foreign institutions)
Copy of experience certificate demonstrating the duration of service
Professional action plan of a minimum of three thousand to a maximum of five thousand words on A4 size paper in Nepali or English (computer typed, without any identification)
Two recent photographs
Self-declaration stating the absence of a permanent residence permit in a foreign country
Copies of any other relevant documents related to the post
Submission Process:
Educational qualification and work experience certificates must be certified by a notary public.
The last date for application submission is fifteen days from the publication date of this notice. If a public holiday falls on the last day, applications can be submitted on the next working day within office hours.
Applications should be submitted to the Institute Coordination Branch at the Ministry of Communication and Information Technology, Singh Darbar.
Selection Process: Candidates will be recommended for appointment based on their submitted professional action plan, presentation, and interview evaluation.
Important Information:
Applications received after the deadline will not be considered.
Along with the application, candidates must provide a self-declaration regarding their qualifications. The format for the self-declaration can be obtained from the Ministry's website (www.mocit.gov.np) and the Nepal Telecommunication Authority's website (www.nta.gov.np).
For further information, please contact the Institute Coordination Branch of the Ministry of Communication and Information Technology.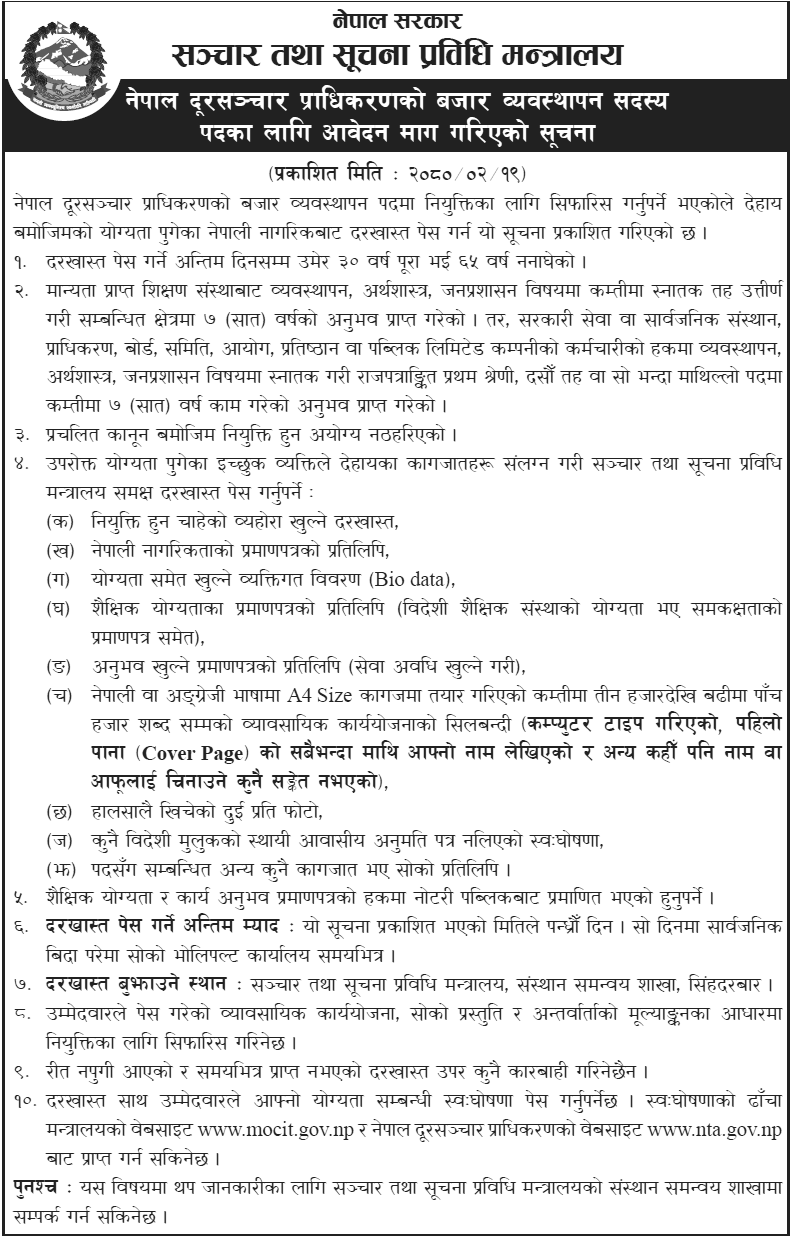 Job Vacancy
Government Job