Vacancy Announcement: District Judge Internal Open, Open, and Inclusive Competitive Written Examination
The Judicial Service Commission is pleased to announce vacancies for the position of District Judge through a competitive written examination. This vacancy announcement is in compliance with clause (b) and (c) of sub-section (2) of Article 149 of the Constitution of Nepal. The Commission invites interested and eligible candidates to apply for this esteemed position, which offers an opportunity to serve as a District Judge and contribute to the judicial system of Nepal.
Advertisement Details Advertisement No.: 001-006/2079/80 (Internal Open, Open, Women, Adivasi/Janajati, Madheshi, Dalit) Information Publication Date: 2080/02/26
| Advertisement No. | Group | Required Position No. |
| --- | --- | --- |
| 001/079-80 | Internal Open | 15 |
| 002/079-80 | Open | 7 |
| 003/079-80 | Women | 2 |
| 004/079-80 | Adivasi Janajati | 2 |
| 005/079-80 | Madheshi | 2 |
| 006/079-80 | Dalit | 1 |
Written Exam Schedule The written examination will be conducted in four papers, covering various aspects of law and legal procedures. The schedule for each paper is as follows:
First Paper: Jurisprudence, Constitutional Law and Legal System Date: 2080/04/16 Time: 2:00 PM

Second Paper: Civil Law and Civil Procedure Date: 2080/04/17 Time: 2:00 PM

Third Paper: Criminal Law and Criminal Procedure Date: 2080/04/18 Time: 2:00 PM

Fourth Paper: Missile Studies

Section 1: Order Writing Date: 2080/04/19 Time: 2:00 PM
Section 2: Decision Writing Date: 2080/04/20 Time: 2:00 PM
Type of Examination
The examination will comprise a written test followed by an interview. Candidates will be evaluated based on their performance in both stages of the selection process.
Exam Center
The examination will be held in the Kathmandu Valley, with specific centers to be designated and notified later through an official notification.
Examination Fees
Candidates applying under the internal open and open categories are required to pay an examination fee of Rs. 2000/-. Additionally, candidates from inclusive groups must submit an additional fee of Rs. 500/-. The application fee should be paid at the Judicial Council Secretariat, located at the Office in Ramshahpath.
Application Deadline
Interested candidates should submit their applications within 30 days from the date of publication of the advertisement notice. However, an extended period of 7 days is allowed for applicants who choose to pay the double fee.
Date of Interview
The results of the written examination will be announced separately. The dates for the interviews will be notified subsequently.
Salary and Job Description
The selected candidates will receive a salary as per the prevailing scale. District Judges are entrusted with the responsibility of carrying out the duties assigned to them in accordance with the existing laws.
Minimum Qualifications and Experience
Candidates must fulfill the minimum qualifications and experience requirements as prescribed in the Constitution of Nepal. For detailed information, applicants are advised to visit the Judicial Service Commission's official website at http://www.jcs.gov.np.
The Judicial Service Commission announces the vacancies for the position of District Judge through the competitive written examination. This is an excellent opportunity for eligible individuals to join the judiciary and contribute to the legal system of Nepal. For comprehensive details and further information, interested candidates are encouraged to visit the Commission's official website.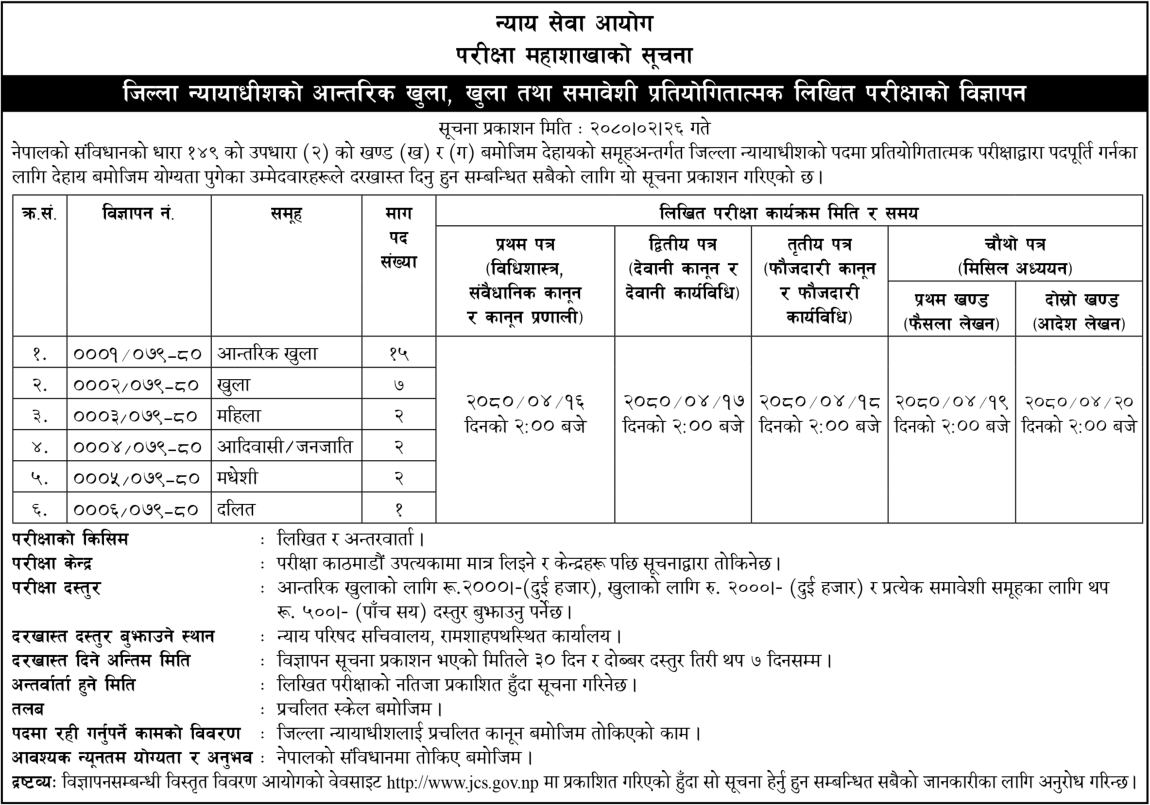 Government Job