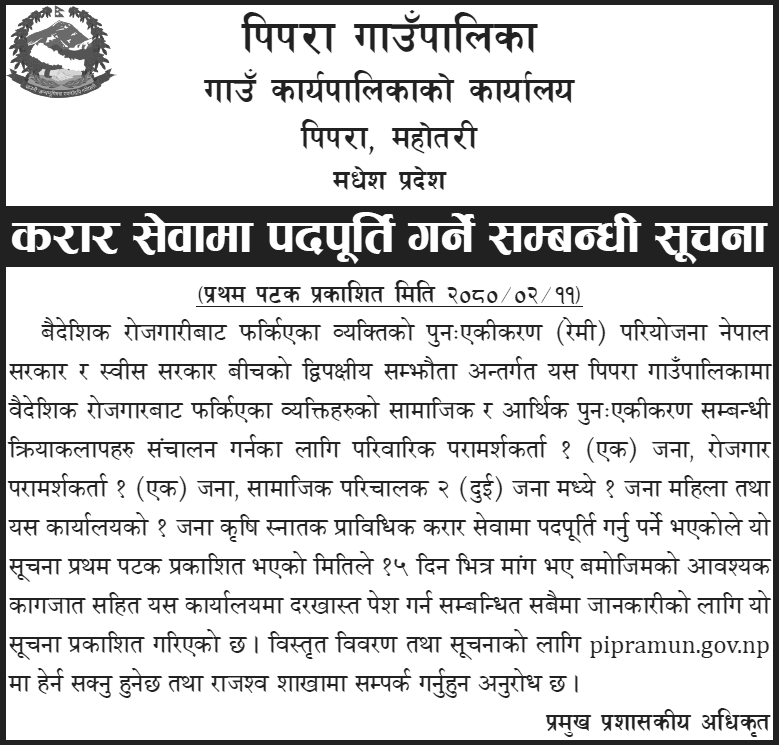 Job Vacancies in Pipra Rural Municipality
Reintegration of people returned from foreign employment (REMI) project
Pipra Rural Municipality, located in Mahottari, Madhesh Pradesh, announces the availability of job opportunities in the contract service. This initiative is part of the bilateral agreement between the government of Nepal and the Swiss government, aiming to support the social and economic reintegration of individuals who have returned from foreign employment.
Available Positions:
1. Family Consultant: We are seeking one qualified individual to serve as a family consultant within Pipra Rural Municipality. The role entails providing guidance and support to individuals and families who have recently returned from foreign employment.
2. Employment Consultant: One position is open for an employment consultant. The selected candidate will assist in facilitating employment opportunities for returnees, helping them integrate into the local job market.
3. Social Administrators: Two social administrators will be hired to work closely with the community and ensure the successful implementation of the REMI project. Out of the two positions, one must be filled by a female candidate.
4. Agricultural Graduate: We are looking for an agricultural graduate to join our team. The chosen candidate will contribute to the development and implementation of agricultural initiatives that support the reintegration efforts of returnees.
Application Process:
Interested individuals are requested to submit their applications to the Rural Municipal Executive Office within 15 days from the initial publication of this notice. Please include all necessary documents as specified in the application requirements. For detailed information and guidelines, please visit our official website pipramun.gov.np. If you have any further queries, kindly reach out to the revenue branch.
Important Dates:
First published date: 2080/02/11
Deadline for application submission: 15 days from the first publication date
Pipra Rural Municipality encourages all eligible candidates to seize this opportunity and contribute to the vital task of reintegrating individuals who have returned from foreign employment. Your dedication and expertise will play a crucial role in fostering social and economic progress within our community.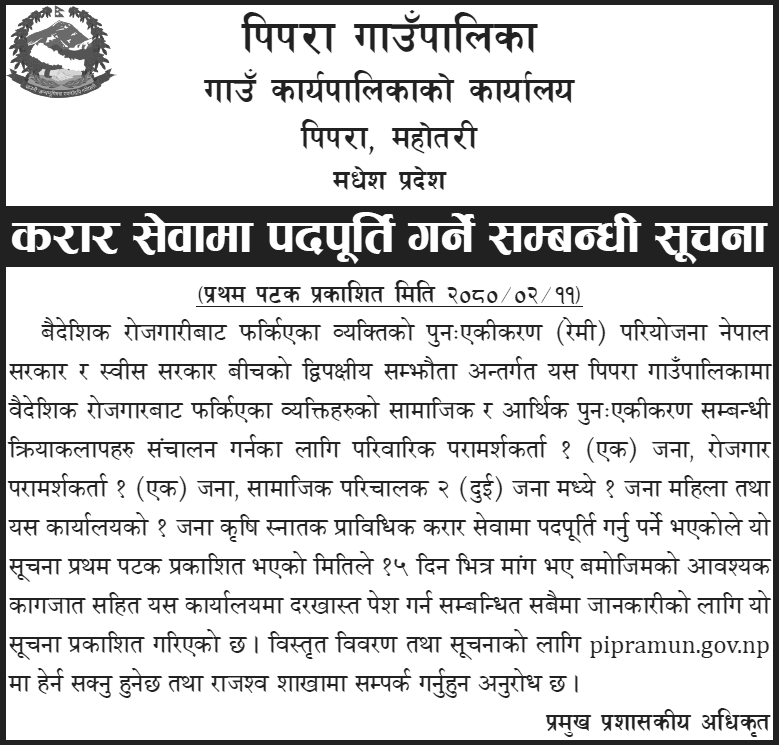 Karar Job Vacancy
Madhesh Pradesh
Mahottari
Job Vacancy
Government Job