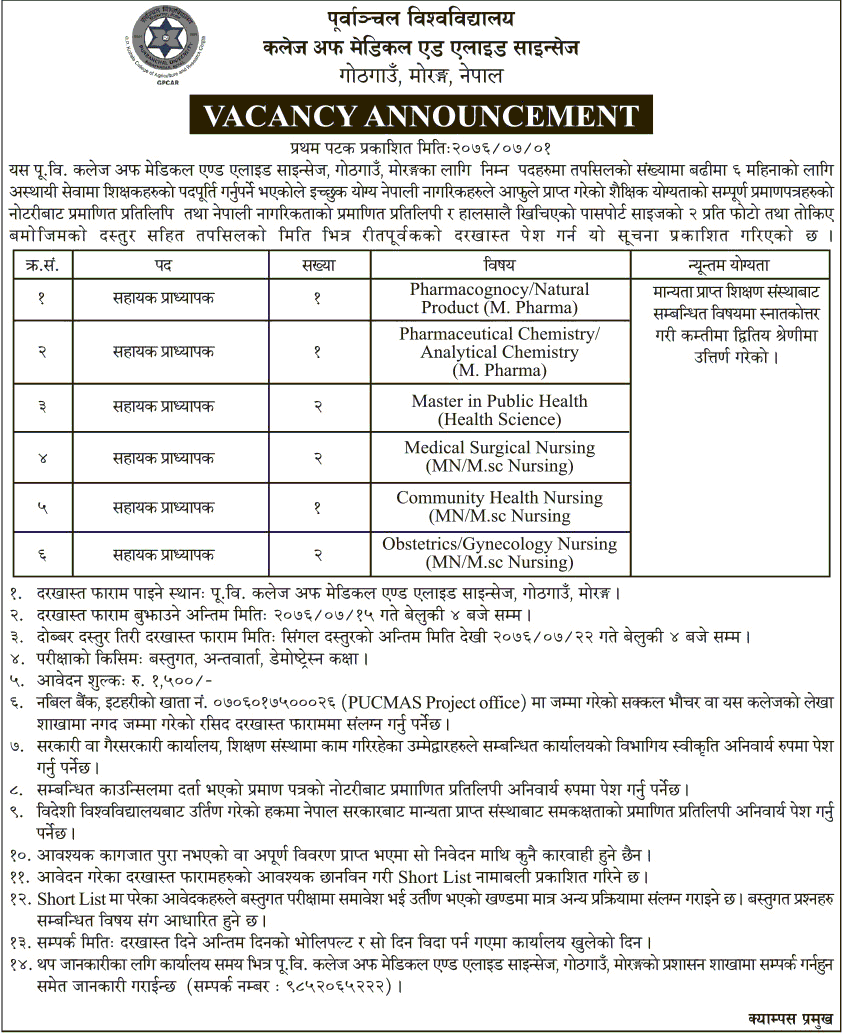 Purbanchal University, College of Medical and Allied Sciences, Gothagaon, Morang, Nepal
First Published: 2076/07/01
For the Purbanchal University, College of Medical and Allied Sciences, Gothagaon, Morang, the following posts require the recruitment of teachers in temporary service for a maximum period of six months. 2 pc photo of passport size and designated This notice has been published for submission of formal application within the date of submission, including the customs.
Application Form: Purbanchal University College of Medical and Allied Sciences, Gothagaon, Morang.
Deadline for submitting application form: 2076/07/15 at 4 pm.
Application Form Date with Double Fees: till 2076/07/22 at 4 pm.
The type of examination; In fact, interview, demotion class.
Application Fee: Rs. 1500 / -
Nabil Bank, Itahari's Account no. The original voucher deposited on 0706017500026 (PUCMAS Project Office) or cash deposited in the accounting branch of this college should be enclosed in the application form.
Candidates working in government or non-government offices, educational institutions, must submit departmental approval of the respective office.
The certified copy must be submitted from the notary of the certificate registered with the Council concerned.
In the case of a quote from a university, a certified copy of the equivalent will be required to be submitted by a recognized institution from the Government of Nepal.
If the required document is not completed or an incomplete statement is received, no action will be taken on the application.
Shortlist nominations will be published after the required investigation of the application forms applied.
Applicants in the shortlist will be included in the actual examination only if they are admitted in the examination and will be involved in other processes. The actual questions will be based on related topics.
Contact Date: The day after the last day of the application and if the day goes to leave, the office opens.
For further information please contact the administration branch of Purbanchal University College of Medical and Allied Sciences, Gothagaon, Morg within office hours (contact number: 9852065222)
Campus Chief