Province Government, Lumbini Pradesh, Ministry of Health, Population and Family Welfare, Directorate of Health, Pyuthan Hospital, Bijuwar, Pyuthan Vacancy for the position of Medical Officer, Lab Technician, Health Assistant (HA), Radiographer, Anesthesia Assistant, Assistant Computer Operator, and Office Helper
Since the vacancies in Pyuthan Hospital, Pyuthan as per the details have been filled through permanent adjustment or other process, they have to be filled by contract examination through competitive examination till the end of Ashad 2079 BS. Applications are invited to the following qualified Nepali citizens.
This information has been published for the candidates who have reached the prescribed minimum qualification to apply at this Pyuthan Hospital within 15 days from the date of publication of the notice. No action will be taken on the application which has expired or has not reached the due date.
Documents to be submitted with the application:
A) Certified copy of Nepali citizenship certificate.
B) Certified copy of qualification, training and work experience certificate.
C) Certified copy of the certificate of council registration of the post concerned in the case of health technical posts.
Last date to fill the application form: By 2078-08-01 during office hours. If there is a public holiday on that day, then the next day.
Place to apply: Pyuthan Hospital, Bijuwar, Pyuthan (According to the post and level, the form of Public Service Commission should be filled and submitted. In case of Office Helper, the application form can be obtained from Pyuthan Hospital.)
Application Fee: Rs.1000 for Officer level post, Rs.1000 for Assistant level post. 600 and for Officer Helper Rs. 200
Contact No .: 086-460643
Contact date: The day after the end of enrollment, the day after the public holiday.
Exam date and place: Contact date will be fixed.
Selection Procedure: Written (Objective) and Interview (In the case of Officer Helper only interview examination will be conducted and special preference will be given to those who have knowledge about electrician and plumber). Will be on the basis.
Salary: As per the prevailing rules of the state government, only the salary scale prescribed for the post. Remuneration of Assistant Computer Operator at the level specified by the Development Committee
Age limit of the candidate: 21 years and not exceeding 45 years for the post of Medical Officer and 18 years and not exceeding 45 years for other posts.
Other: The subjects not mentioned in the vacancy notice will be in accordance with the prevailing law.
The entire and final authority regarding the vacancy will remain with the vacancy committee.
Note:
1) Out of the candidates selected for the post contract, if any post becomes vacant within the current Fiscal Year 078/079, it will be selected from the alternate candidates on the basis of priority.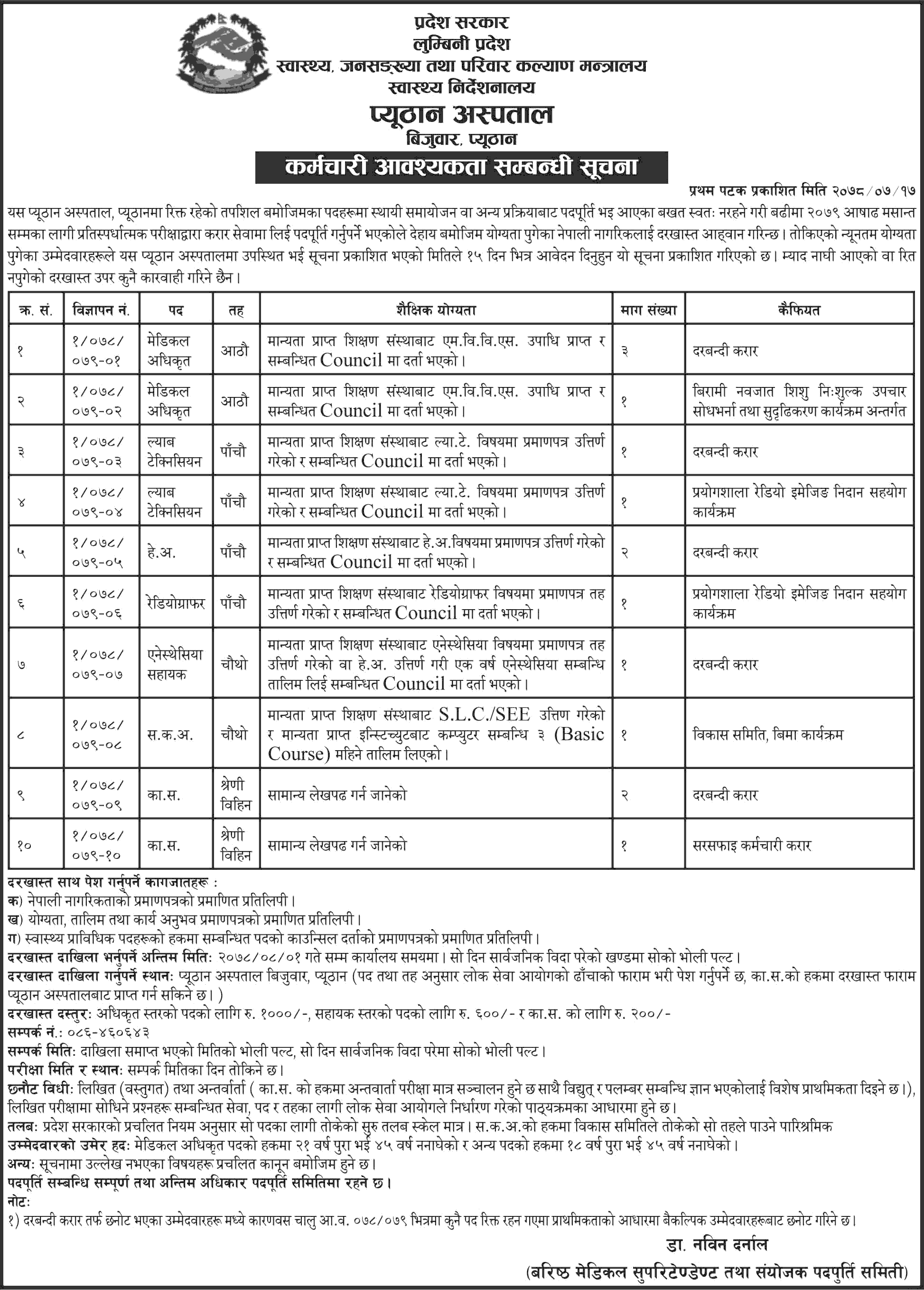 Jobs for Freshers
Hospital Job Vacancy
Pyuthan
Lumbini Pradesh
Job Vacancy
Health Job
Government Job