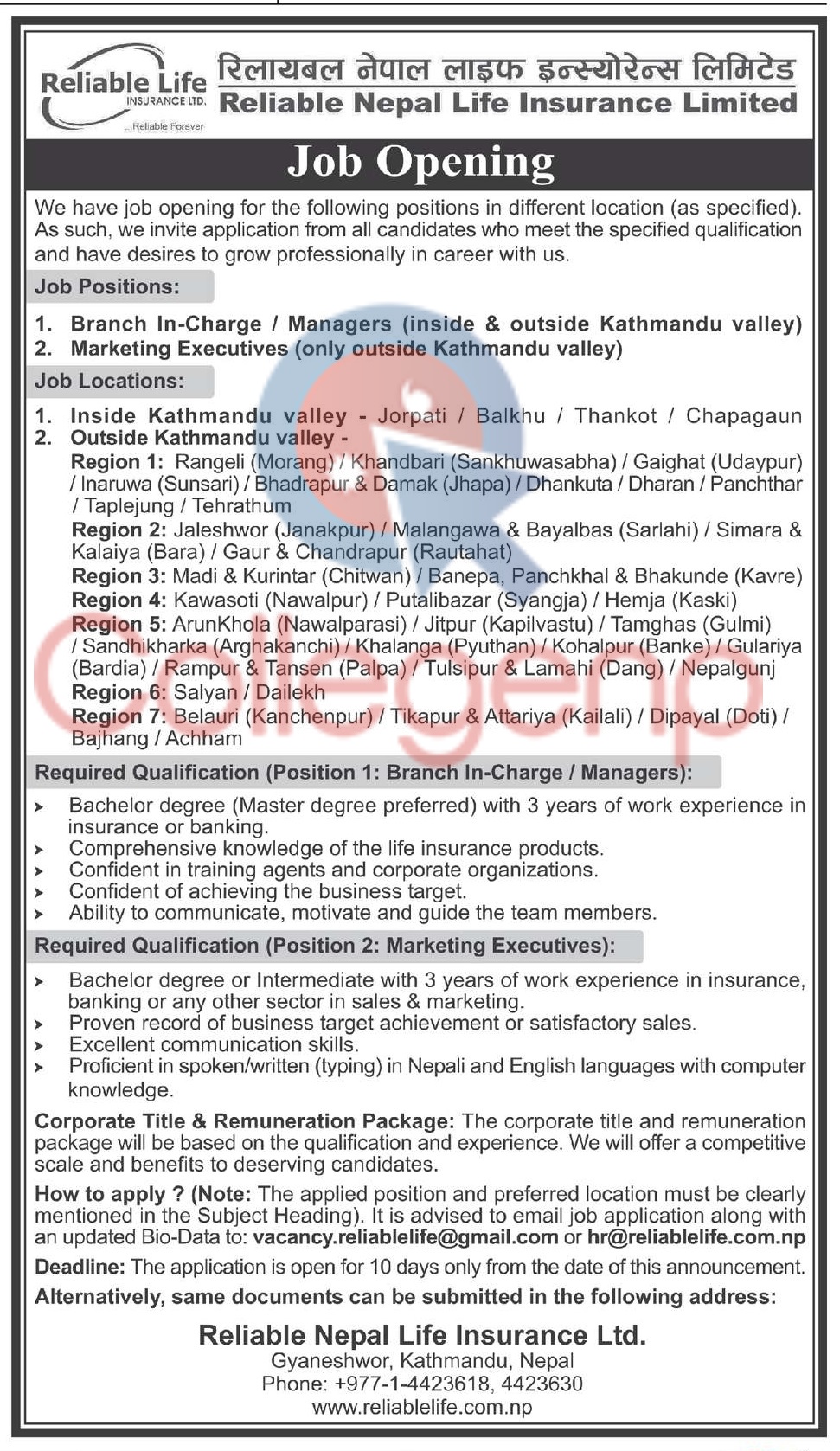 Reliable Nepal Life Insurance Limited - We have a job opening for the following positions in the different location (as specified). As such, we invite application from all candidates who meet the specified qualification and have desires to grow professionally in a career with us.
Job Positions:
1. Branch In-Charge / Managers (inside & outside Kathmandu valley)
2. Marketing Executives (only outside Kathmandu valley)
Job Locations:
1. Inside Kathmandu valley - Jorpati / Balkhu / Thankot I Chapagaun
2. Outside Kathmandu valley -
Region 1: Rangeli (Morang) / Khandbari (Sankhuwasabha) / Gaighat (Udaypur)/ Inaruwa (Sunsari)/Bhadrapur & Damak (Jhapa) / Dhankuta / Dharan / Panchthar / Taplejung / Tehrathum
Region 2: Jaleshwor (Janakpur) I Malangawa & Bayalbas (Sarlahi) / Simara & Kalaiya (Bara) / Gaur & Chandrapur (Rautahat)
Region 3: Madi & Kurintar (Chitwan) / Banepa, Panchkhal & Bhakunde (Kavre)
Region 4: Kawasoti (Nawalpur) I Putalibazar (Syangja) I Hemp (Kaski)
Region 5: ArunKhola (Nawalparasi) / Jitpur (Kapilvastu) / Tamghas (Gulmi) / Sandhikharka (Arghakanchi) / Khalanga (Pyuthan) / Kohalpur (Banke) / Gulariya (Bardia) / Rampur & Tansen (Palpa) / Tulsipur & Lamahi (Dang) / Nepalgunj
Region 6: Salyan / Dailekh
Region 7: Belauri (Kanchenpur) / Tikapur & Attariya (Kailali) / Dipayal (Doti) / Bajhang / Achham
Required Qualification (Position 1: Branch In-Charge / Managers):
Bachelor degree (Master degree preferred) with 3 years of work experience in insurance or banking.
Comprehensive knowledge of the life insurance products.
Confident in training agents and corporate organizations.
Confident of achieving the business target.
Ability to communicate, motivate and guide the team members.
Required Qualification (Position 2: Marketing Executives):
Bachelor degree or Intermediate with 3 years of work experience in insurance, banking or any other sector in sales & marketing.
Proven record of business target achievement or satisfactory sales.
Excellent communication skills.
Proficient in spoken/written (typing) in Nepali and English languages with computer knowledge.
Corporate Title & Remuneration Package: The corporate title and remuneration package will be based on the qualification and experience. We will offer a competitive scale and benefits to deserving candidates.
How to apply?
Note: The applied position and preferred location must be clearly mentioned in the Subject Heading). It is advised to email job application along with an updated Bio-Data to [email protected] or [email protected]
Deadline: The application is open for 10 days only from the date of this announcement.
Alternatively, same documents can be submitted in the following address:
Reliable Nepal Life Insurance Ltd.
Gyaneshwor, Kathmandu, Nepal
Phone: +977-1-4423618, 4423630