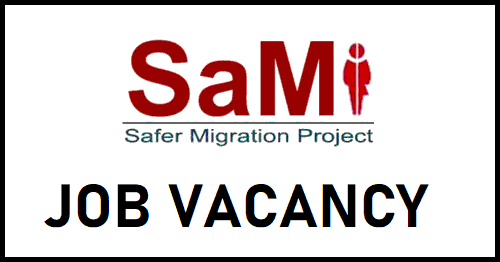 TRAINEESHIP OPPORTUNITY - Safer Migration Program Phase III: Safer Migration (SaMi) Program is a bilateral initiative between the Government of Nepal and the Government of Switzerland. It is implemented by the Ministry of Labor, Employment and Social Security and 156 participating local governments. Helvetas Nepal provides technical assistance to the program on behalf of the Swiss Agency for Development and Cooperation (SDC). We encourage interested Nepali applicants, who have a desire to learn, to take advantage of the Traineeship opportunity.
Title: TRAINEE (Administration)
Key learning objectives:
Compliance to policies, rules/regulations and guidelines
Compliance with the GoN and SDC policies and approaches as relevant and required;

Adhere to relevant policies, procedures, regulations and guidelines of HELVETAS Swiss Intercooperation (Personnel, Financial, Administrative policies; Security Response Guide; Gender Equality and Social Inclusion Guide; Sexual Harassment & Mobbing Policy; Code of Conduct Against Corruption etc.) and other specific policies applicable for SaMi;

Ensure Conflict Sensitive Program Management at all levels.
Front desk management
Welcoming visitors and support them by providing required information and guiding them properly

Sending the visitors to the respective officers with the previous appointments;

Handle incoming and outgoing telephone calls and respond the general queries efficiently and appropriately;

Be proactive to communicate messages, inform relevant official/s about the received letters and documents and other relevant information;

Manage the daily newspapers;

Arrange meetings and appointments by maintaining the log;

Management of meeting hall (booking etc).
Documentation and recording
Keep proper records in register of incoming and outgoing letters and correspondence;

Update the telephone and email addresses of staff, partners and stakeholders;

Manage the proper filing system (electronic and manual) of the unit and keep them up to date;

Support for library management of SaMi office;

Type general letters and documents in English and Nepali as per need;

Forward necessary official documents to province and district offices.
Basic administrative support
Handle petty cash in coordination with Administrative Officer (prepare petty cash statement, process bills/ receipt for the reimbursement/ settlement etc.);

Support staff field travel plan (booking air tickets/hotels/office vehicle and other required logistic);

Ensure effective vehicle movement as per the travel plan within Kathmandu Valley in coordination with Administrative Officer;

Maintain staff leave record in coordination with Administrative Officer;

Maintain register for bills received from different parties/suppliers and disburse cheque after issue from finance section;

Update staff official movements and leaves;
Others
Act proactively in performing the aforesaid tasks

Support for any other tasks as requested by SaMi team members as per need and requirement.
Required Education and Competencies:
Education: Bachelor's degree in Business Administration or any relevant field.
Competencies Required:
Fresh graduates with keen learning attitude and sense of responsibility

Reliable, sincere with positive attitude

Commitment towards gender equality, social inclusion and poverty reduction

Polite with good interpersonal and intercultural competencies

Good in both English and Nepali with good Nepali typing skills.

Good team player and effective communicator
Duty Station: SaMi Program Support Unit, Lalitpur.
Duration: 1 year (12 months)
Interested and committed fresh graduates are requested to visit our website at and submit their application through the online portal. The detailed learning objectives are available on the website.
Telephone enquiries will not be entertained. Only short-listed candidates will be contacted for the further screening process. Helvetas Nepal reserves the right to reject any or all applications without assigning any reasons.
Helvetas Nepal promotes workforce diversity and applies positive discrimination to candidates from discriminated groups. The traineeship opportunity is focused only for woman/ man from Dalit, woman from Janjati, Mad hesi/Terai caste/ethnicity, ethnic and religious minorities, women/ men from discriminated Newar castes.
Deadline for submission of application: 16 September 2022
Jobs for Freshers
Training
Job Vacancy
INGO Jobs