For the urban health center to be established under this municipality in accordance with the contract management procedure 2074 of Shitganga municipality, applications have been invited from Nepali citizens for the posts as per the details provided by the contract service. It is advised to submit the application along with the certificate of eligibility within 15 days from the date of publication of the notice.
Vacancy Details:
A) AHW (Assistant IV) - 12, Darwandi of the municipality
B) ANM (Assistant IV-3 (Vacancies of Government of Nepal-2 and Vacancies of Municipality-1)
C) Lab Assistant (Fourth Assistant) -1, Darwandi of the Municipality
Documents required to be submitted along with the application:
1) Copy of Nepali citizenship certificate.
2) Age limit - 18 years completed and not exceeding 45 years.
3- Copies of educational qualification certificates
4) Must be AHW / ANM / LAB Assistant from a recognized educational institution and have been registered with the Health / Nursing Council and have been updated.
5) The certificate of experience should be in accordance with the relevant post.
6) Regarding the experience, the procedure of managing the staff in the contract of Shitganga Municipality will be as per 2074.
7) A cash receipt or bank voucher of Rs.600 / - should be submitted along with the application fee.
8) Place to get and submit the application form - Shitganga Municipality Office, Thada, Arghakhanchi.
9) Type of Exam- Short List and Interview
10) Exam date - to be fixed later.
11) The last date for giving an application is 2078-05-24 till office hours.
12) For other information: 9857069821, 9857069822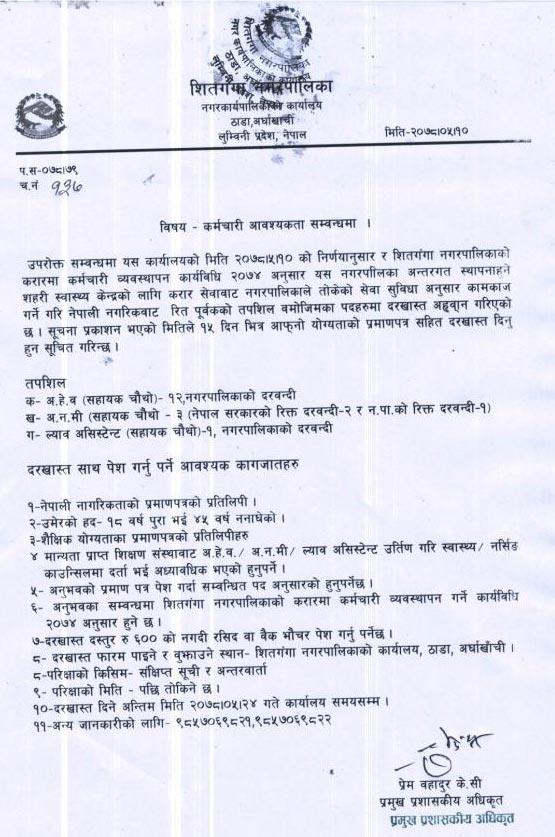 Jobs for Freshers
Arghakhanchi
Lumbini Pradesh
Job Vacancy
Health Job
Government Job