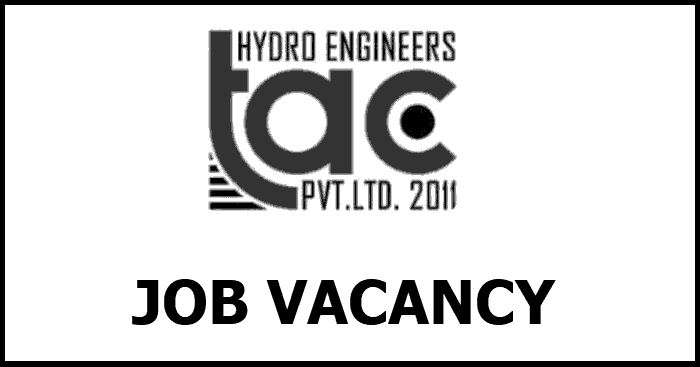 TAC Hydro Consultancy Pvt. Ltd., an Engineering Consultancy Firm dedicated to project development, engineering design, construction supervision, and other technical works of Hydropower and Irrigation Projects, requires a few candidates with the following Qualifications:
Position: Hydropower Engineer (1)
Qualification: Master's in Hydropower Engineering, Water Resource Engineering, or Equivalent
Experience: Min. 2 years in the hydraulic design of Hydropower Project Components.
1. Account and Admin Officer (1)
Qualification: Bachelor's Degree related to account or finance
Experience: Min. 2 years in account or finance. Female candidates are encouraged to apply.
Application & Deadline: Potential candidates are required to fill out the application form by 26 November 2022.
Application Form Link: https://tachydro.com.np/careers
The application sent via email won't be processed for evaluation. Only Shortlisted candidates will be contacted for the selection process.
TAC Hydro Consultancy Pvt. Ltd
Kupandol, Lalitpur
Website: www.tachydro.com.np
Job Vacancy