Tarai Arc Landscape (TAL) Program Kohalpur, Banke invites job application for the position of Facilitator. Interested and eligible candidates are requested to apply within 15 days from this notice published.
Position: Facilitator
Required Number: 1 (one)
Workplace: The scope of the Tarai Arc Landscape (TAL) Program
Duration: June 15, 2022 (renewable based on performance appraisal)
Minimum qualifications and experience required:
Passed at least proficiency certificate level or similar level
At least 5 years work experience related to community mobilization and protection in governmental, non-governmental organizations or other organizations.
Interested Nepali citizens who have reached the required qualifications for the above post can submit the application, biodata and citizenship, educational certificate and copy of experience letter to the following address or email [email protected] within office hours on 27th Poush 2078.
Unsuccessful applications will not be included in the selection process. Only shortlisted candidates will be contacted for written test and interview. For more information, contact the project office. All decision making in this regard will be vested in the Terai Territorial Program (TAL).
Special encouragement has been given to local, women, Dalit, Adivasi and Janajati candidates to apply.
Address for submitting application:
Tarai Arc Landscape (TAL) Program
Kohalpur Municipality Ward No. 10 Kalikasthan, Banke
Phone 081-541752, 081-541753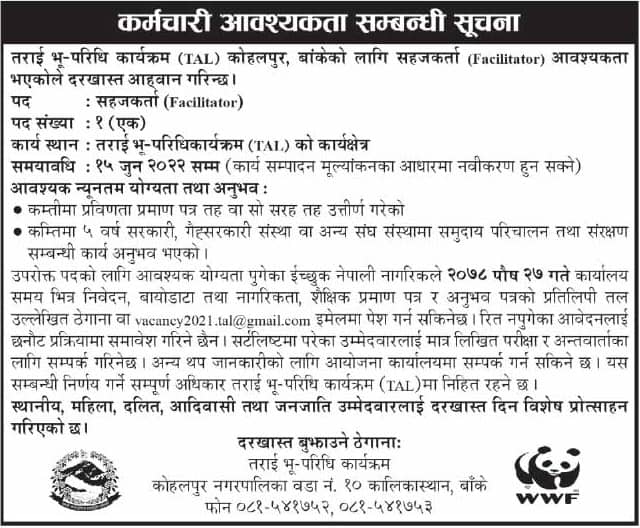 Banke
Job Vacancy
NGO Job