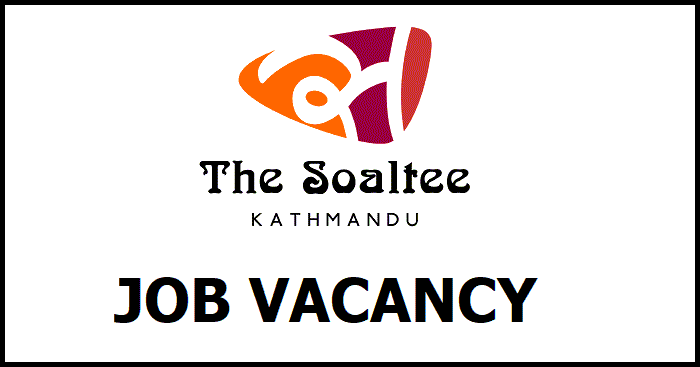 The Soaltee Kathmandu is a Luxury Five Star Leading Hotel in Kathmandu, Owned by Soaltee Hotel Limited a Public Limited Company, pioneering in hospitality( Industries in Nepal since 1966.
We are hiring people who apply the same amount of care and passion to their jobs as they do their hobbies, people who put our guests and teamwork at the heart of everything they do,
1. Learning & Development Manager
Education: Bachelor's degree or Diploma in Hospitality/Tourism management or in HRWHRD_
Experience: Minimum 3 years of work experience in larger operation. Good working knowledge of multiple HR disciplines including employee relations, training, and development, diversity and performance management, Proven track of record in designing & executing successful training programs, and familiarity with traditional and modem training methods (mentoring, coaching, e-leaming, workshops, classroom teaching etc)
Knowledge/Abilities: Good presentation, administrative, communication, and interpersonal skills. Energetic, passionate, self-motivated, and a strong team player. Identify and assess future and current training needs through job analysis. career paths, and annual performance reviews. Up to date with training hospitality trends and best practices & Conduct effective onboarding for new joiners, deploy a wide variety of training methods, Managing training budget, and meet training metrics of man-hour, frontlines, etc, Housekeeping Executive
2. Housekeeping Executive
Education: Diploma in Hotel Management or Higher Secondary with required experience in Housekeeping operations in a reputed hotel,
Experience: Minimum 3 years of experience in a similar field.
Knowledge/Abilities: Candidate must Supervise and inspect the work of assigned room and/or public area attendants to ensure product quality standards are met and that optimum service is provided to hotel guests according to hotel and company business objectives.
3. Rajasthani Specialty Chef
Education: A diploma or Proficiency Certificate level in Culinary Arts will be an advantage.
Experience: Minimum 2 years of experience as Chef de Partie or DCDP in a hotel or restaurant chain with good standards with specialization in IVIarwanfRajasthani Cuisine. Comprehensive knowledge of HACCP and occupational health and safety standards will be essential, Only shortlisted candidates will be called for the interview. The company reserves the right to reject any / all applications without assigning any reasons whatsoever and no phone calls shall be entertained in this regard.
Interested candidates, meeting the above-mentioned requirement may submit their letter of interest with all testimonials to the Human Resources Department, The Soaltee Kathmandu. Nepal Post Box no. 97 or email to [email protected] latest by May 28, 2022.
Hospitality Jobs
Job Vacancy