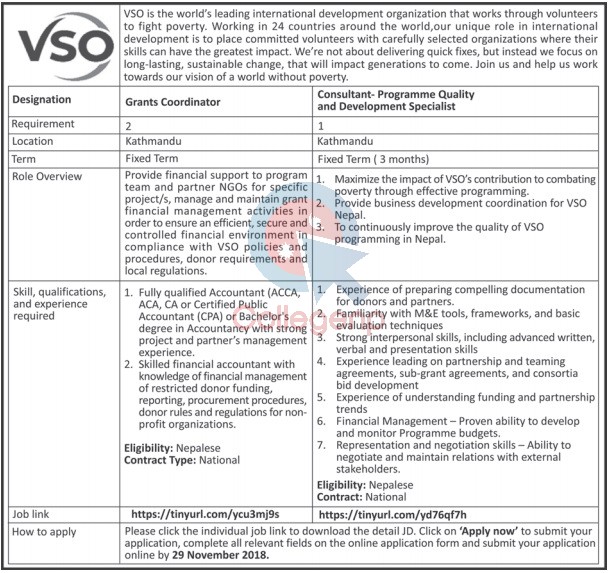 VSO is the world's leading international development organization that works through volunteers to fight poverty. Working in 24 countries around the world, our unique role in International development is to place committed volunteers with carefully selected organizations where their skills can have the greatest impact. We're not about delivering quick fixes, but Instead, we focus on long-lasting, sustainable change, that will impact generations to come. join us and help us work towards our vision of a world without poverty.
Designation

Grants Coordinator

Programme Quality Consultant- and Development Specialist

Requirement

2

1

Location

Kathmandu

Kathmandu

Term

Fixed Term

Fixed Term ( 3 months)

Role Overview

Provide financial support to program team and partner NGOs for specific project/s, manage and maintain grant financial management activities in

order to ensure an efficient, secure and
the controlled financial environment in

compliance with VSO policies and procedures, donor requirements and local regulations.

1. Maximize the impact of VSO'scontribution to combating poverty through effective programming.

2. Provide business development coordination for VSO Nepal.

3. To continuously improve the quality of VSO programming in Nepal.

Skill, qualifications, and experience required

1. Fully qualified Accountant (ACCA, ACA, CA or Certified Public Accountant (CPA) or Bachelor's degree in Accountancy with strong project and partner's management experience.

2. Skilled financial accountant with knowledge of financial management of restricted donor funding, reporting, procurement procedures, donor rules, and regulations for non- profit organizations.

Eligibility: Nepalese Contract Type: National

1. Experience in preparing compelling documentation for donors and partners.

2. Familiarity with M&E tools, frameworks, and basic evaluation techniques

3. Strong interpersonal skills, including advanced written, verbal and presentation skills

4. Experience leading on partnership and teaming agreements, sub-grant agreements, and consortia bid development

5. Experience of understanding funding and partnership trends

6. Financial Management — Proven ability to develop and monitor Programme budgets.

7. Representation and negotiation skills—Ability to negotiate and maintain relations with external stakeholders.

Eligibility: Nepalese Contract: National

Job link

How to apply

Please click the individual job link to download the detail JD. Click on 'Apply now' to submit your application, complete all relevant fields on the online application form and submit your application online by 29 November 2018.