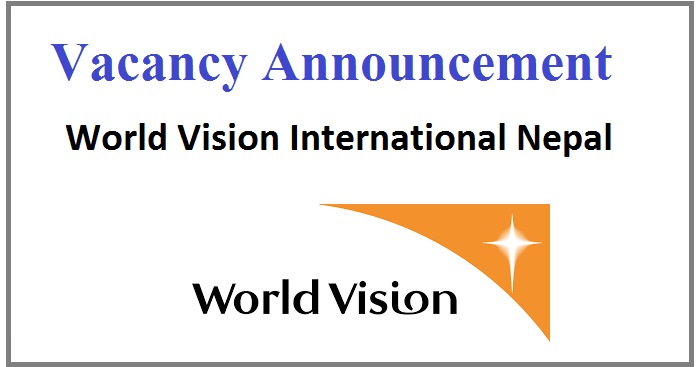 VACANCY ANNOUNCEMENT: PROGRAMS DEVELOPMENT AND QUALITY DIRECTOR & TECHNICAL HEAD - INCLUSIVE AND QUALITY EDUCATION
World Vision International Nepal, a child-focused relief, development, and advocacy organization, is seeking qualified Nepalese candidates for the following positions based in the National Office in Lalitpur:
1. Programs Development and Quality Director (PDQD) - (1)
Key Responsibilities:
Lead acquisitions for all international funding streams, including grants from bilateral, multinational, and private donors, child sponsorship funding, and other emerging impact investments.
Ensure compliance with relevant donors, government, and technical quality requirements.
Streamline program design, monitoring, evaluation, accountability and learning systems, contributing to innovative and improved evidence for quality improvement, policy influence, International funding acquisitions, and Country Strategy Implementation Plan (CSIP).
Minimum Qualifications and Experience required:
Master's degree in international development, development studies/management, project management, economics, agriculture, public health, public/social policy, social sciences or equivalent.
At least 7-10 years of experience in leadership/managerial positions in least developed/developing countries, preferably in South Asia or South East Asia region.
Familiarity with child-focused, multi-sectoral, and integrated development programs.
Proven successful experiences coordinating and writing winning concept papers or proposals to key donors such as USAID, EU, FCDO, DFAT, GAC, MEAT, Global Fund, Nordic Governments, and other donors.
2. Technical Head - Inclusive and Quality Education (1)
Key Responsibilities:
Lead the design and write-up of technically sound new (Education) programs and concepts/proposals.
Develop a coherent Monitoring, Evaluation, Accountability and Learning (MEAL) portfolio framework.
Provide strategic quality oversight on (education) programs portfolio.
Engage in (education) policy formulation or implementation and create new funding opportunities for (Education) programs.
Minimum Qualifications and Experience required:
Master's degree or equivalent in an education or related field.
At least 5 years of field experience in education programming or the equivalent in the headquarters of a major NGO (5-10 years preferred).
Good writing and analytical skills.
Good interpersonal and communication skills.
At least 3 years of team leadership experience.
Subject matter expert on Education programming/project models.
Having a good network with government, donors, and other education stakeholders.
Interested candidates meeting the minimum qualifications and requirements may apply by April 36, 2023, by logging on to https://www.wvi.org/careers for more details on the position and application.
"World Vision is committed to achieving diversity, as the diversity of our teams is critical to our overall success. WV welcomes applications from qualified professionals all over Nepal. Women, people with disability, and members from other marginalized groups are strongly encouraged to apply."
"Children and vulnerable adults who come into contact with WV as a result of our activities must be safeguarded to the maximum possible extent from deliberate or inadvertent actions and failings that place them at risk of abuse, sexual exploitation, injury, and any other harm. One of the ways that WIN Nepal shows this ongoing commitment to safeguarding is to include rigorous background and reference checks in the selection process for all candidates, in accordance with its Child and Adult Safeguarding Policy. WVI Nepal has zero tolerance for child rights' violations, by employees and/or affiliates."
WVI Nepal reserves all rights to qualify/disqualify applications in any case. People & Culture Department, World Vision International Nepal.
Job Vacancy
INGO Jobs