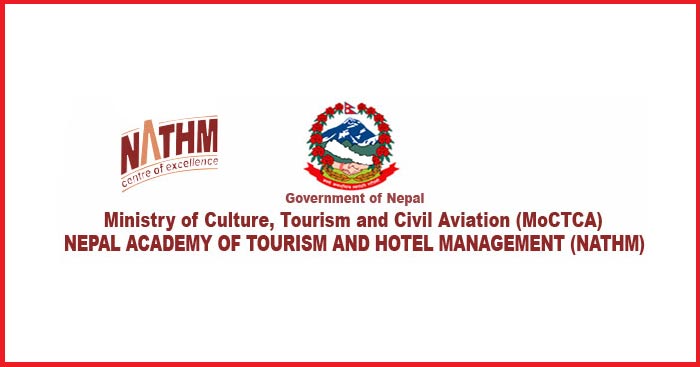 Liaison Officer Training Opportunity at NATHM
The Government of Nepal, specifically the Ministry of Culture, Tourism and Civil Aviation, has announced a unique training opportunity for aspiring liaison officers. This initiative is in collaboration with the Nepal Academy of Tourism and Hotel Management (NATHM) and the Nepal Mountain Academy.
Key Information:
Training Date: 10th Bhadra 2080, starting at 7:00 am.
Location: Rabi Bhavan, Kalimati, Kathmandu.
Eligibility: Civil service employees (from gazetted first class to gazetted second class), officials from the Nepalese Army, Nepalese Police, Armed Police Officers, and certified Mt. Everest climbers.
Application Fee: Rs. 5,100/- to be deposited in the Current Account of Nepal Tourism and Hotel Management Foundation at Citizen Bank International Limited No. 011010000036201.
Application Deadline: Within 7 days from the date of publication of this notice.
Application Form: Available for download at NATHM's official website or directly from the institute.
Required Documents for Application:
Copy of Nepali citizenship certificate.
Two passport size photos.
Proof of graduation or equivalent educational qualification (including credit letter and character certificate).
Recommendation letter from the relevant ministry/department or working body.
For Nepali climbers who've successfully ascended Mount Everest: A certificate from the Department of Tourism and proof of passing the entrance exam.
For employees adjusted at provincial and local levels post their civil service appointment: A copy of the adjustment letter.
Contact Details:
Address: Rabi Bhavan, Kalimati, Kathmandu.
Phone: 01-5970605
Publication Date of this Information: 2080/05/02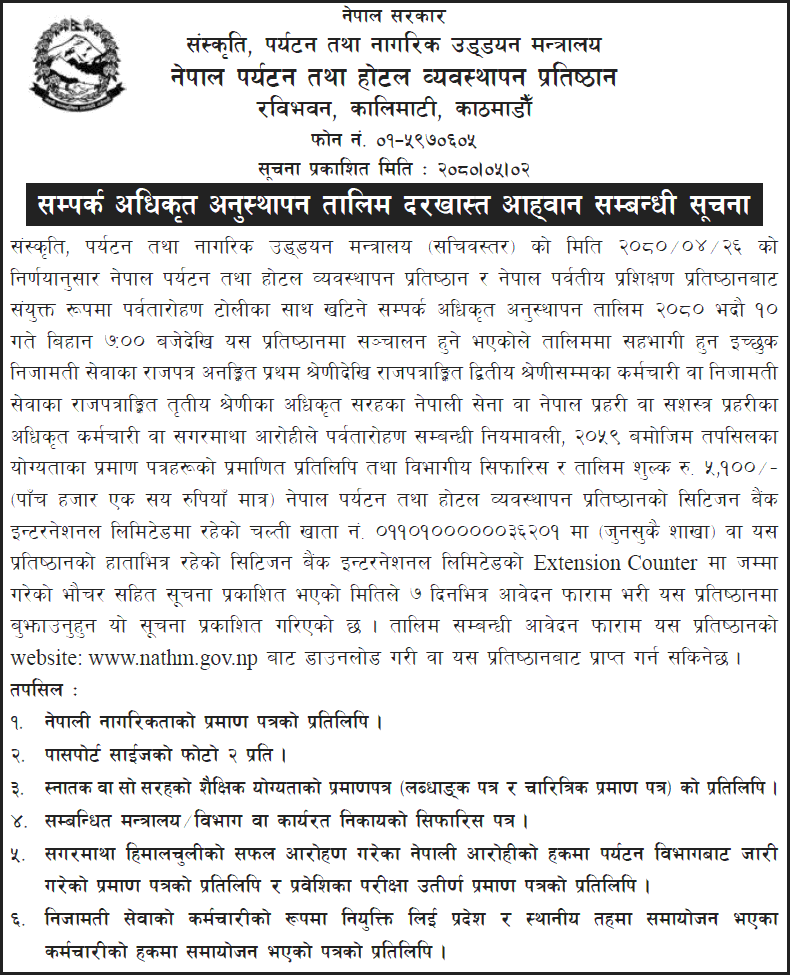 Training
Kathmandu