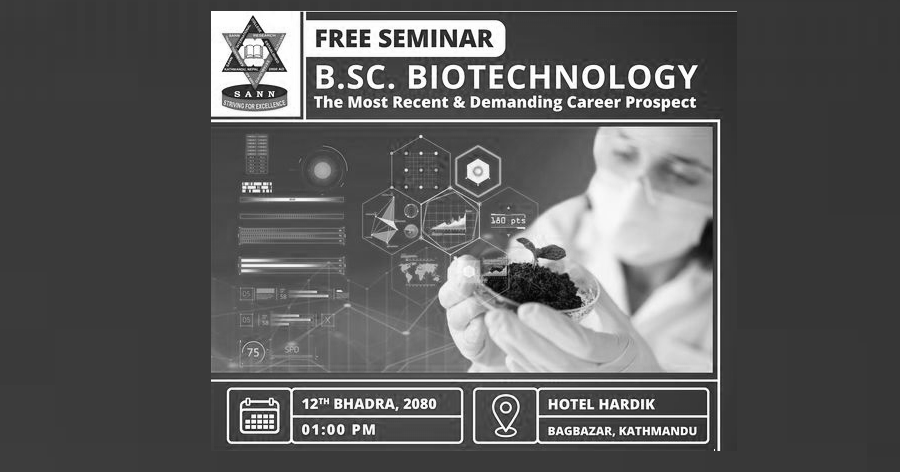 SANN International College Organize Biotechnology Seminar
At A Glance
Date: 12th Bhadra, 2080 (Tuesday, August 29, 2023)
Time: 1:00 PM Onwards
Venue: Hotel Hardik, Bagbazar, Kathmandu
Registration Link: Sign Up Here
Who Should Attend?
Attention all +2 Science Graduates! If you're a passionate individual excited about innovation and cutting-edge technology, this is an opportunity you don't want to miss. Whether you have a background in Biology, Computer Science, or specialized fields like Pharmacy and Lab Assistance, this seminar is designed for you.
What to Expect
This seminar aims to provide an in-depth understanding of Biotechnology and its diverse career paths. Hosted by SANN International College, the seminar features speeches and insights from the pioneers in the field:
Prof. Dr. Raja Ram Pradhananga
Dr. Subash Ghimire
Dr. Keshav Subedi
Unveiling Career Paths in Biotechnology
Agriculture Biotechnology
Discover how biotechnology is revolutionizing the agriculture sector. Learn about genetic modifications, pesticide-resistant crops, and sustainable farming solutions.
Medical Biotechnology
Explore the groundbreaking contributions of biotechnology in medicine, from personalized treatments to advanced diagnostic tools.
Environmental Biotechnology
Understand the role of biotechnology in environmental conservation, waste management, and the development of eco-friendly technologies.
Genetic Engineering
Unlock the secrets of the genetic code and learn how genetic engineering can treat diseases, improve crops, and even create new materials.
Bio-Engineering
Dive into the fusion of biology and engineering and understand its applications in sectors like healthcare, agriculture, and environmental science.
Why Attend?
Expert Insights: Gain valuable insights from esteemed professionals in the field.
Career Guidance: Identify the most promising and fulfilling career pathways.
Networking: An excellent platform for making industry connections.
Free Registration: Absolutely no cost involved!
How to Register
Secure your spot by registering through this Online Form.
Contact Us
For further information, feel free to reach out to us at SANN International College.
Phone: +9779803453184, +9779851130728
Conference
Exhibition