Dharche Rural Municipality (Gaupalika), Rural Municipal Executive Office, Machikhola, Gorkha invites job application for the position of Technical Assistant (Prabidhik Sahayak).
For the implementation of this Dharche Rural Municipality Prime Minister's Employment Program, as per the detailed staff contract, the following qualified Nepali citizens who have reached the following qualifications are invited to apply within 15 days with the required details and receipt of payment of revenue.
Technical Assistant - Prabidhik Sahayak (5th Level) - 1 (One)
Applicatio Fee: Rs. 500
Minimum qualifications and experience required:
1) Educational Qualification: Passed Proficiency Certificate Level or Overseer or Diploma Level in Civil Engineering,
2) Experience and skills: At least three months of basic computer skills training, project cost estimate, supervision and final cost statement preparation and analysis for infrastructure construction and maintenance, team experience to achieve project goals and results, mutual At least 6 months experience with relationship related skills.
3) Age: At least 18 years of age and under 45 years of age.
4) Place of application: Dharche Rural Municipality Office, Machikhola, Gorkha.
5) Last date to apply: Within 15 days from the date of publication of the notice.
6) Type of Selection: Publication of Preliminary Qualification List and Written Examination.
7) Documents to be attached with the application: The following documents are certified by the applicant himself.
A) Certified copy of citizenship
B) A copy of the certificate of minimum educational qualification
C) Copy of Character Certificate
D) Experience opening document
E) 3 per passport size photo
8) Service facility: As per prevailing rules
9) Exam Date: Will be fixed later.
For detailed information contact: 9856041451
Published date: 2078-08-14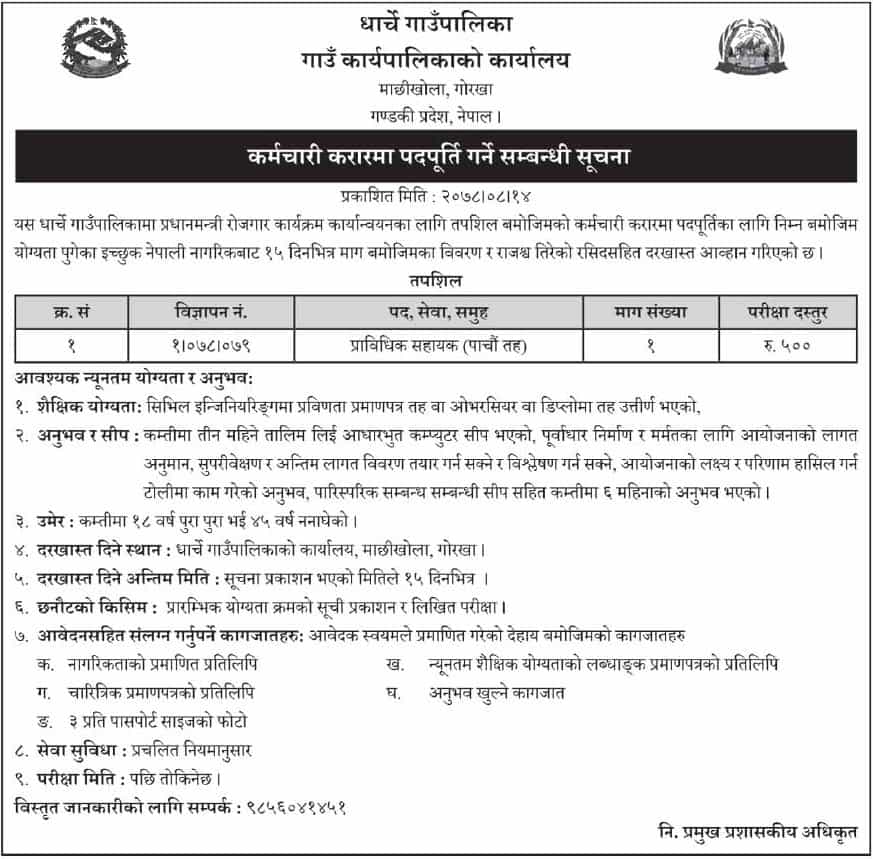 Gorkha
Jobs for Freshers
Technical Jobs
Bagmati Pradesh
Job Vacancy
Government Job