Helambu Rural Municipality Job Vacancy for Employment Coordinator (Rojgar Samyojak):
Helambu Rural Municipality (Gaupalika, Office of the Rural Municipal Executive, Helambu, Sindhupalchok, Bagmati Pradesh, Nepal invites job application for Employment Coordinator:
Since the post of Employment Coordinator for the operation of Employment Service Center under the Prime Minister's Employment Program is vacant in the Helambu Rural Municipality Office, the post has to be filled through open competition for contract service; Nepali citizens who have reached the following qualifications are requested to submit the application with the required documents during office hours within 15 days from the date of first publication of the notice.
Job Vacancy Details:
1. Employment Coordinator (Rojgar Samyojak)
Ad No.
05/2077/078
Level
Officer 6th Level
Total Vacancy
1 (One)
Age Limit
18-45 Years
Place to Work
Under the Wards of Helambu Rural Municipality
Type of Service
Contract Service
Application Fees
Rs. 1000
Selection Process
Shortlisting, Written, and Interview

Minimum qualifications required: Bachelor's Degree from a recognized educational institution or equivalent.
Additional Information:
Age: 18 years of age and not exceeding 45 years of age,
Salary Allowance: The official level of the local level from the Government of Nepal will be for the 6th Level (Officer).
Selection Process: The method of selection for the first phase will be as per sub-sections 1, 2, and 3 of section 5 of schedule 3 of employment coordinator post filling and service facility criteria, 2076.
All Important Dates

Opening Date for Job Application
2077-05-15
Closing Date for Job Application
2077-05-30
Type of Exam: After the first stage selection process, written and computer skills test will be done.
Syllabus: Employment Coordinator Recruitment and Service Criteria, 2076 will be available by downloading for www.pmep.gov.np.
Exam Date: Information will be given after selection from the selection list.
Contact Address:
Helambu Rural Municipality, Office of the Rural Municipal Executive
Helambu, Sindhupalchok, Bagmati Pradesh, Nepal
Phone No .: 9846567274, 9864896529
Website: www.helambumun.gov.np
Email: [email protected]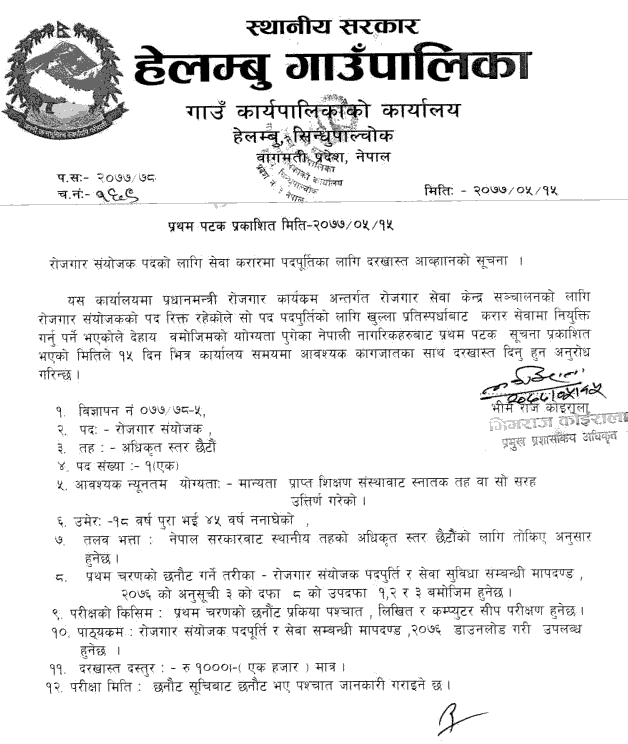 Also Read:
Helambu Rural Municipality Job Vacancy for Health and Agriculture Service