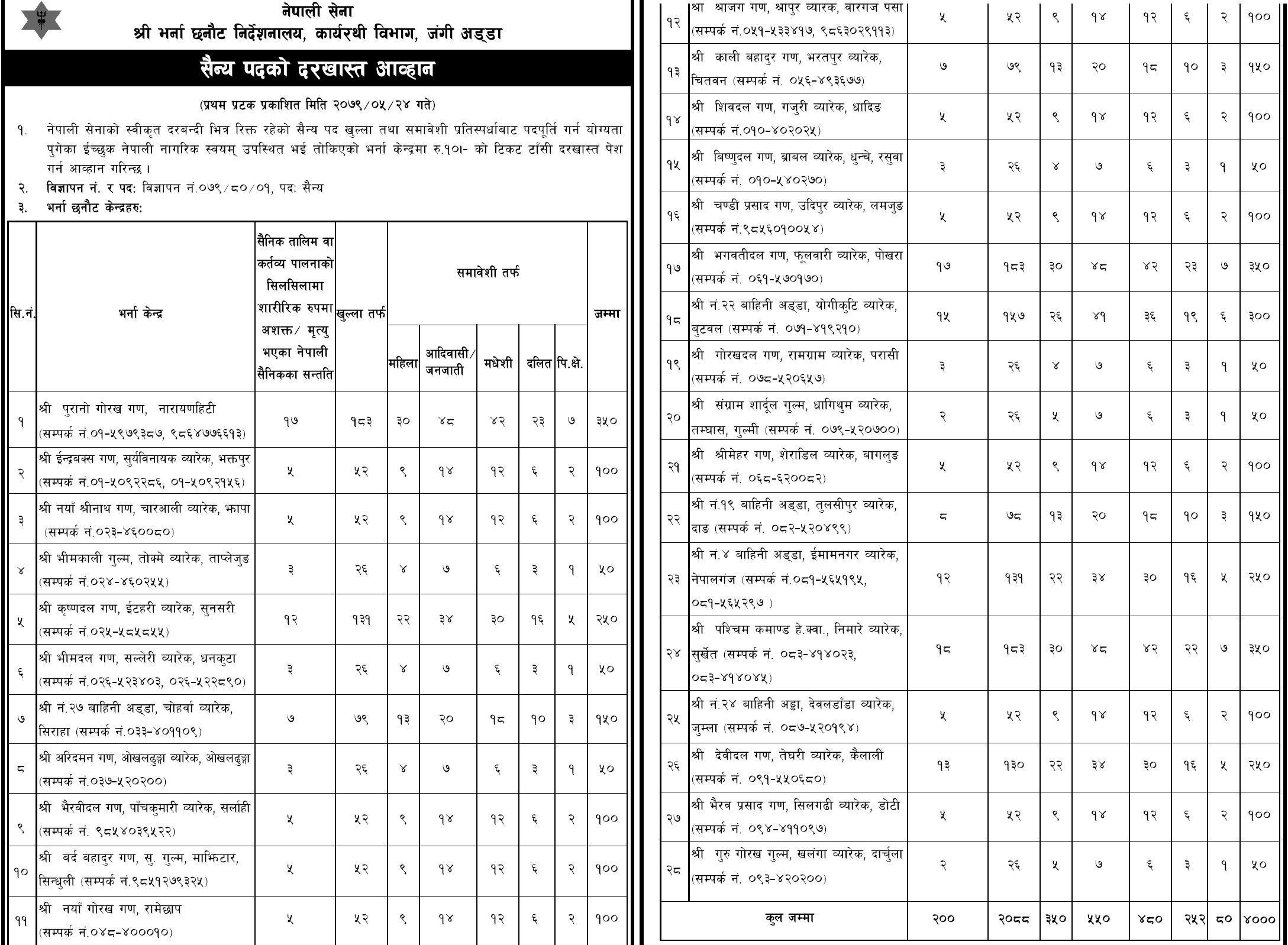 Nepal Army (Nepali Sena) Published Job Vacancy for Sainya Post (Total 4000 Vacancies): Nepal Army, Recruitment Selection Directorate, Personnel Department, Jangiadda: Interested Nepali citizens who are qualified to fill the vacancies within the sanctioned posts of the Nepal Army through open and inclusive competition are invited to apply in person at the designated recruitment center.
Advertisement No.: 079/80/01
Post: Military (Sainya)
Date and place of submission of application form:
(A) Date of submission of application: from 2079-5-24 to 2079-06-23 with regular fee; And double fee can be registered within office hours from 2079-06-24 to 2079-06-30.
(B) Application Form Distribution and Place of Submission: The application form will be distributed from the respective recruitment centers and will have to be submitted at the mentioned place.
Application Fee:
(A) Application Fee Rs. 150.- (one hundred and fifty rupees only) and in case of application in more than one group in the same advertisement, an additional fee of 20% will be charged for each group. In addition, the bank account number, office code, and revenue title number specified by the concerned recruitment centers should be deposited in the examination fee account and the original voucher and copy should be submitted to the said recruitment center along with 1 (one) application form.
Required qualification
(A) Minimum educational qualification:
Educational Qualification:
(A) Must have passed class 8 (eight). Those who pass Class 9 (Nine) and 10 (Ten) must also submit a certificate of educational qualification for passing Class 8 (Eight) and a certificate of passing Class 8 (Eight) must have a minimum of 2 GPA and less than D + in any subject. Should not be
(B) Out of the certificates submitted by those who have submitted SLC / SEE or higher educational qualification certificate, a minimum 2 GPA should be mandatory in the certificate of higher educational qualification and not less than D + in any subject. In addition, candidates who submit certificates accordingly will have to submit a copy of all the educational qualification certificates obtained including SLC / SEE.
(B) Physical fitness:
For Men
(A) Height: Minimum 5 feet 3 inches
(B) Chest: Must be at least 32 inches when not inflated and at least 34 inches when inflated.
(C) Weight: Minimum 50 kg. (110 lb)
For Women:
(A) Height: Minimum 5 feet 0 inches
(B) Weight: Minimum 40 kg. (88 lb)
For Both (Male and Female Candidates)
Eye: If you use glasses, your eyes will not be weaker than + -2
(C) Other qualifications:
(1) Candidates for the Sainya posts are eligible for health examination, have not been convicted by a court on criminal charges of moral turpitude, are not immediately members of any political party, are not involved in any criminal activities, are not members of any organization with destructive intent, are accused of spying against Nepal. Must have not been convicted, have not been punished for violating human rights and humanitarian law, and have not been disqualified from future government service. Also, in case of other qualifications, it should be as mentioned in General Principles to be adopted while appointing and promoting to the post of Military Service, 2064 and Military Service Rules, 2069 (with amendment).
(2) Candidates for military posts should be unmarried (except for existing military personnel).
Age Limit: Candidates should have completed 18 years of age and not exceeding 22 years by 2079-06-23 and in the case of existing personnel candidates not exceeding 26 years.
For Incumbent Nepali Army Candidates:
(a) The last date for submitting the application is 23-06-2079, the minimum service period of 1 year should be completed.
(b) The unit president must submit the recommendation of the concerned husband.
Required documents to be included with the application:
Copies of the following documents should be certified by the candidates themselves and submitted at the rate of 1/1 (one/one) copy in the Nepali file. Cremated and duplicate certificates will not be accepted. At the time of application, the complete copies of all the documents to be submitted must be brought with you:
(a) Certificate of Nepalese citizenship.
(b) Certificates of qualification of all educational levels, character certificates and original/provisional certificates.
(c) In the case of those who have obtained a degree from a board or university of a country other than the University of Nepal, they must also submit a certificate of equivalence of the degree obtained from a recognized book of equivalence published by Tribhuvan University.
(d) Apart from educational qualifications, other certificates obtained by him (extra activities) and certificates related to various subjects.
(e) In the case of descendants of Nepali soldiers who died physically disabled in the course of military training or duty, the following additional documents must be certified and submitted by the candidate himself.
(1) The list of needs of the Sahara published by Sri Samaroha Byasthapan Nirdeshanalaya should include the name; Or a certified copy of the deed mentioned as Martyr or Disabled in the Pension Lease (Pension Lease) copy-1 (one).
(2) In the case of incumbents, according to rule 107 of the Military Service Regulations, 2069, one copy of the recommendation letter from the medical board.
(3) Copy of proof of relationship with the concerned candidate - 1 (one).
Photograph: A recent passport-size photograph of the candidates with full face (including both ears) clearly visible (with beard and hair cut in case of male); And (three) and 2x2 size photo- 1 (one) should be submitted along with the application.
Contact date and place for the examination: Dated 2079-07-15 at 13:00 at the respective admission center where the application has been submitted.
Selection Process:
(a) The selection test of the candidates will be internal wearing and p-medical, physical test, written test, comprehensive health test, and interview. In addition, the revised arrangement of physical structure to be seen under the wearing in the selection process, 2079 has been placed on the website.
(b) The selection test of the candidates will be conducted at the respective admission centers.
Salary, Allowance, Ration, and other facilities:- Rules and regulations will be followed in Nepal Army.
Other conditions:
(a) The person working in the Government of Nepal or any other semi-governmental organization must submit departmental approval when applying for candidacy.
(B) Combat-Related Duties/Combat Support/Combat Service Other than the Nepali Army units that perform Direct Combat Duties / Close Combat Role (work that goes directly to the frontline) will be included.
(c) Other conditions are placed on the Nepali Army website.
In addition, the details of the recruitment selection examination are also kept on the official website of the Nepali Army www.nepalarmy.mil.np under Recruitment & Selection under JOIN THE ARMY.
(First published on 2079-05-24)


Nepal Army Sainya
Nepal Army
Job Vacancy
Government Job