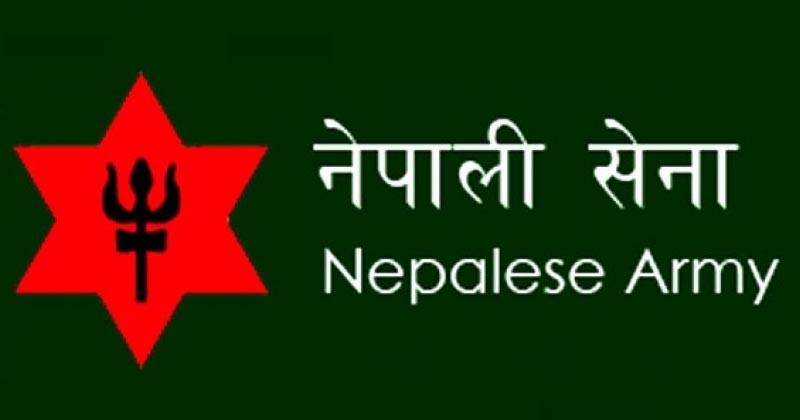 Recruitment Selection Directorate, Personnel Department, Battlefield, Invitation to apply for the post of General Surgeon: By appointing a General Surgeon on contract in the Military Service, UNDOF Mission Syria, Level 1 (+) Hospital (S.S.) in the third phase of the mission period 1 (one) year to be selected from the open competition to work; Applications are invited from interested Nepali citizens who have reached the following qualifications.
Required Number: 1 (one) person.
Date and place of application: From 2078-12-11 to 2078-12-25, Mr. Bharna Selection Directorate, Jangi Adda.
Application Fee: Rs. 1,000 (one thousand only)
Qualifications required:
(A) Educational Qualification: Must have passed MS General Surgery.
(B) Minimum physical fitness:
(1) Men: - Chai 5 feet 3 inches, chest 32-34 inches, weight 50 kg. (110 lb)
(2) Female: - Height 5 feet, weight 40 kg. (88 lb)
(C) If spectacles are to be used, eyes should not be weaker than +- 2.
(D) Other Qualifications: - No one has been found guilty by a court in a criminal case, not a member of any political organization, not found guilty of violating human rights and humanitarian law.
Age limit: (till the last date of submission of application)
(1) Male: - Completed 18 years and not exceeding 45 years.
(2) Women: Completed 18 years and not exceeding 46 years.
Necessary documents to be submitted: Candidates have to certify the following documents themselves and submit them in Nepali file at the rate of 1/1 copy. Certificates of duplication and duplication will not be accepted. When it comes to the day of application, the husband of all the documents submitted must be brought along.
(A) Certificate of Nepali citizenship.
(B) Provisional / Original Certificate of MBBS / MS General Surgeon, Character Certificate and Certificate of Merit.
(C) Certificate of Nepal Medical Council of both levels.
(D) Certificates of experience: Minimum of three (3) years of progressive practice post NMC specialization certificate
(E) In the case of graduates from boards and universities of countries other than the universities of Nepal, a photocopy of equivalence degree obtained from a recognized book of equivalence published by Tribhuvan University and certificate of migration (transfer) must also be submitted. In addition, the educational qualifications not included in the booklet will have to submit a certificate of equivalence from Tribhuvan University.
Photograph: Candidates will be required to submit a recent full-size passport-size photo per 2 (two) and 2/2 size photo per 1 (one) (wearing Nepali hat in case of men).
Contact Date and Venue: 2078-12-27 at 11:00 am Recruitment Selection Directorate, Jangi Adda.
Selection Process:
(A) Wearing test (b) Physical fitness test (c) Written test
(D) Experimental examination (e) Health examination (f) Board interview
Services / Facilities and Salary Allowance: -
(A) It shall be as provided by Sainik Welfare Fund.
(B) For more information in this regard, one can contact the Directorate of Welfare Planning.
Other Conditions: - Later as mentioned in the agreement.
All information can be viewed on Nepal Army's Website: www.nepalarmy.mil.np Join the Army Recruitment and Selection and Vacancy within Andorid Mobiel Apps "Nepali Army".
If you need any further information, please contact the Recruitment Selection Directorate at 01-4246950 or Mobile No. 9863031561 within office hours.
(First published on 2078-12-11)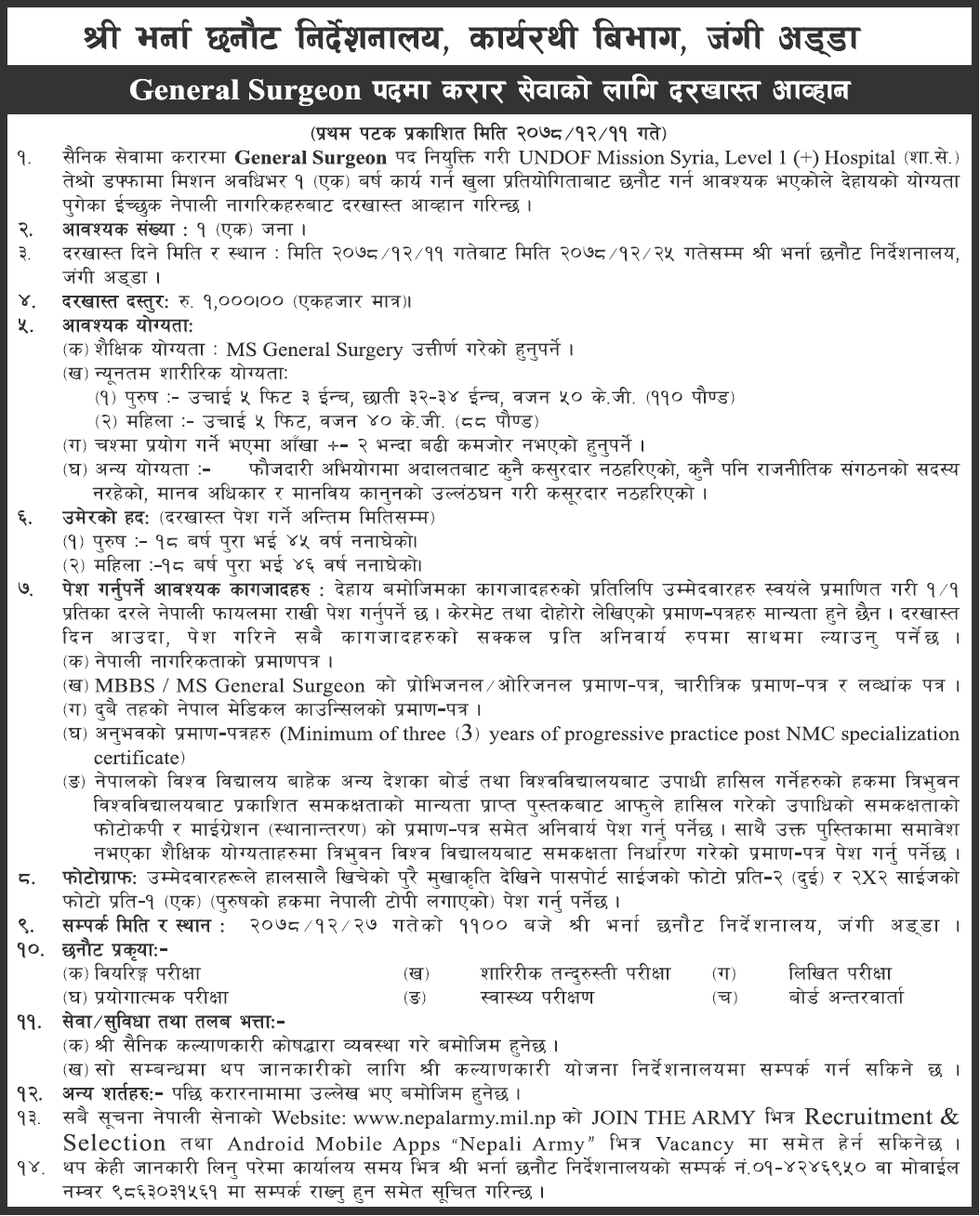 Hospital Job Vacancy
Nepal Army
Job Vacancy
Health Job