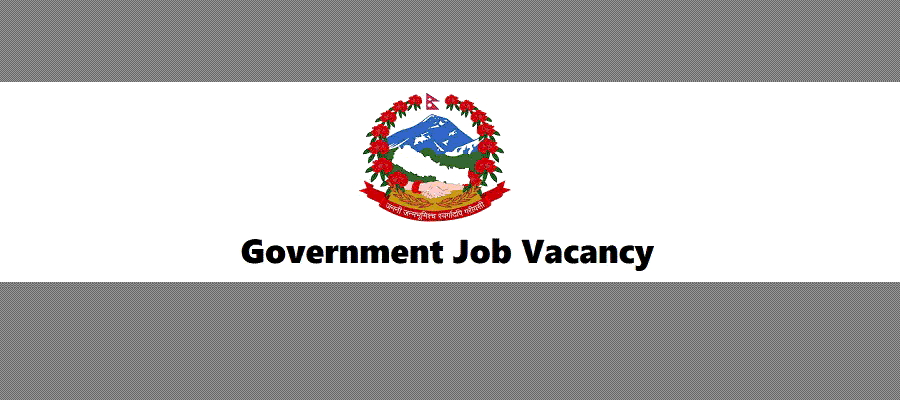 Pokhara Metropolitan City, Municipal Executive Office, New Road, Kaski: In Pokhara Metropolitan City (Mahanagarpalika), for the financial year 2079/080, the position has to be filled in the staff service contract as per the details; Applications are invited from interested candidates who meet the following qualifications.
1. Employment Assistant, Fifth Level -1 (One)
2. Technical Assistant, Fifth Level -1 (One)
Details:
Required Minimum Qualifications and Experience:
1) Age: At least 18 years and not exceeding 45 years.
2) Application place: Pokhara Metropolitan City Employment Service Center.
3) Last date for submission of application: 2079-05-10 within office hours (first day of office opening if that day is a public holiday).
4) Type of examination: preliminary qualification, written and practical.
5) Date of examination: It will be mentioned in the notice of preliminary qualification.
6) Application and attached documents:
Copies of the following attested by the applicant himself:
a) Certified copy of citizenship
b) Copy of profit certificate of minimum qualification
c) Copy of character certificate
d) Document opening experience
e) Passport size photograph (two copies)
f) Gross receipt of a deposit of examination fee (must be deposited in National Commercial Bank Account No. 3020100301010002)
7) Service facilities: Sections 13 and 14 of the "Technical Assistant and Employment Assistant Posting Standards at the Local Level, 2078" will be applicable.
8) Educational qualification:
a) In case of Advertisement No. 04/079/80, passed at least proficiency certificate level or equivalent from an educational institution recognized by the Government of Nepal and at least 3 months of basic computer training.
b) In the case of Advertisement No. 05/079/80, having passed Proficiency Certificate level or Overseer or Diploma level in Civil Engineering and having taken basic computer training for at least 3 months.
c) Proof of determination of percentage from the relevant educational institution in case of profit slip with undisclosed percentage.
(No action will be taken on applications submitted after the deadline and without attaching the necessary documents.)
(For application format, procedure, and detailed information, you can contact Prime Minister Employment Program website www.pmemp.gov.np or www.pokharamun.gov.np or Contact Person Employment Coordinator Bishnu Prasad Dahal and Contact No. 061-571104, 9856001002.)
(First published on 04-27-2079)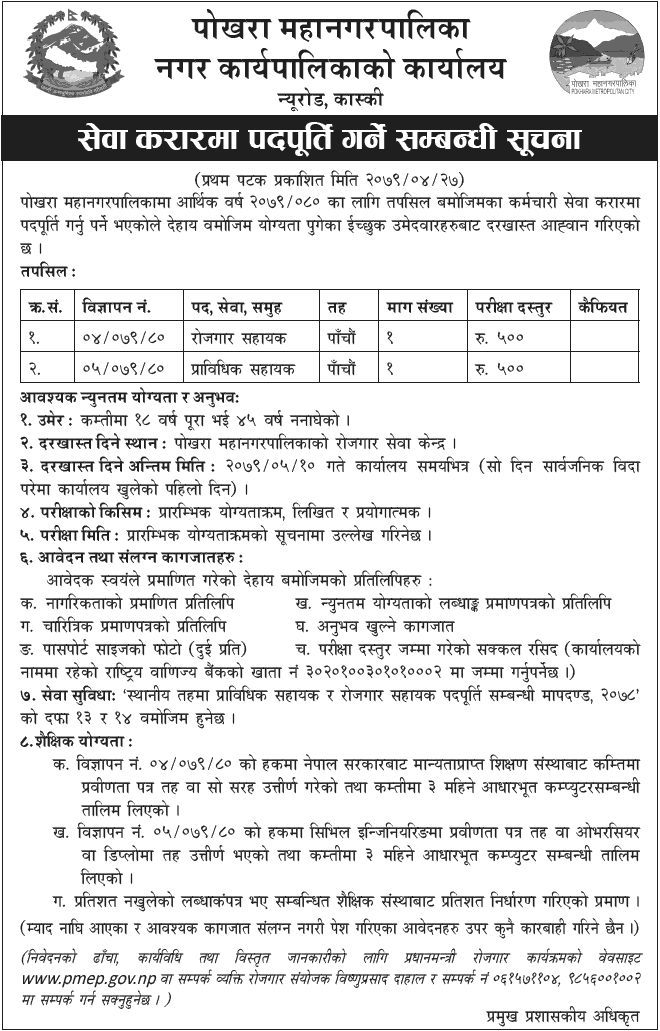 Technical Jobs
Gandaki Pradesh
Pokhara
Job Vacancy
Government Job