With the financial and technical support of Putlibazar Municipality and the United Nations Development Program (UNDP) and the management of the Sunrise Club, the Covid-19 rescue and socio-economic response initiative require the following staff. This notice has been published for eligible Nepali citizens to apply within 8 days from the date of publication of the notice (5th of Kartik, 2078).
1. Veterinary Service Technician - 1 person
Minimum educational qualification:
At least 18 months experience in the related field if you have passed the certificate level in animal science and 3 years' experience if you have 2 years certificate level in animal science.
1) Age: Completed 18 years and not exceeding 40 years
2) Not disqualified according to the prevailing law.
3) Required documents:
A) Applications
B) Personal Details (CV)
C) Copy of educational qualification and experience certificate
D) Copy of citizenship
E) Passport size photo was taken recently
4) Type of service: contract
5) Project period: June 2021 to April 2022
6) Selection Process: Interview
7) Place to submit application: Office of Suryodaya Club Putlibazar Municipality Ward No. 3 Syangja or Email: [email protected]
P.S.: Special priority will be given to women, Adivasi / Janajati, Dalit, backward class, local, marginalized class, and those affected by Covid-19.
For more information call 063-423050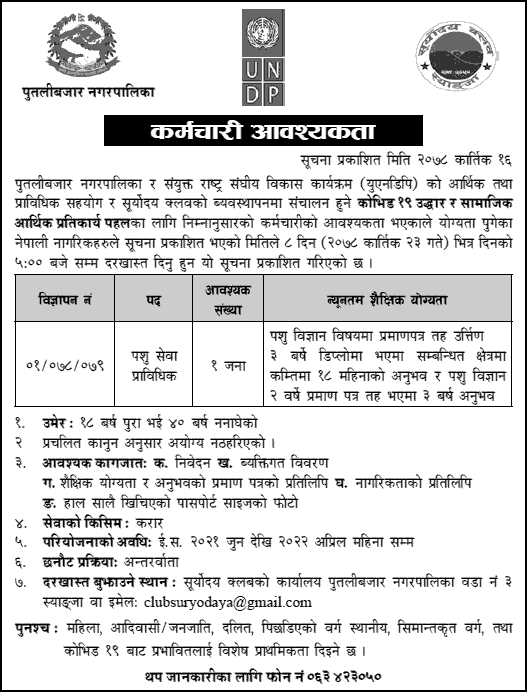 Jobs for Freshers
Syangja
Veterinary Job
Gandaki Pradesh
Job Vacancy
Government Job