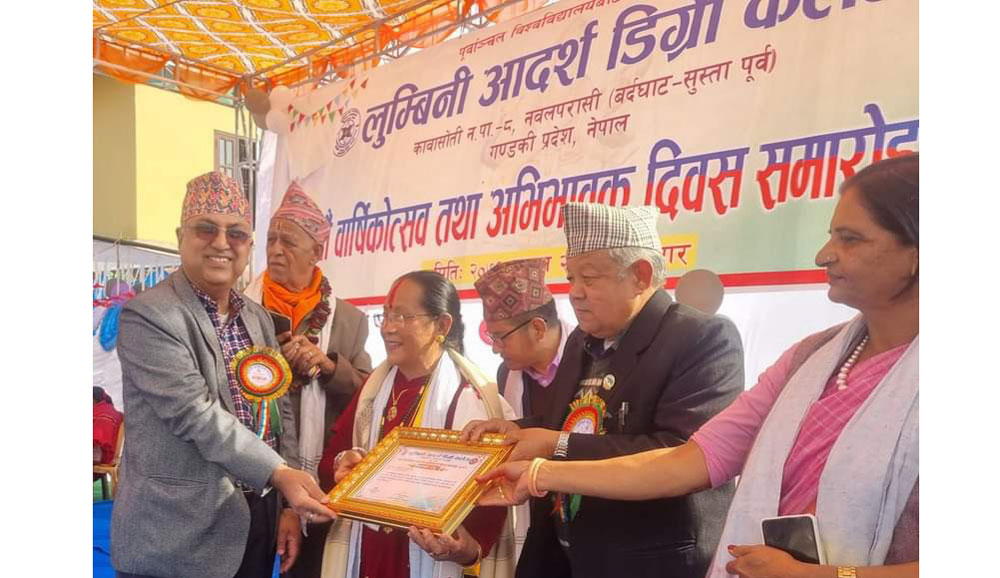 Professor Dr. Yadavraj Koirala, Vice-Chancellor of Purbanchal University, stressed the importance of embracing timely, high-quality, and practical education. Speaking at the 24th-anniversary program of Lumbini Adarsh Degree College, he emphasized that education is an essential factor for the social, economic, and political development of any place, and there is no substitute for it.
Dr. Koirala suggested that traditional teaching methods no longer make sense, and education should be adapted to meet the needs of the times, with a focus on professional and job-oriented training. He stated that the goal of practical education is to equip people with the knowledge and skills needed to be self-sufficient. Dr. Koirala also highlighted the importance of technology-friendly education and expressed his intention to make Lumbini Adarsh Degree College a part of Purbanchal University, providing students with quality education in their own villages and eliminating the need to travel elsewhere.
Mahendra Dhwaj GC, Member of Parliament from the Gandaki Province, also spoke at the ceremony, stating that education should be practical and employment-oriented and that the value of education is only meaningful if the knowledge learned can be applied in practice.
During the same event, an Akshay Kosh scholarship was established in memory of the late parents by Principal Bhojraj Dahal, founder of Siddharth Awasiya Secondary School. He announced the scholarship and presented a dummy check in the names of the father Devi Lal Dahal and mother Devi Dahal. Dahal expressed his desire to establish the fund in 40 schools and 5 campuses of the municipality, which will enhance the educational sector. As of now, the fund has been established in 22 schools and 2 campuses.
Additionally, residents of Kawasoti 2, Hum Bahadur Gurung, and Khagisara Gurung established an Akshaya Kosh of one hundred and five rupees in honor of late Hatal Gurung and Sunmati Gurung, and Gurudatta Chapagai and Renuka Chapagai contributed ten thousand in honor of late Shashidhar Chapagai and Nandikala Chapagai. The program also acknowledged individuals who made various contributions.
Annual Day