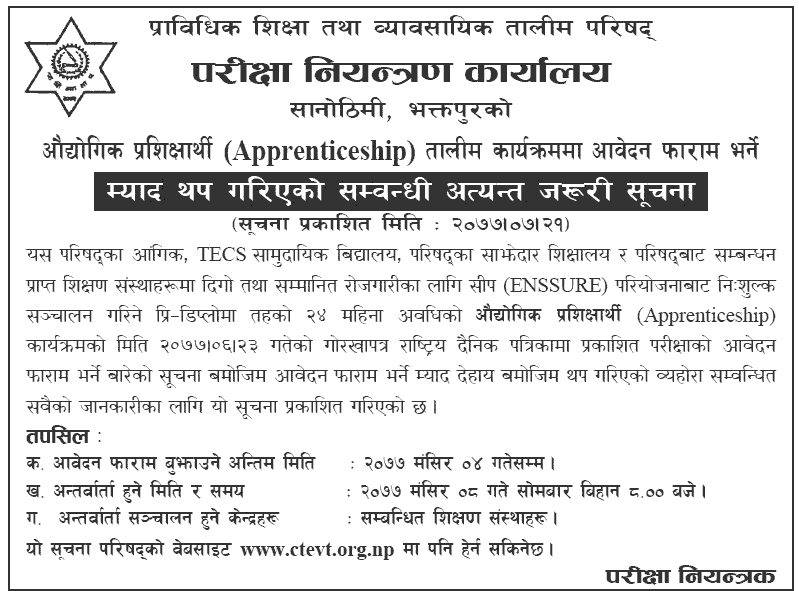 Pre-Diploma Level Industrial Apprenticeship Training Program Form Fill Up Date Extension:
Council for Technical Education and Vocational Training (CTEVT) Examination Control Office, Sanothimi, Bhaktapur Notice to date extension for fill the application form in the Industrial Apprenticeship Training Program:
A 24-month Pre-Diploma Level Industrial Apprenticeship Program to be conducted free of cost from the ENSSURE Project for Sustainable and Respected Employment in TECS Community Schools, Council Partner Schools, and Educational Institutions affiliated to the Council on 2077-06-23. This notice has been published in the Gorkhapatra Rastriya Dainik Patrika for the information of all regarding the procedure for filling up the application form per the information regarding filling up the application form.
Details
A) the Last date to submit the application form: 2077 Mangsir 4
B) Date and Time of Interview: 2077 Mangsir 8, Monday, 8:00 AM
C) Centers for conducting interviews: Related educational institutions.
The notice can also be viewed on the council's website at www.ctevt.org.np.
(Information published date: 2077-07-21)