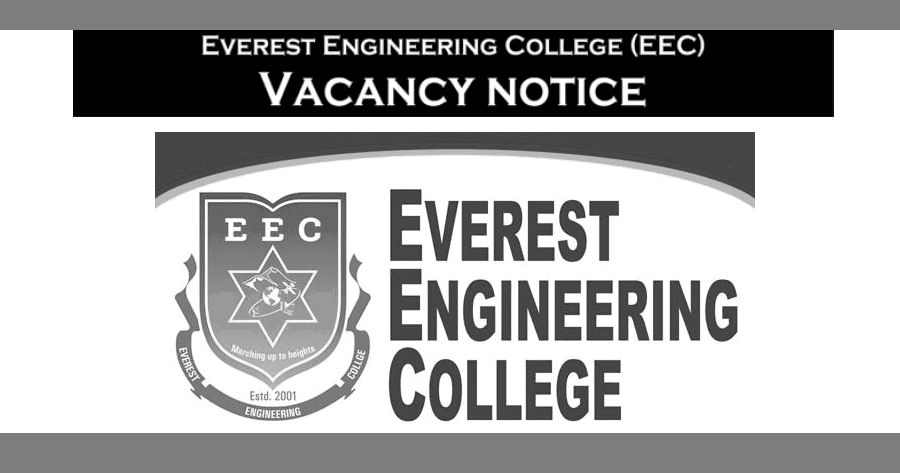 EVEREST ENGINEERING COLLEGE (EEC) VACANCY NOTICE: Everest Engineering College (EEC) is the pioneer academic institution for engineering education in Nepal. EEC invites applications from interested candidates in the following full-time teaching/non­teaching positions.
| | |
| --- | --- |
| Specialization / Subjects /Required No. | Qualification and Experience |
| Programming (C, C++, dot net) Computer Networks/ Network Programming - 3 (Three) | ME/ MSc/ Ph.D. with BE in Computer Engineering. |
| Numerical Methods - 1 (One) | ME/ MSc with BE in Computer Engineering |
| Object-oriented design and modeling, computer organization, computer architecture - 1 (One) | ME/ MSc/ Ph.D. with BE in Computer |
| Organization and management, Engineering Economics - 1 (One) | MBA with BE in Civil Engineering |
| Department Secretary - 1 (One) | Bachelor's degree in any discipline with good command of MS office package and communication. |
| Lab instructor (Civil Engineering) - 1 (One) | BE/ Diploma in Civil Engineering |
| Lab Instructor (Electronics) - 1 (One) | Diploma/ BE in Electronics Engineering |
NOTE:
Candidates with prior teaching experience in similar programs are encouraged to apply.
Interested candidates may send their CV and other documents at [email protected] not later than September 10, 2022.
Only shortlisted candidates will be called for interview. No phone calls will be entertained.
Salary and benefits will be as per the college rule
Documents required: Self-attested copies of latest curriculum vitae, citizenship, transcript/grade sheet of all academic degrees, job experience letters, training or any achievement certificates.
For further detail, please contact:
EVEREST ENGINEERING COLLEGE (EEC)
Lalitpur-2, Sanepa, Nepal
Phone: 977-1-5520742
Email: [email protected]
Technical Jobs
College Job
Job Vacancy
Engineering Job