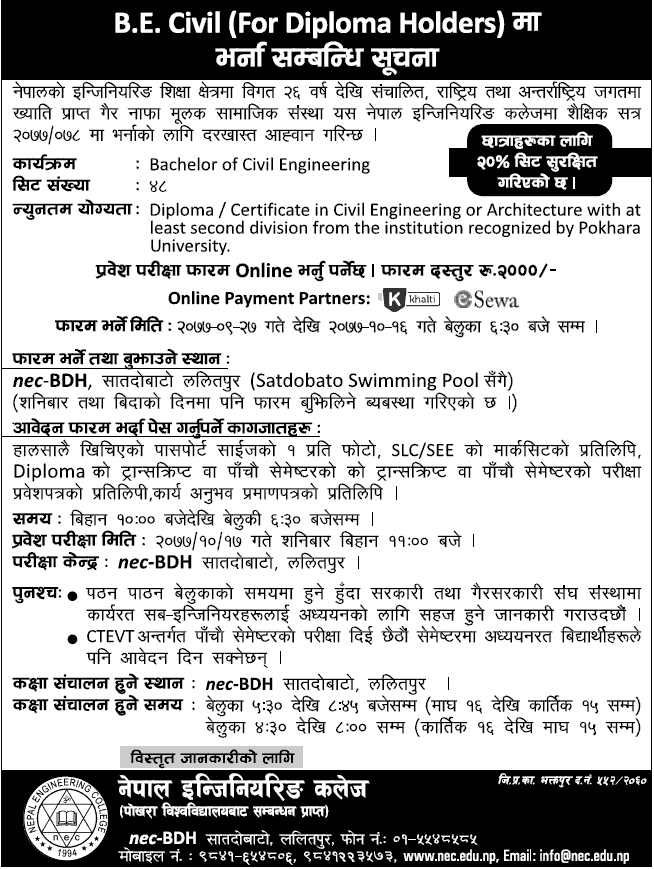 BE Civil (for Diploma Holders) Admission Open at Nepal Engineering College:
Nepal Engineering College (NEC) Notice regarding admission in BE Civil (for Diploma Holders): Applications are invited for admission in the academic session 2077/078 in this Nepal Engineering College, a non-profit social organization that has been operating in the field of engineering education of Nepal for the last 26 years and is renowned in the national and international arenas.
Program: Bachelor of Civil Engineering
Seat number: 48 Seats
Minimum Qualification: Diploma / Certificate in Civil Engineering or Architecture with at least second division from the institution recognized by Pokhara University.
Note: 20% of seats are reserved for girl's students.
The entrance test form has to be filled online.
Form fee: Rs. 2000 / -
Online Payment Partner: Khalti, eSewa
Date of fill up the form: 2077-09-27 to 6:30 pm on 2077-10-16, Time: 10:00 a.m. to 6:30 p.m
Form filling and location: nec-BDH, Satdobato Lalitpur (with Satdobato Swimming Pool) (Arrangements have been made to understand the form on Saturdays and holidays as well.)
Documents to be submitted while filling the application form:
1 recent passport size photograph, copy of SLC / SEE mark sheet, transcript of Diploma or transcript of 5th semester or copy of 5th-semester exam admission card, and copy of work experience certificate.
.Entrance Exam Date: 2077-10-17 Saturday at 11:00 AM.
Examination Center: nec-BDH Satdobato, Lalitpur.
PS:
Since the classes are held in the evening, we would like to inform the sub-engineers working in governmental and non-governmental organizations to study easily.
Students studying in the sixth semester will also be able to apply for the fifth-semester examination under CTEVT.
Classes: Nec-BDH Satdobato, Lalitpur.
Classroom Hours:
5:30 pm to 8:45 pm (Magh 16 to Kartik 15)
4:30 pm to 8:00 pm (Kartik 16 to Magh 15)
For detailed information:
Nepal Engineering College (NEC)
(Affiliated with Pokhara University)
nec-BDH, Satdobato, Lalitpur
Phone: 01-5548585
Mobile: 9841654806, 9841223573
Website: www.nec.edu.np
Email: [email protected]