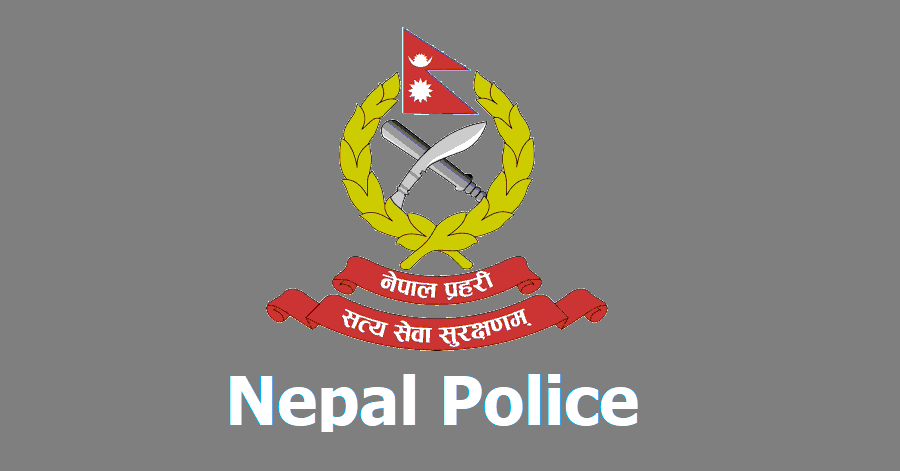 Ministry of Home Affairs, Police Headquarters, (Department of Human Resources and Administration, Recruitment Selection Division), Naxal, Kathmandu notice for Myadi Police (Myadi Prahari) recruitment.
As Myadi Police has to be recruited for the local level election 2079; Applications are invited from Nepali citizens who have attained the following qualifications in person.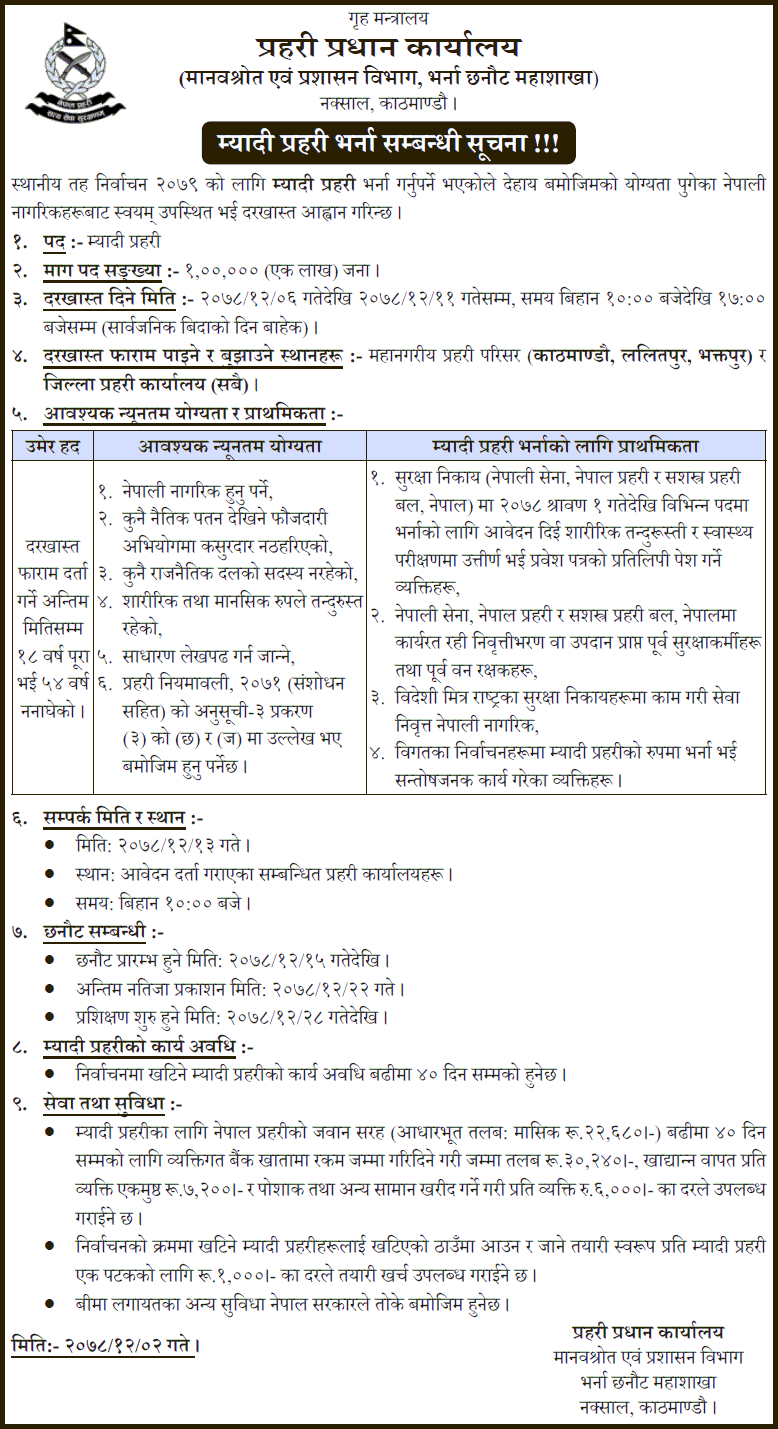 1) Post: - Myadi Police
2) Requied post number: - 1,00,000 (one lakh) people.
3) Date of application: - From 2078-12-06 to 2078-12-11, time from 10:00 am to 17:00 am (except public holidays).
4) Places to receive and submit application forms: - Metropolitan Police Complex (Kathmandu, Lalitpur, Bhaktapur) and District Police Office (all).
5) Necessary minimum qualifications and priorities:
Age Limit: Completed 18 years till the date of registration of application form and not reached 54 years.
Required Minimum Qualification:
Must be a Nepali citizen,
Not guilty of any criminal charge of moral turpitude,
Not a member of any political party
Being physically and mentally fit,
Learn to read and write,
The Schedule-3 of the Police Rules, 2071 (with amendments) shall be as mentioned in Chapter (3), (g), and (h).
Priority for Recruitment:
Individuals who have applied for admission to various posts in the security forces (Nepal Army, Nepal Police, and Armed Police Force, Nepal) from 1st Shrawan, 2078 and have passed the physical fitness and health examination and submitted a copy of the admission letter,
The Nepal Army, the Nepal Police, and the Armed Police Force, former security personnel, and former forest rangers who have been working in Nepal on retirement or allowance,
Retired Nepali citizens working in the security agencies of foreign countries,
Persons who have done satisfactory work by being recruited as Myadi Police in the past elections.
6) Contact date and place: -
Date: 2078/12/13
Location: Relevant police offices where applications have been registered.
Time: 10:00 a.m.
7) Regarding the selection
Selection start date: 2078/12/15.
Final result publication date: 2078/12/22
Training start date: 2078/12/28.
8) Term of office of Myadi Police: -
The term of office of Myadi Police will be up to 40 days at most.
9) Services and facilities
For Myadi Police, like Nepal Police Jawan (Basic Salary: Rs. 22,680 / - per month), deposit up to Rs. 30,240.-; A lump sum of Rs. 7,200 / - and will be provided at the rate of Rs. 6,000 / - per person for purchase of clothing and other items.
In preparation for the election, Myadi police will be deployed to and from the place of deployment. Preparation expenses at the rate of Rs. 1,000 / - will be provided.
Other facilities including insurance will be as prescribed by the Government of Nepal.
Police Headquarters, Department of Human Resources and Administration, Recruitment Selection Division, Naxal, Kathmandu.
Notice
Job Vacancy
Nepal Police
Government Job